We've all heard the old saying and fashion rule, "You can't wear white after Labor Day." While that rule has never really applied to weddings, it still got me inspired to talk all about alternatives to a white wedding dress! I've seen so many beautiful and fun dresses and outfits from couples through the years. Here are my favorite non-traditional wedding dress ideas:
The jumpsuit
A wedding jumpsuit is the ultimate option for comfort on your wedding day! Don't get me wrong, there are dresses that are totally comfortable for being a dress, but there's just something about having pants on that hits different. Especially if you're wanting freedom to climb or explore more easily, a jumpsuit is a beautiful, trendy and totally freeing option!

Green Dresses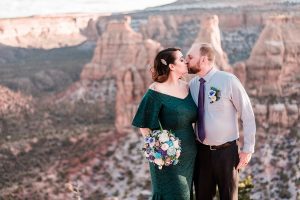 I've had a couple of brides now wear green dresses, and the contrast they offer to the red/orange sands of the Colorado National Monument and the Moab area make them an easy favorite for me! An emerald green is also a striking option for the winter weddings we get to do here in the mountains.
A Two Piece
One trend I've seen with both brides and bridesmaids opting for lately is a two piece outfit for their wedding. It can be so cute to get a sleek bodysuit and a fun tulle skirt, and if you want you can add in a pop of color to the skirt too! Or if a traditional dress just isn't your style, you can go for a lovely crop top and any kind of skirt you like to still feel dressed up but more in your style.
A Black Dress
Now I know what you're thinking. "It's a wedding, not a funeral!" But it's also 2020, and we don't let old color traditions stop us from wearing what we want and feel good in. I've seen brides in black and look totally stunning! It's another great color to pair against the desert in the area. It is also a fun contrasting look for two brides – one in white and one in black! Just like two grooms, you can play off each other's tastes by either coordinating colors or intentionally contrasting, and I love the look of black and white.
I hope this has inspired you to embrace the non-traditional if you're feeling pulled toward alternatives to a white wedding dress! Here is some photo inspiration for you: