If you're planning on getting married at Top of the Pines in Ridgway, Colorado, this is the post for you! From the rolling meadow filled with wildflowers in summer, to the incredible views of Mt. Sneffels and the San Juan range along the horizon, this wedding venue is both beautiful and versatile, but comes with some tricky logistics. Let's dive in to everything you need to know about getting married at Top of the Pines: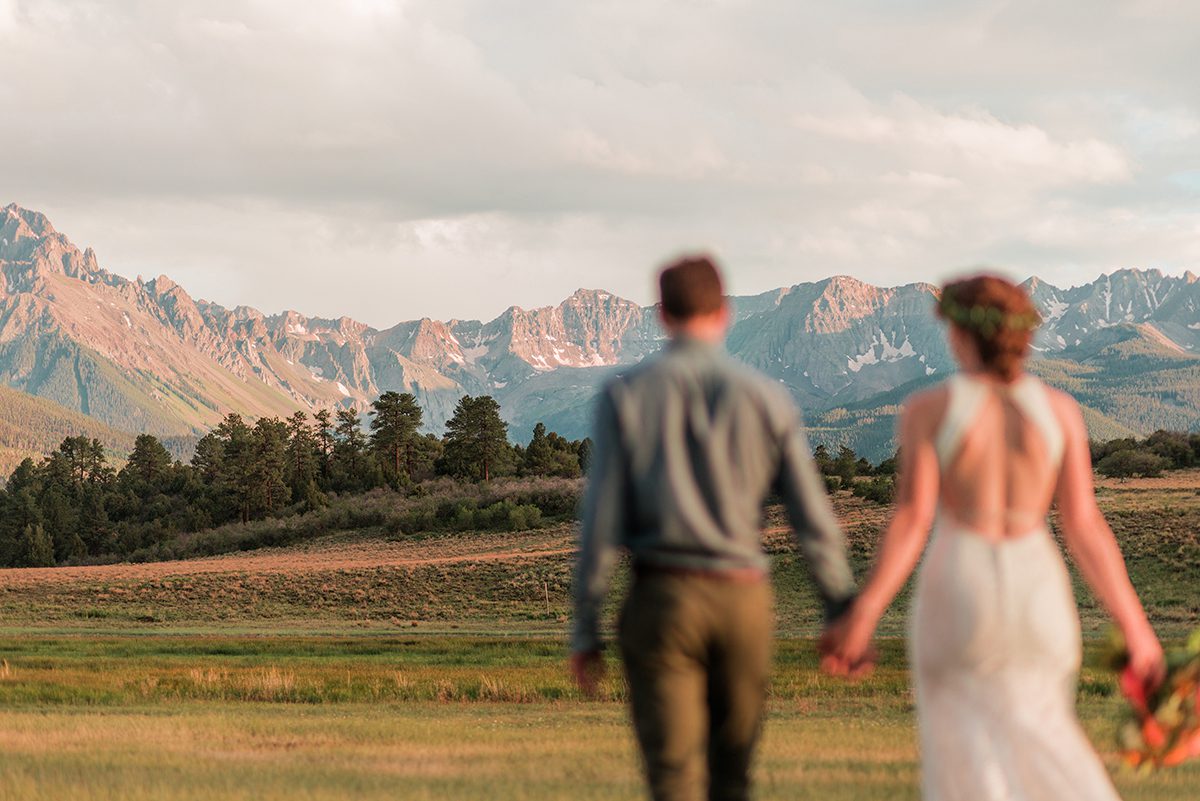 Getting to Top of the Pines
By Car
Top of the Pines is outside of Ridgway up a dirt road into the mountains. The road itself isn't really an "off-road, high clearance, 4WD" kind of road, but it can admittedly be a little rough, especially if it's been really rainy and rutting out the road. While it's nice to have a good vehicle to get there, generally speaking an average sedan can do it. The parking there is fairly limited, and they don't actually shut down the area (for hiking and other activities nearby on site) so if you're having more than a handful of people along, it is a pretty wise idea to hire transportation especially if you're getting a hotel block in one of the nearby towns. Shuttle in your guests and shuttle them back to their lodging at the end of the night for the easiest experience.
By Airplane
If your guests are flying in for the wedding, the closest international airports are Denver and Salt Lake City. Montrose Airport is the nearest airport and often has connecting flights in from those larger airports, though, if guests don't want to drive from that far away. If they do drive in from Denver, they'll likely take either Highway 50 to Highway 550, or Interstate 70 to Highway 50.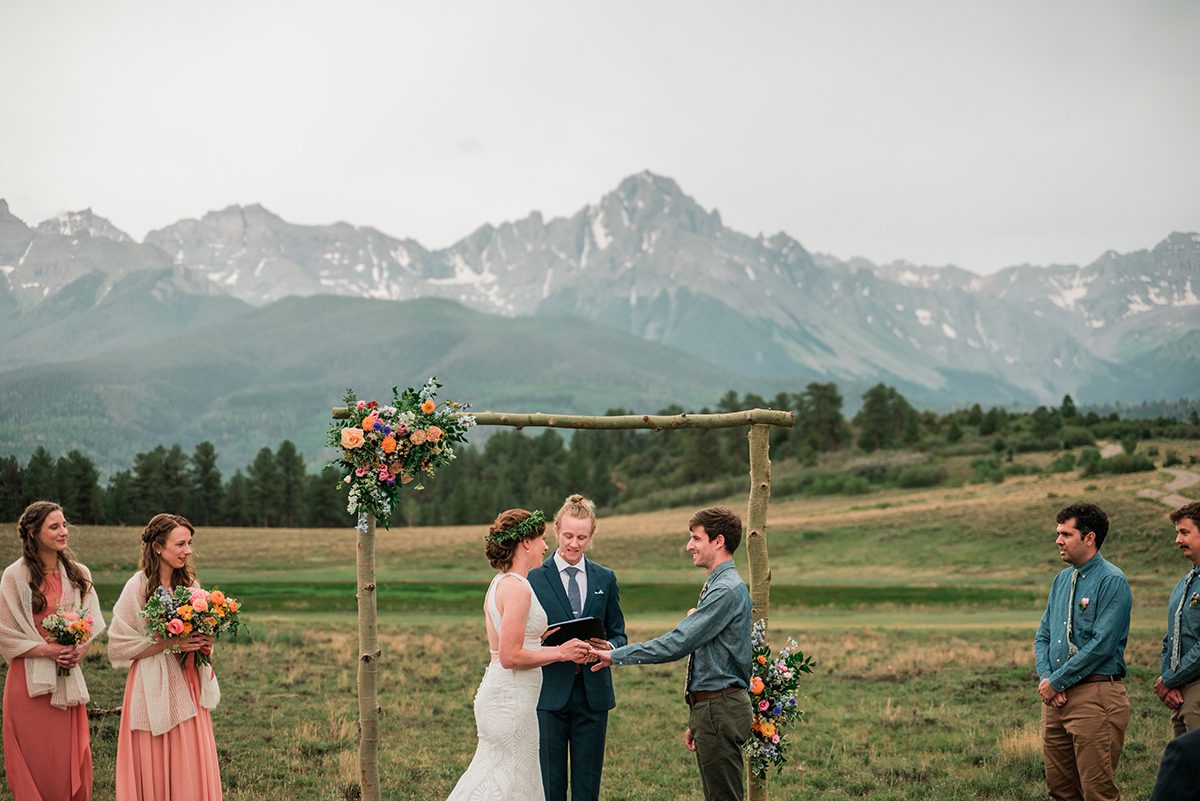 Where to Stay for Your Top of the Pines Wedding
The closest city with large chain-style hotels is Montrose, which is about 30 minutes north of Ridgway. Most couples, though, opt to stay at either a local hotel/motel or vacation rental in Ridgway or Ouray. These towns are much closer and are a cute and fun place to lodge for the weekend. Top hotels include the historic Beaumont Hotel in Ouray, Twin Peaks Lodge, Box Canyon Lodge, and Matterhorn Inn. Click here for more Ouray lodging options. Some outdoorsy couples will also opt to utilize the camping included in their reservation and just stay on-site.
Getting Ready at Top of the Pines
Top of the Pines includes a Pavilion for indoor celebrations that may be used for you to get ready on the day of the wedding. Most commonly, though, couples will get ready off-site and head to the venue for a first look or the ceremony. I've seen some couples opt to get ready at an from places like the Beaumont Hotel in Ouray where they are staying with their wedding party and family, to a private honeymooning vacation rental in Ridgway or Ouray that they will leave to after the wedding. Sometimes couples will get ready at the salon and use the pavilion space to get dressed at Top of the Pines after. Whatever your plan is, be sure to consider travel time in your day-of timeline so that things don't run behind as you travel to the venue.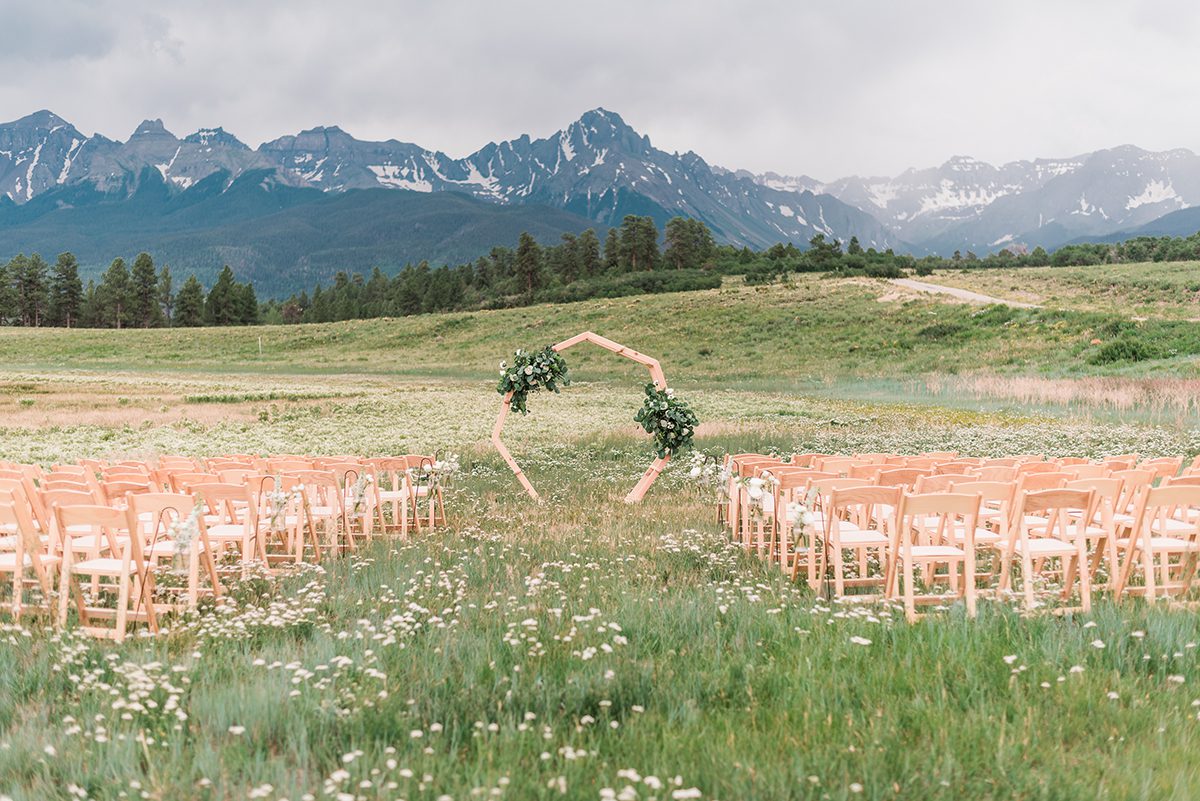 Ceremony
The most popular space for the wedding ceremony at Top of the Pines is the meadow, and it's pretty obvious why. The views of the mountains along the horizon are hard to beat in the area, even if the wildflowers have faded or haven't yet started for the year. Even in winter, the blanket of snow makes for a great location. You can elope here or put up seating and tents for a large wedding. That's what couples love the most about Top of the Pines (after the views): it is a blank canvas to create any wedding design you can dream of!
Weather
With Top of the Pines' location outside Ridgway, it's important to consider the summer weather and Colorado afternoon monsoons. Planning your ceremony time later in the afternoon can often allow you to ride out the storms before getting married, but they can be unpredictable at times. It's important to have a backup plan if you don't want to get married in the rain. Umbrellas or utilizing your reception tent are the most common backup plans I've seen, although Top has recently renovated their Pavilion space which offers shelter for an indoor celebration if needed.
It's also helpful to consider a first look so that your timeline has the most flexibility for waiting out the rain or rushing to get photos in before it starts. Having the flexibility to do whatever whenever is a huge bonus to keeping the stress down and feeling in control of something that is so out of control.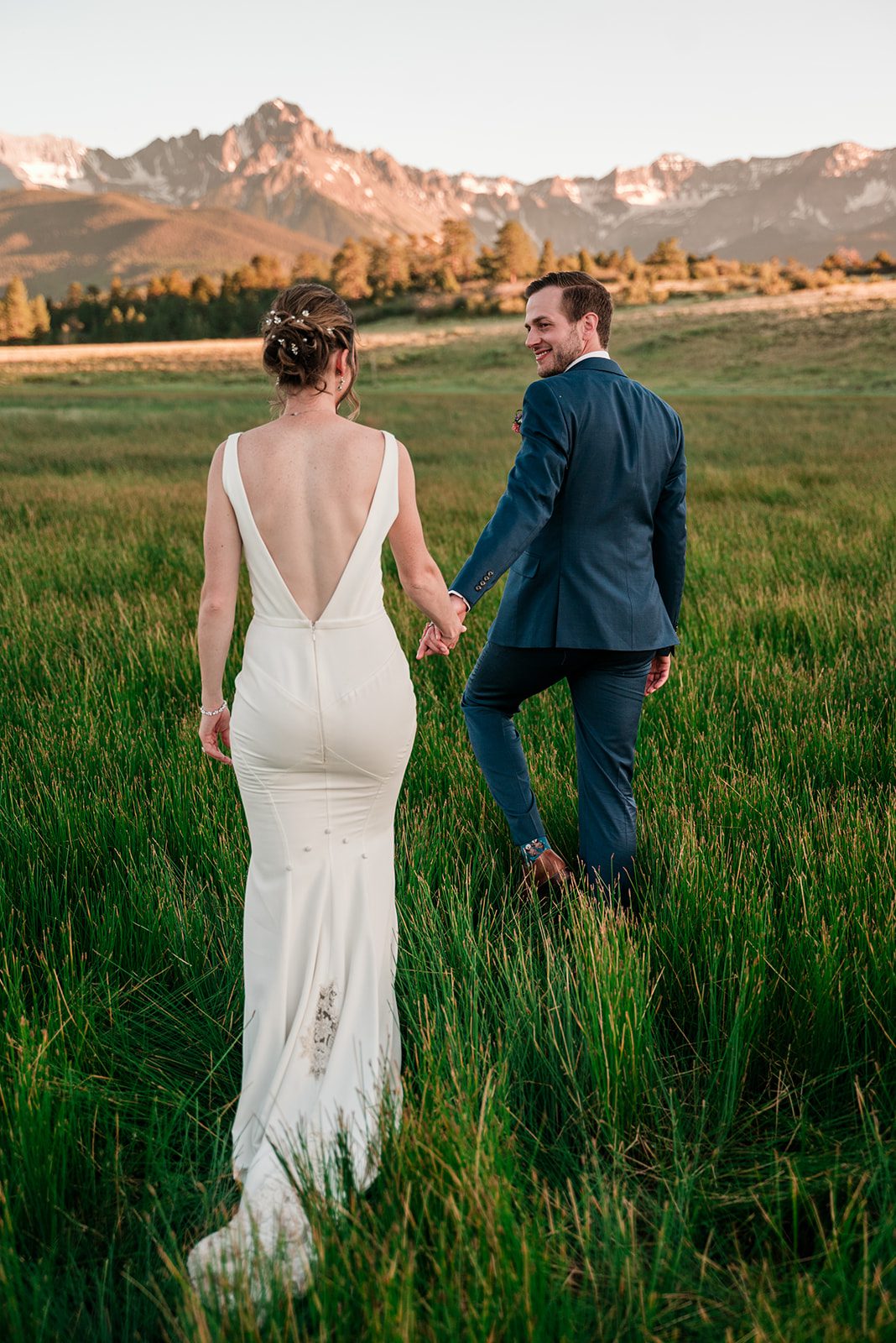 Reception
Your wedding reception at Top of the Pines will likely also be happening in the meadow. Usually couples will rent reception tents to provide a space for dining and dancing the night away, which is highly recommended. Whether you need the tents as a rain backup or you want a space you can close off for heaters to keep warm in the chilly evening, tents are a huge safety net in an open concept venue like this. 
With it being such a blank canvas space there are a lot of fun options for creating a really great reception experience. Consider the following vendors when planning your wedding at Top of the Pines:
Portable Bathrooms
There are no bathrooms on-site at Top of the Pines, so you'll need to bring them in. Good news: there are a few port-a-potty businesses that will help fill in (and you won't believe how fancy these things can be these days!)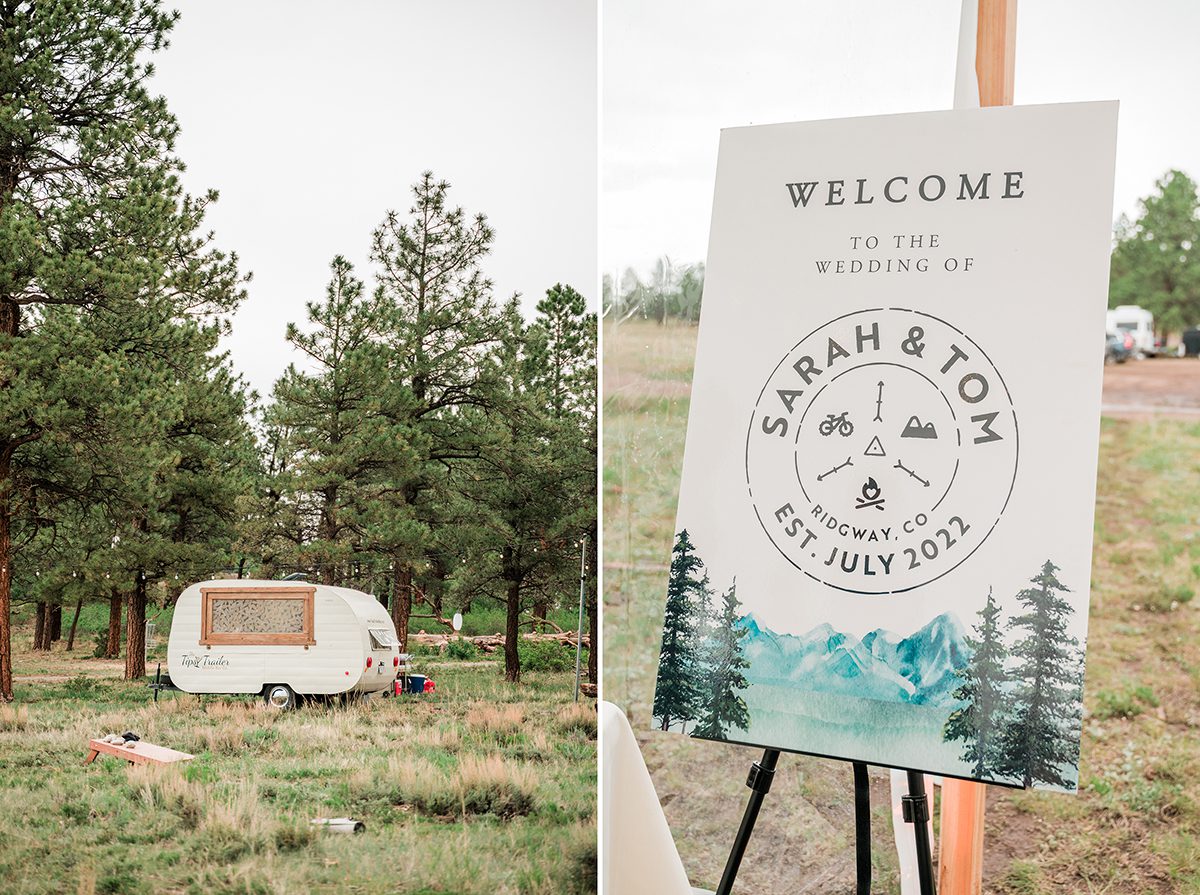 Mobile Bar
While I've definitely seen a regular old bar setup at Top of the Pines, a really fun option for taking your reception up a notch is hiring a mobile bar. Not only is it a cute and fun experience, it can often be an easier setup for the bartending team to have their own space. Plus if you're having a lot of guests, it's nice to not have to worry about creating a bar space under your tent that would take up much-needed table and dancefloor room.
Catering
There is no kitchen space at Top of the Pines, so when you're in the hiring process for catering, be sure to ask if they've worked at the venue before, and what their process is like for a venue without a kitchen. Some couples will forego all of this and simply hire a food truck that has a kitchen built-in. That is a great option too, but be sure to consider how much longer serving dinner out of a food truck can take and plan extra time in your timeline for dinner service. (It's a great idea to have menus for the truck at each table setting too!) With having no kitchen on-site it's a wise idea to let your cake baker know this too, in case they were planning on delivering their cake early thinking it could sit in a fridge.
Photography
Looking for a photographer for your Top of the Pines wedding? I've been in business for ten+ years and have captured weddings at Top for the last few years now. If you want vibrant, timeless images that capture the story and scenery of your wedding – click here for more info about my weddings // or click here for more info about elopements!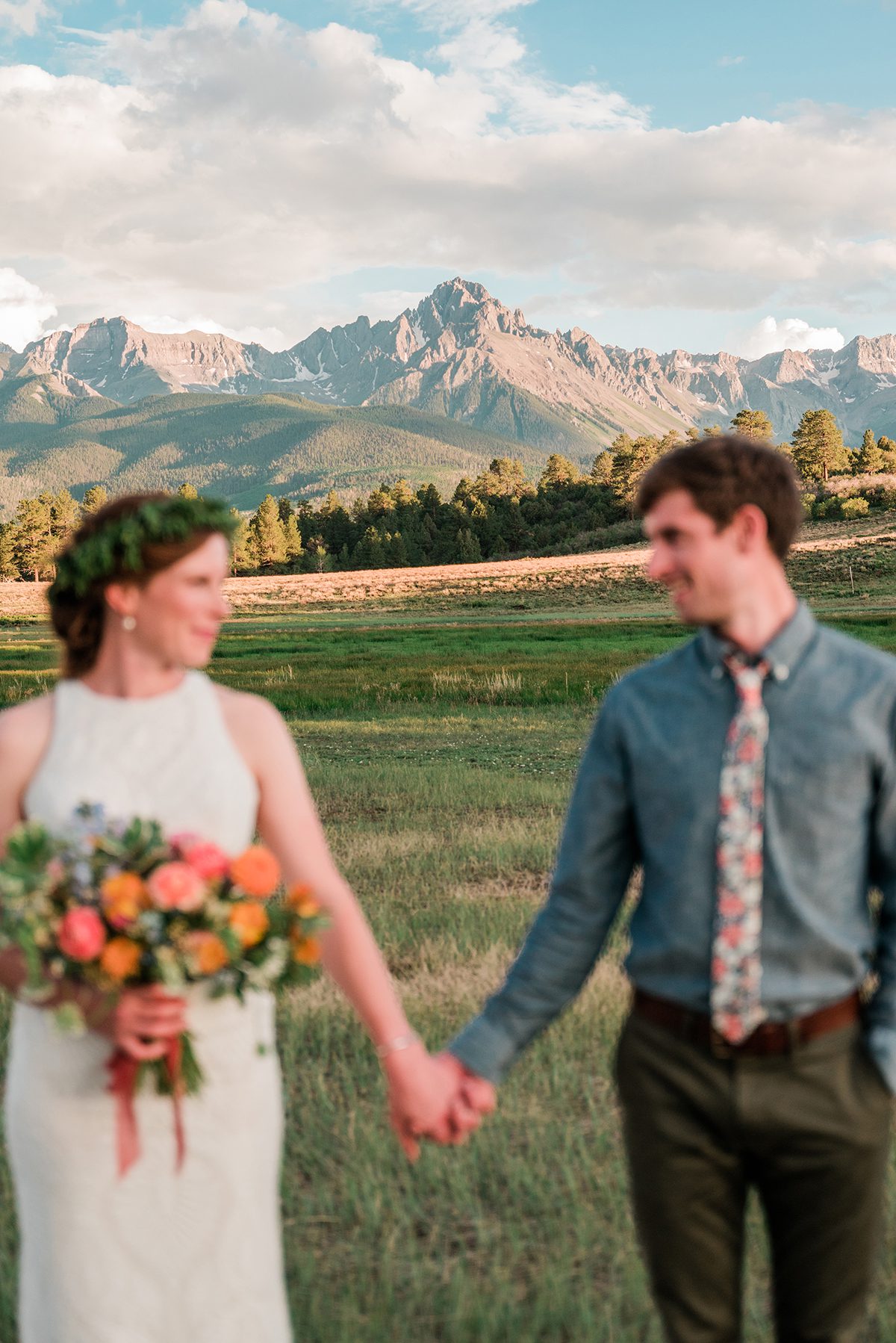 Was this helpful? PIN IT: