As word has gotten out about the absolute gem that is Palisade, Colorado, more and more couples are choosing to get married here in Colorado's wine country. From springtime blossoms of the peach orchards, to the green vineyards and orchards in the summer, the Colorado River flowing through town, to the towering Mt. Garfield to the north – it is hard to find a bad backdrop for getting married in Palisade Colorado. This guide will walk you through the area's best venues, restaurants for hosting a nice meal, and where to stay while you're here.
Top Wedding Venues in Palisade Colorado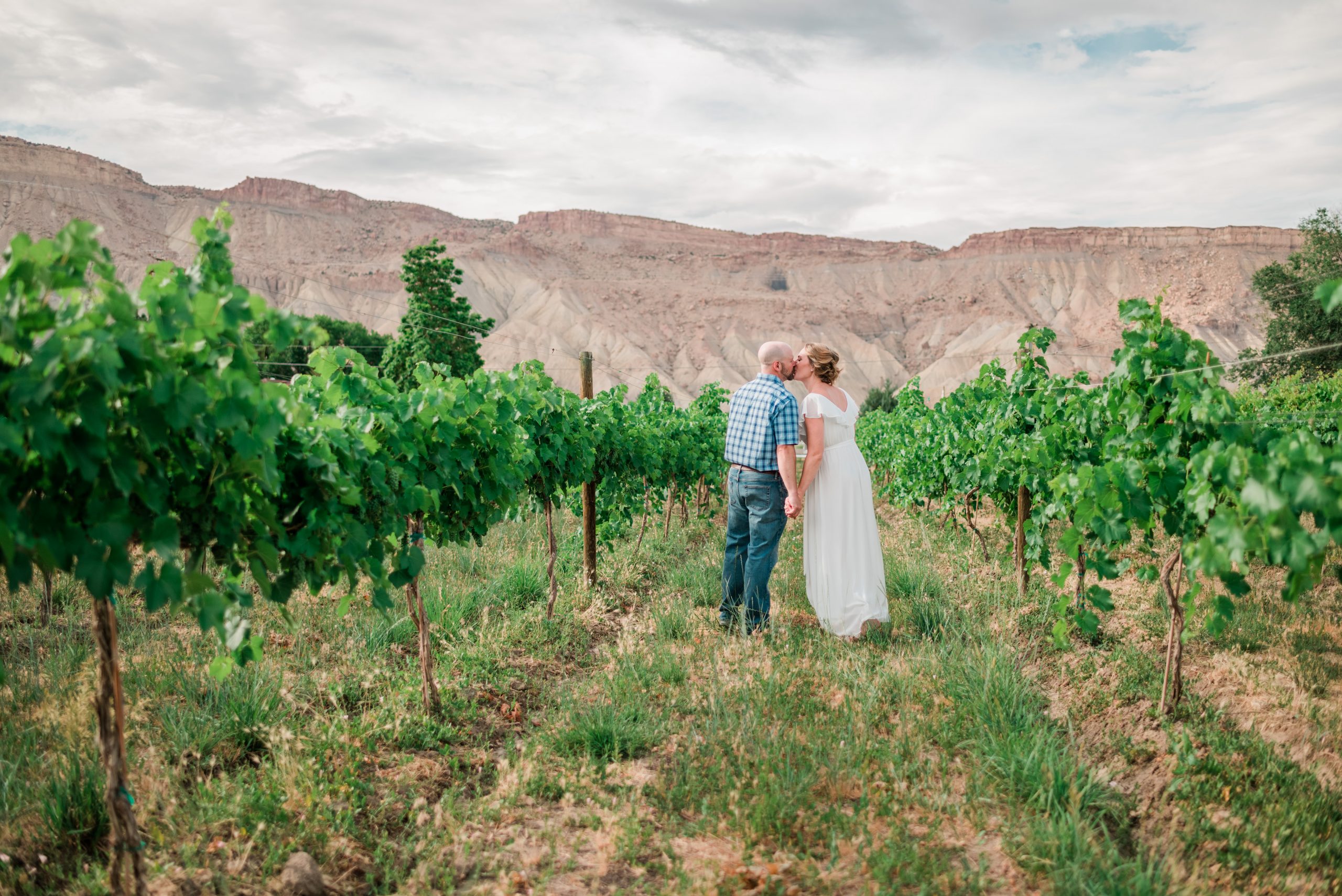 Amy's Courtyard
Amy's Courtyard is attached to Maison La Belle Vie winery. This little venue can host under 150 guests, though my personal favorite events to capture here are under 50. The space consists of a historic barn, on-site vineyard, grassy lawn, gazebo, and beautiful pond. Set near town, it is both a convenient location and a beautiful backdrop with views of Mt. Garfield among the vines and lush willow tree.
For more information, click here: https://amyscourtyard.com/
---
Bella Bolettino
This elegant riverside oasis is pretty exclusive, as they only accept a small number of weddings per year. If you're one of the lucky ones, though, you'll be celebrating your wedding along the Colorado River with a beautiful stucco pavilion to host your reception as well. As their site says, "We can host up to 200, but 150 – 175 is most comfortable. We have tables & chairs for 200, yard games, decor, and a 12×16 walk-in cooler. the venue can provide tableware, glassware, flatware, and linens."
More info: https://bellabolettinofarms.com/weddings-%26-events
---
Blue Beryl Winery
A newer event venue in Palisade, Blue Beryl Winery offers a modern setting for smaller celebrations like micro weddings and elopements. The sleek tasting room offers incredible views at the base of Mt. Garfield (a quick drive up the road if you want to get up close for photos!) Depending on your booking, you may have access to the vineyard for photos as well – or just book the tasting room for dinner & dancing. This place is a cool vibe for your intimate celebration!
Click here to see more: https://www.theblueberylwinery.com/
---
Colterris at the Overlook
One of Palisade's most iconic wedding venues, Colterris at the Overlook offers everything that makes Palisade so inviting. The overlook gazebo offers views of the town below and Mt. Garfield. The property itself is home to both orchard trees and vineyards, as well as a sculpture garden with lavender to boot. This venue can host larger events and offers separate reception and ceremony sites. There's a lot you can do with this beautiful space!
For more info, click here: https://www.colterris.com/colterris-at-the-overlook/
---
The Ordinary Fellow Winery
For more intimate celebrations and couples looking for a more unique space, the Ordinary Fellow Winery may be just for you! This cool space is located right downtown Palisade, with modern ambiance and a quirky venue. It's an awesome option for micro weddings or a reception after an elopement or wedding out in the amazing natural spaces in the area like the Colorado National Monument or Mt. Garfield base. Plus there's often a food truck on site that makes for a fun food option!
Click here for more info: https://www.theordinaryfellow.com
---
Orchard River View
Orchard River View is quickly becoming another iconic venue in Palisade, known for its large barn with incredible chandelier. This venue offers riverside ceremonies and a lush lawn for cocktail hour or dancing the night away in the cool summer evenings. The barn is cooled, which makes it sought after for those looking to get married in the heat of the summer. The orchards on the property, though, also offer beautiful backdrops in spring and fall! ORV can host events up to 300 guests, making it one of the larger venues in the area.
Website and info: https://www.orchardriverview.com/
---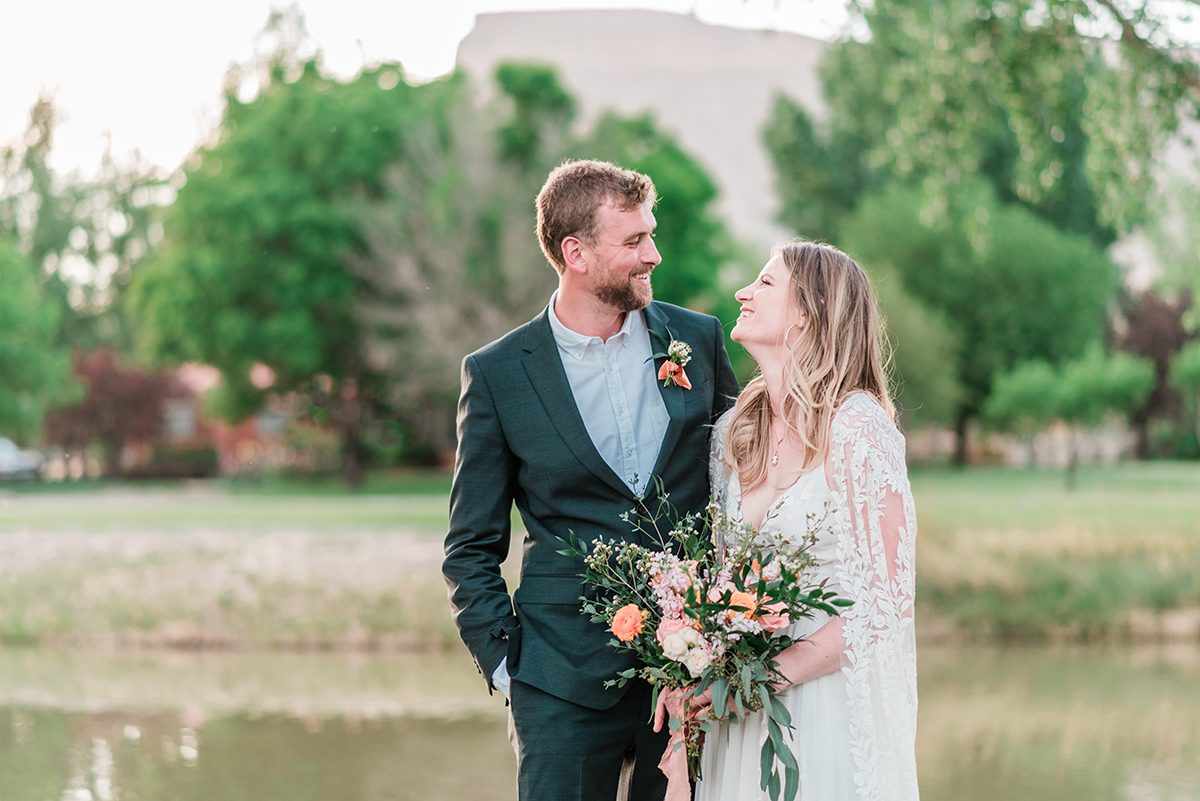 Palisade River Ranch
Palisade River Ranch is a wedding venue that offers a beautiful space to create your own vision. From elegant sail tents to camping vibes, to dancing under the stars, Palisade River Ranch allows you a blank canvas for your own wedding dreams. The riverside is a gorgeous backdrop for a ceremony, as is the pond with Mt. Garfield in the background. The lawn by the getting ready suites offers plenty of room for tents and dancing. Being such a large property, this venue can host larger celebrations. Bear in mind you'll be creating the venue at this space – but you'll be assisted in this by their amazing wedding coordinators!
Click here for more info: https://www.palisaderiverranch.com/
---
Peachfork Orchards & Vineyard
A hip orchard and vineyard, Peachfork offers a space for smaller celebrations to get married in Palisade with a comfortable and modern vibe and a focus on conservation of this beautiful place.
Click here for more about the orchard: http://www.peachfork.com/
---
TWP
Twee Wingerd Plaas, or TWP, is a South African-inspired venue that boasts equally stunning architecture and design as its views of Mt. Garfield and Palisade's lush vines and orchards. The pond, lawn, vineyard, and vacation rental on site offer everything you need for a more intimate wedding celebration in wine country.
Click here for more: https://twpwinery.com/
---
Varaison Vineyards
Another smaller venue in Palisade, Varaison Vineyards offers a unique space with a gazebo in an English rose garden beneath the bookcliffs, and a charming Victorian home as backdrop for portraits! The venue offers a pavilion and patio space for reception, and is centrally located right off downtown Palisade.
For more information, click here: https://www.varaisonvineyards.com/weddings
---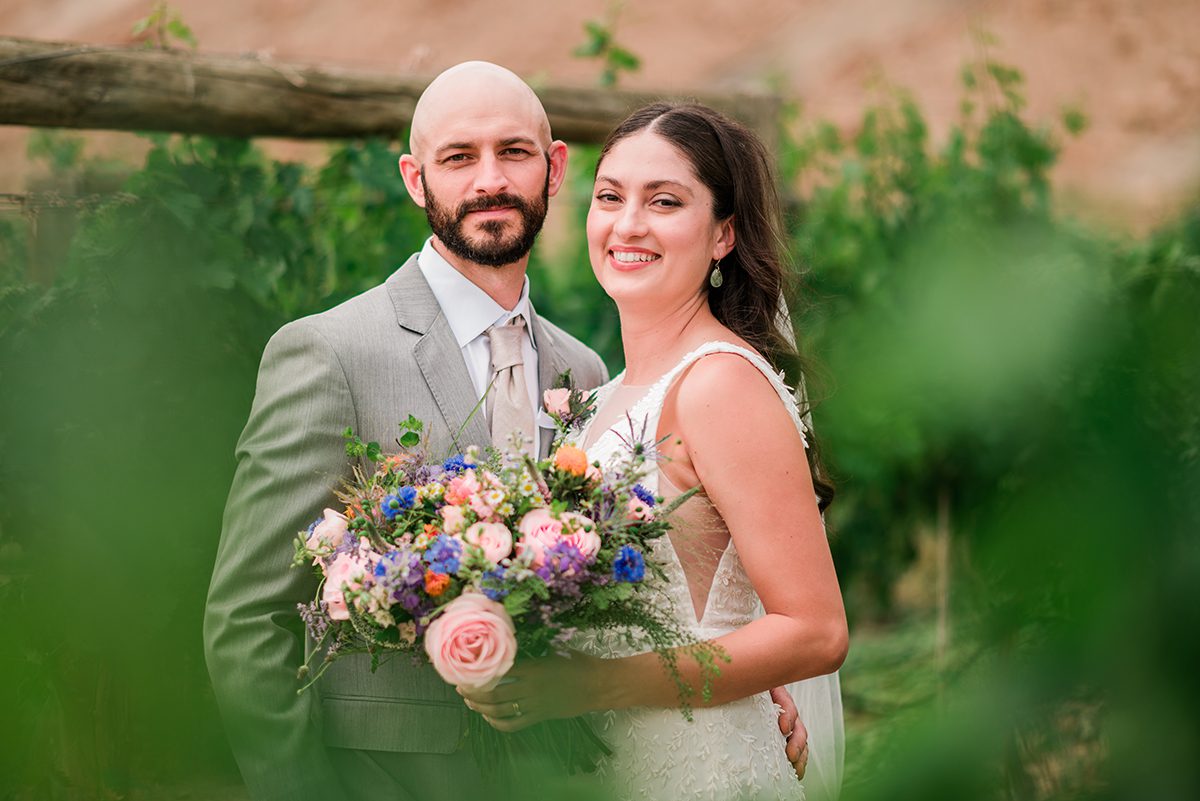 Wine Country Inn
With lodging and a wedding venue, all in one, the Wine Country Inn is one of Palisade's top venues. Most couples host their ceremony in the gazebo with views of the vines and bookcliffs. Depending on the size of your celebration you can either host a small reception beneath the gazebo as well, or utilize the hotel's ballroom for larger wedding receptions. The hotel offers lodging for yourself and guests on site, and getting ready suites as well. The venue is home to surrounding vineyards and beautiful trees that bloom in the spring and turn vibrant colors in the fall!
Click here for more: https://coloradowinecountryinn.com/weddings/
---
Restaurants in Palisade
Whether you're hosting a welcome dinner, a small reception for an elopement or micro wedding, or you're just looking for a nice meal while you're here, you can't go wrong with this Palisade staples:
Fidel's Cocina
"Fidel's Cocina is a lively and vibrant taqueria serving clean, Latin-inspired dishes and thoughtful craft cocktails." Get your tacos and tequila vibes here!
More: https://fidelspalisade.com/
Peche
With seasonally changing menu and a flair for farm-to-table cuisine, their website states, "Pêche. Restaurant's culinary focus is to allow creativity to flourish. We will not hold ourselves back by restraints of cuisine, instead we will embrace the adventure and education." Peche is Palisade's fine dining restaurant.
For info and booking: https://pecherestaurant.squarespace.com/
Caroline's
Located inside Colorado Wine Country Inn, this is another local restaurant that prides itself on providing cuisine around local produce. "In Colorado we are blessed with an abundance of fresh, sustainable foods, from the world's best peaches, fruits and produce to fish, beef, lamb, pork and wild game. Our culinary emphasis is on fresh local foods prepared in the classic French tradition. We strive to refine the marriage of local Palisade and Colorado foods with local wines."
Click for more: https://coloradowinecountryinn.com/culinary/
13 Brix Cider Bistro
This bistro is located inside an old Chevy dealership, which lends a unique vibe to this unique eatery. Aside from the selection of hard ciders, you can also find a menu that "combines the simplicity of classic French-inspired bistro fare with the playfulness of more contemporary cuisine. Our food intertwines the terroir of local origin foods gleaned in season with prime imported old world ingredients to create a conscientious and delicious combination."
More info: https://www.13brixciderbistro.com/
---
Lodging in Palisade
There is not exactly a plethora of lodging available in Palisade itself for hosting guests if you're getting married in Palisade Colorado. We'll start with lodging in town and work our way outward to the larger Grand Valley area nearby. Just up the interstate are a number of options I'll mention below.
Bearfoot Bed & Breakfast
As their website states, you'll experience "quiet seclusion in the heart of Colorado wine country" here at the Bearfoot B&B. Three guest rooms offer space for 3-8 guests.
Website: https://bearfootbedandbreakfast.com/
Cherokee Vineyard B&B
Stay on a working vineyard in Colorado's wine country! This bed and breakfast has three available rooms with a cozy atmosphere right on a working vineyard along the Fruit & Wine Byway.
Inquiries: https://cherokeevineyardbandb.com/
The Homestead
This family-owned inn strives to offer a home-away-from home for their guests. They say: "Our goal is to provide lodging in Palisade for you to enjoy events, host gatherings, and make memories. Our 5-unit inn is the perfect place for your next getaway. We have three double queen rooms, one king room with a sofa-sleeper bed, and a 2 room suite. Each room is equipped with all the comforts of home, so you can be self-sufficient and cozy while you're away."
More info: https://thehomesteadpalisade.com/
Palisade Basecamp
A modern campground and RV resort, Palisade Basecamp offers down-to-earth lodging along the Colorado River. There are a few small cabins on site as well, for those who are not traveling with tents or campers.
For info: https://palisadebasecamp.com/
Spoke & Vine Motel
As their website states, "Spoke and Vine Motel is a freshly reinvented motel with old-yet-sturdy bones, thoughtful design, sustainable features, and clean, comfortable rooms. This is NOT your grandpa's motel." Book early – this spot is popular!
Website: https://spokeandvinemotel.com/
TWP
Twee Wingerd Plaas offers vacation rental lodging on site. They say, "The Plaashuis Features four luxurious garden rooms with a private, personal atmosphere surrounding the great room that opens up to the edge of our lake and the ever changing colorful view of Mount Garfield. Guest's have the opportunity to reserve the entire Huis or individual Kamers."
Info: https://twpwinery.com/pages/stay
Vino Cabina at Bella Bolettino
This vacation rental can be booked through Airbnb. The Bella Bolettino venue offers this cabin as a vacation rental for hosting up to 8 guests in 4 rooms, right near the venue.
The website: https://bellabolettinofarms.com/vino-cabina-our-air-bnb
Airbnb: https://www.airbnb.com/rooms/597199128613957040?source_impression_id=p3_1686882174_1mu4fiHuNEErx72l
Wine Valley Inn
This boutique inn hosts adults only in a historic old home near downtown Palisade. This bed and breakfast offers quaint lodging in a great location.
Website: https://www.winevalleyinnpalisade.com/
Wine Country Inn
The Wine Country Inn is Palisade's largest lodging, with a hotel featuring 80 guest rooms and several amenities. This is the best place if you're looking for bulk lodging for many guests.
Get info: https://coloradowinecountryinn.com/
Lodging Further Away…
For unique or upscale lodging in the Grand Valley:
Dancing Moon B&B
Vacation Rentals on Airbnb or VRBO
For larger traditional hotels for lots of guests:
Clifton (the town next to Palisade):
Best Western Grande River Inn
Horizon Drive (the airport exit two exits from Palisade on the interstate):
Courtyard by Marriott
Residence Inn
La Quinta Inn
DoubleTree Hotel
Holiday Inn & Suites
and more!
Did you find this Guide to Getting Married in Palisade Colorado helpful? Pin it!