I've always dreamed of capturing a Ouray wedding at Yankee Boy Basin since I knew the place existed. Weddings deep within the mountains, accessible only by 4x4s and jeeps are quickly becoming some of my favorite adventures! Mark and Rae have been planning their Ouray wedding at Yankee Boy Basin and Beaumont Hotel reception for quite some time, and I think I might have been as excited for the day as they were haha.
The two first met on Tinder, a growing trend in my wedding couples' stories these days. They were both living in Denver at the time and it turned out they only lived five minutes away from each other! Rae told me about their first dates, saying, "We first met a local bar, called Oblio's. It was not super memorable as far as first dates go. We had a couple of drinks and said goodnight. It was on our second date that we really hit it off!" Mark suggested that they go to the Denver Botanic Gardens to see the Christmas light display, and he totally won Rae over. As someone equally enchanted by Christmas lights, I can easily see what a smooth move that was!
I asked them both to tell me about the moment(s) they realized they were with "the one." Rae told me:
"Mark had given me the courage to ski this part of the mountain when I hadn't dared to before, comforting me and encouraging me until I took the plunge. I knew we were sharing in this feeling of exhilaration and awe. That was one of many moments when I was dazzled by Mark, and amazed at who I could be when I had him by my side. He opened a part of me I didn't know I had."
Between her and Mark's answers, I could tell that's how their love grew: in who they are when they're with each other. They seem to love one another for how they build each other up, and make each other better. Mark told me, "I am not sure if there was an exact moment for me. Over time, Rae has changed my perspective on life and way of thinking. She has challenged my values and beliefs. Solidified some, and broken down others that were stifling me from being the person I am striving to be. She has always seen the potential within me even when I cannot. She has taught me how to be compassionate, loving, empathetic, and resilient."
On August 14, 2017: Mark proposed on their last ever camping trip in Colorado. He had been working in Arizona while Rae completed her last clinical fieldwork in Montrose. They had spent the last 3 months apart, with a handful of little trips fit in. Mark had just gotten a new job offer, and they were about to move to Austin, Texas. He drove to Colorado the last weekend Rae was in Colorado and they camped near Silverton. Mark proposed as they hiked Ice Lakes. Rae had seen it coming, but was thrown when he appeared to be disorganized with planning the hike, and when he decided to start the hike later than usual. It turns out that Mark had intentionally done this, as he had been hoping by hiking later in the afternoon, it would be more likely that a bystander would catch the proposal and take a photo (and he wanted to keep Rae on her toes!)
Finally the day came for them to be married in the mountains, where their journey began and where they fell in love. I met Rae at the Beaumont for getting ready photos before I loaded into a jeep with the groomsmen and a couple of good friends who were tasked with helping decorate the spot we'd find for the ceremony. We made our way into Yankee Boy Basin and scouted the perfect location; the first traces of fall colors, a beautiful waterfall, and 360 degree mountain views! Mark and Rae exchanged their vows and were married! Their guests followed the ceremony with a toast to the couple (paired with super cute custom koozies!)
As the rest of the group made their way back to the Beaumont for the reception, we took wedding party and couples photos with the diverse mountain backdrops we were blessed with. It was everything I'd dreamed of and more! I cannot wait for the next time I get to explore more of the area out there.
Back at the Beaumont following photos, we took some quintessential main street shots and the must-have staircase photos at the hotel. Then the two self-solemnized their marriage by signing the papers (and so kindly asked me to sign as witness, I was so honored!) before the DJ announced the newlyweds for dinner. There were a few very moving speeches following dinner, and the two shared in first dances as my time with them came to a close. Mark and Rae, thank you so much for allowing me to document your gorgeous wedding day! I'm so thankful to have been part of the celebration. Without further ado, check out my favorite moments from their Ouray wedding at Yankee Boy Basin and the Beaumont Hotel: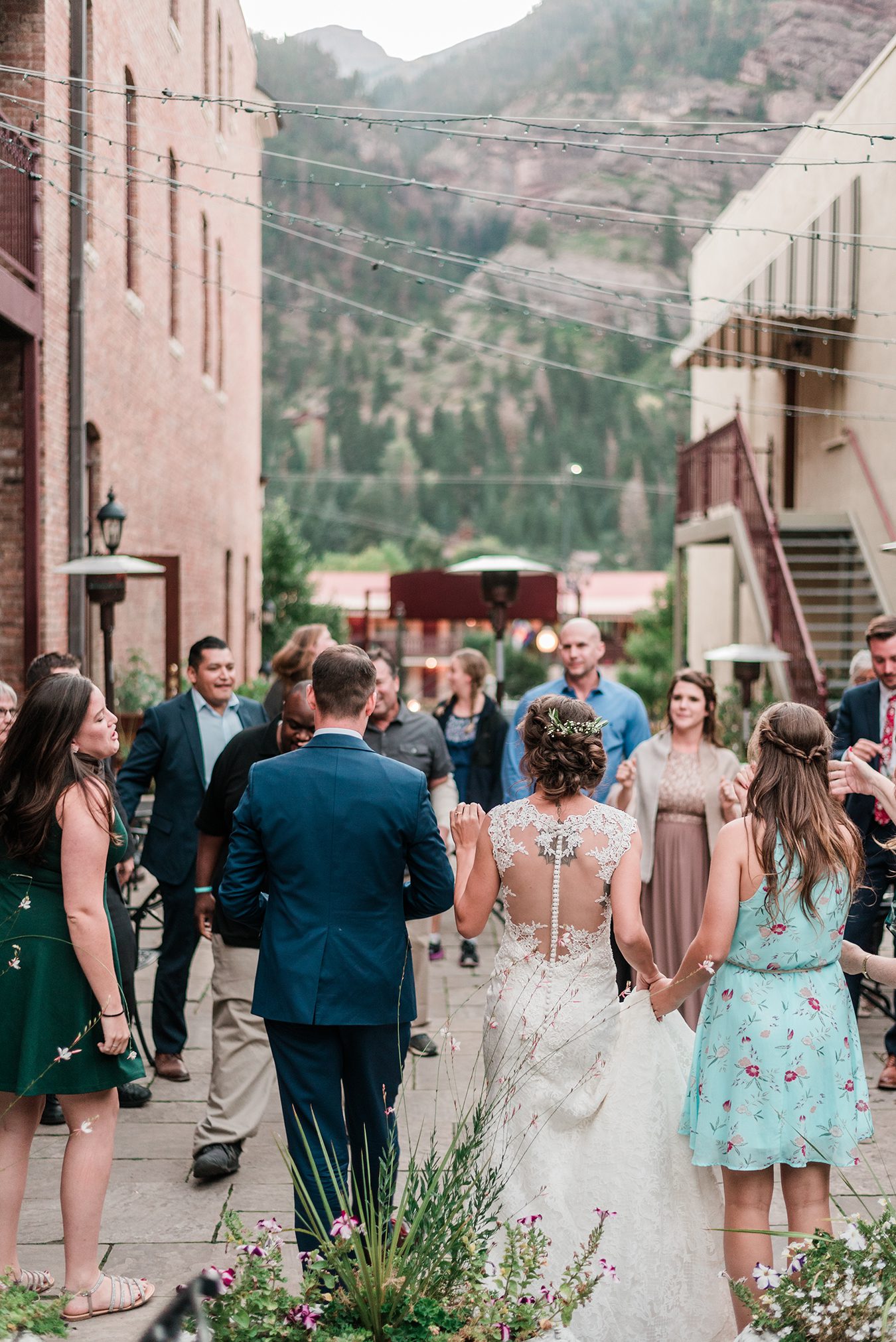 Ouray Wedding at Yankee Boy Basin Vendors:
Photography: amanda.matilda.photography
Ceremony Venue: Yankee Boy Basin, Ouray – travel to/from was Switzerland of America Jeeps
Reception Venue: Beaumont Hotel
Hair/Makeup: Salon Envy
Dress Shop: Something New, Borrowed, & Blue in Cincinnati, Ohio
Dress Designer: Lillian West, Alterations by: Sara Alterations in Austin, Texas
Bridal Shoes: Nordstrom – Sam Edelman
Veil: Borrowed from Rae's sister Jessica
Suit/Tux Shop: Indochino
Florals: DIY
Desserts: Sweet Spot Cakes
Catering: Aemono Fine Foods
DJ: Aiko Aiko Sound
Rings Jewelers: Natalie Marie Jewelry (bride), Eliza Page(groom)
Wedding Koozies: MailboxHappiness