One of the most important parts of your wedding day is the family formal period. While not exactly "fun" — these are the photos you'll cherish for years! Yesterday I saw dozens of my photos flooding my insta feed as past couples celebrated their dads on Father's Day. I've seen couples grieving losses with the last professional photo of loved ones — taken at their wedding. Some of my couples have celebrated privately with me later in the day the fact that they were so glad to finally have a photo of two family members together. Today I wanted to offer some advice for wedding family photos to help take the stress out of the time, and to help you keep organized!
Advice for Wedding Family Photos
Have a list.  Go over with your fiance just who you want involved in family photos. Do you want the full family – aunts, uncles, cousins, and all? Do you just want immediate family and grandparents? Maybe you're doing a small elopement and only have parents and siblings. Discuss this and put together a list! The list will greatly help your photographer make sure no combinations are missed and help them know how much time to plan for (and they can make recommendations on how much time they think you'll need!)
Keep the time in mind. While putting together your list, bear in mind how much time it will take. If you're having the full extended family, plan for more time in the timeline. If your collection covers fewer hours, consider saving time and having fewer family in the formal photos. There's always time to grab extended family photos at the reception!
Use the peel method. A bride recently described my method for family photos as "peeling" and I thought that was perfect. Guess what I'm calling it from now on?! As you're planning your family photo lists (and some photographers will do this with you) write out the full family photo (the two of you, parents, siblings, grandparents and so on) and then "peel away" family to wind down to just your immediate family photos. This saves time, helps alleviate too much wrangling of people, and can send the extended family on their way to the reception much faster.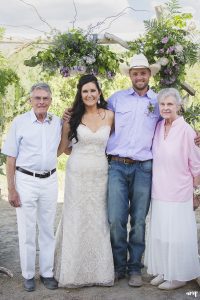 Have your partner. Some websites out there for brides as they're planning will have long extravagant lists with advice for wedding family photos of "Bride with her Family" – "Groom with his family" and so on. While there's nothing especially wrong with this, I do encourage my couples to limit the photos you have with your family without your spouse to just parents/grandparents or siblings. When it comes to the full family photos, though, I encourage you to have your spouse. You're married now, you're one unit! Her family is both of your family now. Some sites will say, "Oh but if you split up…" No, come on! Are you already planning your divorce at your wedding? Save time, plan for forever, and have both of you in all your big family photos. Plus as I mentioned before, we can grab those photos with your favorite aunt and you at the reception!
With these tips hopefully your wedding family photos will go smoothly and quickly and help you efficiently capture those wonderful memories with your family!
xo,