As the valley becomes more and more of a destination for weddings and events, more couples each year are also planning bachelorette parties in Grand Junction! From Palisade, Colorado's wine country and closest thing to Napa Valley you'll find in the state, to the many hiking and nearby hot springs, we have a number of awesome attractions to fill a girl's weekend away.
Wine Tours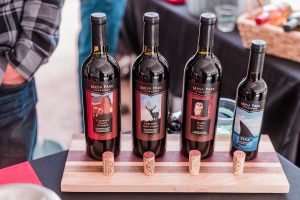 Grab your squad and schedule a day of wine tastings! With at least twenty wineries and tasting rooms in the Grand Junction area, you're sure to find a new favorite. To really immerse yourself in our wine country of Palisade, book a stay at Spoke & Vine Motel and hop on a town bike to ride through the vineyards! If wine isn't your thing, we have a number of breweries and a couple of distilleries to quench your thirst instead.
Create
If you're looking for a fun afternoon or evening of activity to create favors your whole gang can take with them from the weekend, we have a few great options for you! The oldest and most popular of these boutiques is The Palette. You may have heard of this sort of spot — The Palette allows you and your group to paint a scene while enjoying wine or a beverage. As their website says, "Our goal is to encourage everyone to Uncork Your Inner Artist through our fun and easy painting classes."
Next up is another downtown GJ boutique – the Candle Kitchen. This shop allows you to custom make your own candles from their variety of scents! Follow a recipe or wing it in your own creation – either way you're sure to leave with an incredible one-of-a-kind souvenir.
Finally the last downtown boutique I want to mention is Fat Cat Pottery. I know I've seen in LA and larger cities they have this sort of shop where you can go and paint or decorate your own pottery to take home afterward. It's a fun way to create something everyone can take home with them and actually use afterward!
Relax
Within an hour's drive of Grand Junction there are a few great hot springs you can explore for a relaxing evening with your friends! Iron Mountain and the infamous Glenwood Springs Hot Springs Pool are both great options up I-70, especially if you're heading back to the front range after the weekend. The springs down by Ouray – Orvis Hot Springs and the Ouray Hot Springs pool are also great options if you want to head south into the San Juans.
Explore
Whether you're into mountain biking and the infamous rides we have near Fruita or you want to go jeeping in Moab or Ouray, there are so many ways to get outside and explore here in the area. Whether you want to stay in town and explore the Colorado National Monument or you're looking at a day trip to hike in Moab or the mountains, you're sure to have an awesome adventure here!
Eat
Finally if you're just looking for an awesome brunch spot or fine dining for a night out, Grand Junction has some good eats. Grab mimosas or a bloody mary bar at Dream Cafe downtown to start the day off right! Then plan to hit Bin 707 Foodbar, The Winery, or 626 on Rood for a great array of fine foods and wine.
Hopefully this short guide is a great help as you plan your bachelorette parties in Grand Junction and our surrounding area! Be sure to check out the Palisade Chamber's website for more info on the wineries you can tour for tastings and Downtown Grand Junction's site for all the cute shopping and dining down Main Street.