"Can we bring our dog?" is a question I get for almost half the portrait sessions I capture. And while this applies to different kinds of pets too, today I'm talking all about including your dog in your engagement photos!
Check the Policies
While I do a happy dance when I find out you're bringing your pup, it's important to let your photographer know beforehand just in case they have a different policy.
Along those lines, check with the policy of your engagement photo session location. Some parks and venues don't allow dogs (like the Colorado National Monument, for example!)
Bring Backup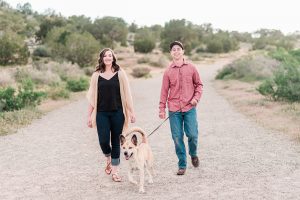 The first consideration when including your dog in your engagement photos is to bring backup. Whether your pup is an only child or you have a whole pack, bringing someone along to help makes a world of difference for your session. They can help keep them entertained or distracted while we do photos without them, which takes a lot of the stress and worry off of you! You shouldn't be concerned with where your dog is or whether you tied them to the tree tight enough. Plus they'll be a lot happier not left alone, even if they're just two feet out of frame.
This backup can also help in getting the dog's attention, making your pup look their best in the photos! You'll love not having to look down at the dog to make sure they're paying attention, when you should be focused on your own beautiful smile.
Bring Treats
This might go without saying, but bringing backup also means bringing treats! Having a treat bag to shake to get their attention my way can be so useful, and being able to reward your dog for good patience and listening can help them stay on good behavior for more time.
Timing
Along with backup, it's wise planning to assume your dog won't be at the session the full time. Whether you book one or two hours, it's safe to say the pup's attention won't last that long. If your mom or friend are planning to be the dog wrangler for the day, let's discuss before the session whether we'll start or end with pup pics. This will let the sitter know when to bring in the doggo and when they can expect to be done (plus the pup could be home the rest of the time you're at your session!)
Along with timing for your dog's entrance and exit, it's important to consider outfits. If you'll want photos with your pup with the two of you wearing different outfits, it would be best to have them show up partway through the session. That way you can start the session in one outfit and do photos without the pup, and then move into pup pics with an outfit change in the middle, and finally finish the session with your second outfit again without your dog.
Embrace the Candid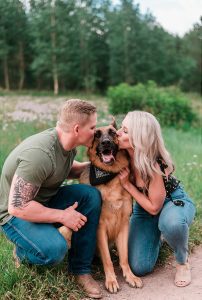 Dogs won't always be smiling for the camera. It's important to know that from the start. But if you embrace the in between moments and spend some shots cuddling with them, walking with them, or kissing them, you'll end up with some ridiculously cute images that will give you variety and probably some of your favorites of the whole session!
Hopefully this gave you some good info on including your dog in your engagement photos! If you tried anything not on this list and it really worked, please let me know in the comments so I can share with more couples!