When planning on eloping in Colorado, many couples focus on the front range, especially when they're from out of state. They want to fly into Denver and elope an hour or so away. If you're looking for an incredible elopement, with lakes and the best mountain views, or if you want a desert backdrop without the Scottsdale prices, in my opinion the best place to elope is Western Colorado! Because it's my favorite place to capture elopements in Colorado, I want to tell you all the best places to elope in Western Colorado.
San Juans
You've probably heard of Telluride, Colorado. Located right in the San Juan mountains, Telluride is a mountain oasis and huge tourist destination. There's a lot of great locations in that area… but outside of the Telluride area is where the real gems are, and some of the all-time best places to elope in Western Colorado. We're talking ghost towns, wild off-roading adventures, waterfalls, alpine lakes, the rockiest mountain backdrops, and fields of wildflowers, to name a few! 
Rent a jeep in Ouray and head down lesser traveled mountain roads for a fun adventure with very few other people around. With enough clearance on your vehicle you could drive to a ghost town or abandoned mine. Or in almost any vehicle, you could drive over Red Mountain Pass for beautiful lakes and secluded waterfalls. Hiking to a remote location, renting a jeep or ATV, or simply driving to a roadside lake… no matter your accessibility needs, there are incredible views and adventures to be had in the San Juans.
Gateway Canyons
If you love the red rocks of Moab but want something more secluded, meet Gateway Colorado. Home to a luxury resort and only 20-some miles from Castle Valley as the crow flies, Gateway is the ultimate location for a desert adventure in Colorado. You can take a helicopter tour from the resort and fly over Fisher Towers and up to a remote cabin near the La Sals, or elope on a bridge over the river with the canyon walls towering above in the background. And the best part? No crowds to avoid! All the desert adventures without the tourists in every photograph.
Crested Butte
I'll share Crested Butte on here because the cat seems to already be out of the bag. A previously unknown treasure, Crested Butte really is one of the best places to elope in Western Colorado. I love its laid-back hippie charm and stunning vistas, sprawling trails and back roads, and how many incredible backdrops there are to choose from! Between mountain lakes, ghost towns, huge aspen groves, to winding creeks and rivers with vast mountain backdrops, there's a backdrop for any elopement you could envision in Crested Butte!
Maroon Bells
An iconic mountain backdrop that I swear is a computer screensaver I've used in the past (lol), Maroon Bells is a highly sought-after venue for elopements and weddings alike. Reservations and permits are required since it is such a popular destination. I'd recommend looking into it a year in advance of your ideal dates just to be safe! The Maroon Bells area not only has the classic mountain backdrop, but also wildflowers, a hiking trail, and a beautiful lake too. There are nearby venues as well if you're looking for more of a micro wedding! Many couples I've worked with planned their day around getting married at the Bells and enjoying dinner at a nearby restaurant or brewery, with plenty of activities to enjoy the rest of the weekend too!
Colorado National Monument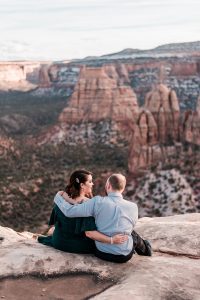 A highly underrated location for elopements in Colorado is the Colorado National Monument right here in Grand Junction! If daring cliff sides are your thing, the Monument has got you covered. There's also just amazing canyons, beautiful pink sands, and hiking trails galore. If you want to get married in the park itself, there are permits required and rules to abide by, but there is so much flexibility with them! You might even have some uninvited guests at your elopement in the form of the bighorn sheep that roam the park. That brings me to another great thing about eloping at the Colorado National Monument – there are fewer crowds than spots on the front range! It's easy to avoid other people in your photos, and at sunset or sunrise especially you're likely to see less than 20 other people. Definitely one of the best places to elope in Western Colorado for that reason!
The Four Corners
If you love a little Southwestern flare, the Four Corners area is a beautiful option. You've got the red rocks like Moab with Colorado laws, and plenty of hiking for your wedding weekend adventures. Because it's such a tourist destination, there are a bunch of beautiful Airbnbs ready to host your elopement and offer lodging for the whole visit. (Curious about eloping at an Airbnb? Click here for all the deets!) Another great feature of the Four Corners area is the stunning views without the altitude. If you or any guests are coming from lower elevation, you don't have to sacrifice on the vistas to avoid the higher altitudes!
Rifle Falls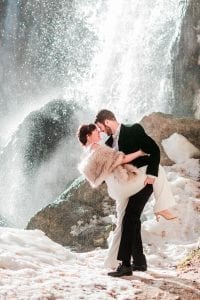 You want waterfalls for your elopement? This state park on the Western slope is definitely for you! Rifle Falls is the closest you'll get to the PNW or Hawaii here in Colorado. The area is lush and green, and you can get up close and personal to the falls! The park is usually not too crowded and offers some great backdrops for a smaller elopement celebration. It is also great because it's so near to Glenwood Springs, so after you two say "I do" you can enjoy an evening in the hot springs. What's better than that?
All of these diverse locations are right here on the #westslopebestslope, and they're my list of the best places to elope in Western Colorado – but there are SO many other amazing hidden gems and off-road spots to choose from. If you're looking for all the benefits of Colorado without as many of the crowds, consider the western slope for your elopement. Interested in my elopement pricing? Click here for more information!