Today we have a piece by the lovely Camberly with Simply Cakes by Camberly! She is so sweet (and so are her cakes!) and she has an amazing talent for making your visions come to life. She is sharing some insight into ways to make your cake your own, think outside the box, and sharing some new trends!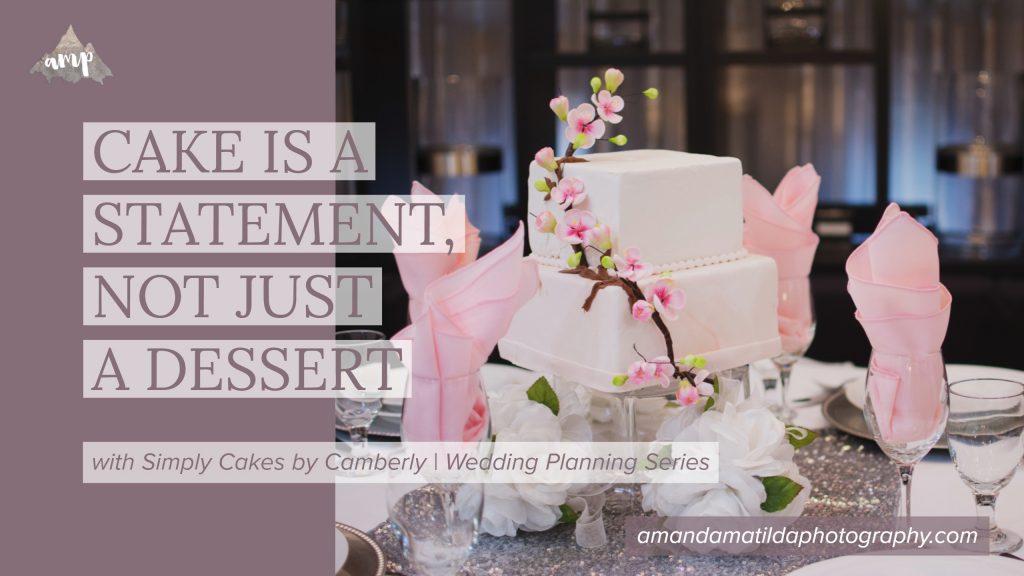 Cake is a Statement, Not Just a Dessert
by Simply Cakes by Camberly
To some couples the cake statement is just as important to the mood of the event as, say the dress or the flowers. We at Simply Cakes tend to agree.  Let us share with you some of the trends we see for 2017 & 2018 in designs & flavors!
Flavors of desserts served are always a fun way for couples to express their personalities. We always see those couples wanting to uphold the older traditional flavor palettes choosing white cake or even almond or fruitcake.
If your celebration is being held to honor older generational guest such as grandparents, this would be a wonderful selection. If however, you are inviting guests as just that, guests, have your cake be the flavors you desire. This is where scheduling a cake tasting with a baker comes into play. Cake tastings are part of the spoils of planning the big day. Use the bakers experience to pair cake, fillings and frostings to build the perfect bite for your guests as well as yourself. Custom flavor combinations can bring an element of surprise to guests as the evening winds down. We are seeing flavor trends in citruses such as passion fruit, blood orange and lemon. Alcohol infused cakes with your favorite brands. Adding depth to traditional flavors such as almond to chocolate, caramel to coconut, mint to anything. Flavor combinations are endless and in the end, it really is YOUR choice and your cake!
As for design elements, let us again bring you styles we see trending for the next two seasons: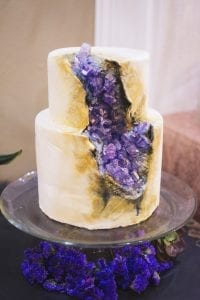 Marbling Designs. The marbled look is considered modern and trendy whil
e still giving the elegance a wedding deserves.  Depending on how it is used with other design elements of the event, marbling can give a cake a little whimsical feel or even a natural stone appearance.
Geode cakes are fabulous for pleasing guests. Its hard to not have guests "ooooing" and "ahhhing" with a cake element as unique as a geode! Edible crystals create an open crater within the cake screaming modern and bold.  Ironically this shiny cake tends to set best with weddings that boast natural and earthy vibes.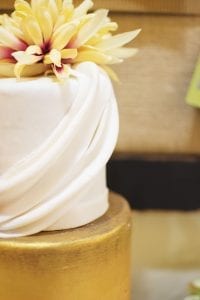 Shiny Metallic on cakes is trending again and we don't see them going anywhere anytime soon. These days, flatware on the tables is not the only things that shine.
Adding Silver, Gold and even Bronze to your cake gives that extra glitz and glam you might need to put your wedding over the top.
Small is the new big! Choosing a small two tiered, or even a single tiered cake, seems to pull in the feel of a smaller more intimate wedding. Using the scaled down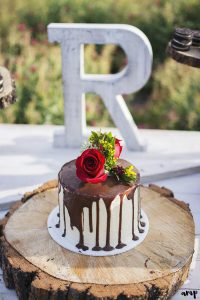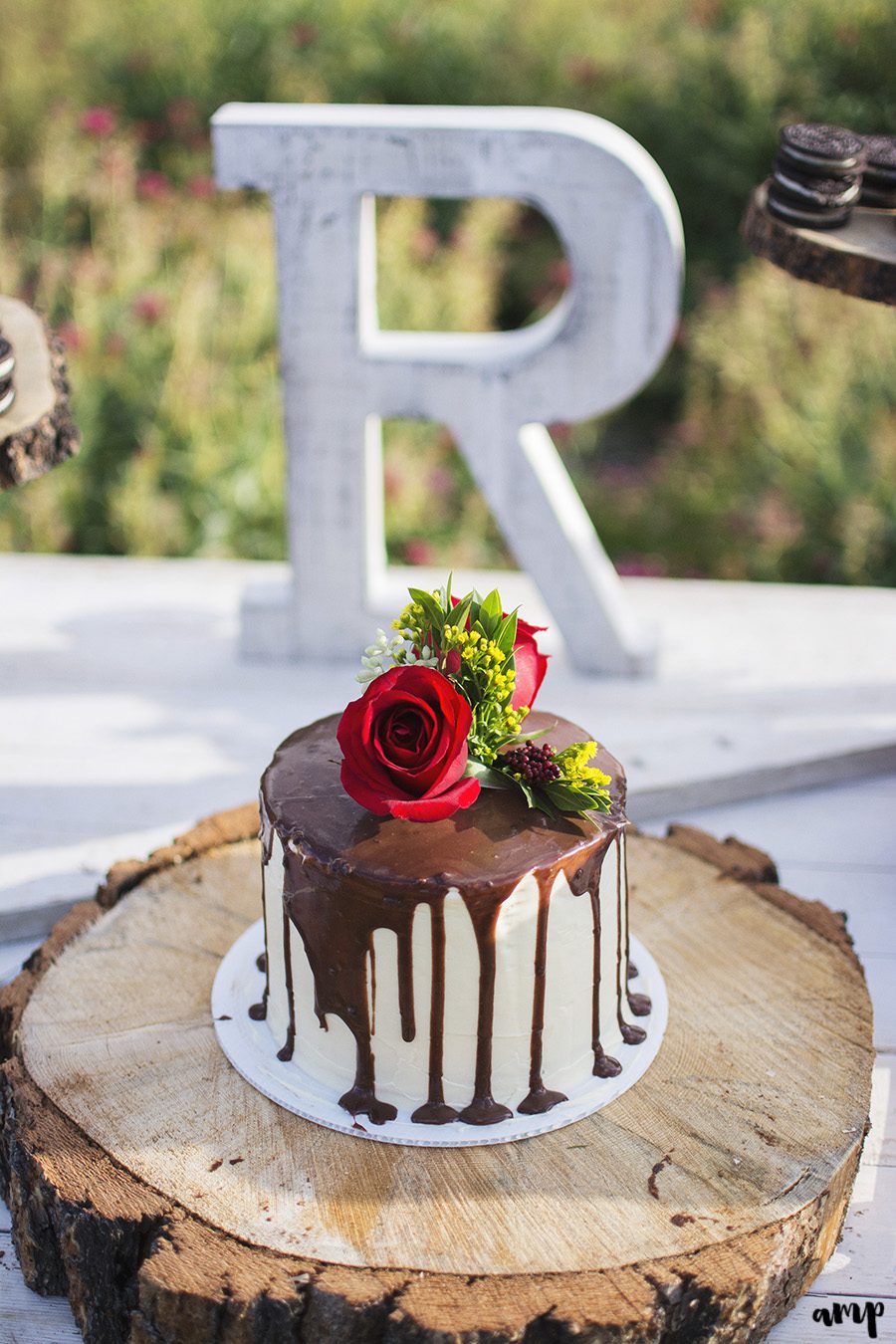 sized for the formalities of the cutting ceremony and then serving guests other desserts from the table such as cupcakes, cookies, pastries and pies.
Rustic textures are always popular. Cakes that appear as wood or stucco textures are always favorites and can be manipulated to work with any type of wedding with the use of florals or decals. Naked cakes fall in this category as well. The natural colors of the cake in contrast with the minimal frosting is a statement in and of itself.
Unique Shapes, off set stackings and heights are fun for a couple that wants to think outside of the box. Taking a classic look and forcing it to take a new fresh appearance is a great way to customize your cake. Square, oval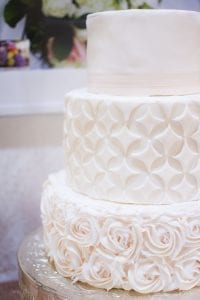 , hexagon… are all unique and clean. Changing the standard 4" or 6" high tier to 8" or even down to 2" changes things up a bit as well.
We have seen other elements such as Monograms stenciled onto the cake, or edible and non-edible Bling added to the cake. We are seeing fondant ruffling and layering making its way back into the lime light as well! We are loving the more artsy and less traditional designs such as watercolor cakes, stained glass cakes and cakes with intricately detailed design such as Spanish tiles, spreading slowly but forcefully, and we are looking forward to what lay ahead!
Hopefully you'll find these tad-bits and leads helpful and inspiring.  We at Simply Cakes try to keep up on all trends and techniques so that our couples can be assured that we are ready.  Best of luck in planning your amazing wedding event and blessings as you look to your future!
-Camberly & Nick Anderson
Find Simply Cakes by Camberly online:
Email: Simply_cakes@rocketmail.com