Whether Arches National Park is a personal favorite for the two of you, or you're an adventurous couple looking to check off a new national park on your wedding day, if you're considering getting married at Arches National Park, you probably understand how beautiful and popular the park is. As such, there's some basic background knowledge you'll want before you begin planning your wedding or elopement to make the experience the best one possible.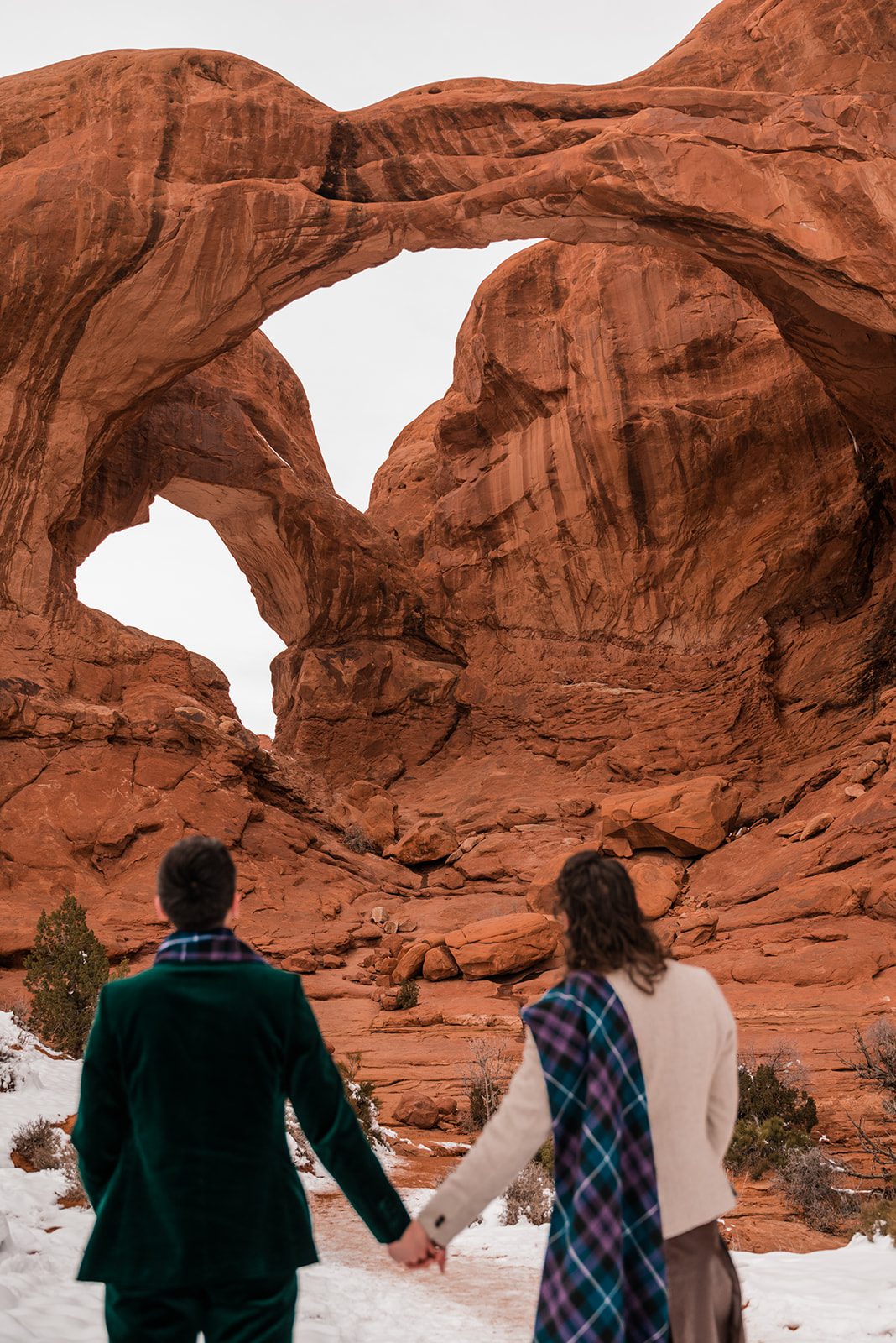 What is Arches National Park
So to start, maybe you've stumbled upon this blog with very little background info about Arches National Park. Arches is one of two national parks located in Moab, Utah. It's part of the "Big Five" national parks located in the state, and it's known for it's red rock naturally-formed arches. The park alone has "over 2,000 natural stone arches, hundreds of soaring pinnacles, massive rock fins, and giant balanced rocks" according to the park website.
When to Get Married in Arches National Park
Best Months to Elope in Moab
The popularity of Arches National Park and the climate of Moab in general create definite "on" and "off" seasons. Due to its busyness, Arches requires Timed Entry from April 1st through October 31st, which means you'll need to apply for a reservation ticket in advance of your visit. As of 2022, your wedding permit has been acting as your timed entry ticket but be sure to check current rules with the park rangers.
Since April through October are the most popular months to visit, you can see that the other months of the year are the best times to visit if you're looking to avoid those crowds. December through February can come with snow in the area, which is a beautiful and more rare version of the park than most people get to witness. Late February and March are beautiful weather as spring hits Moab, with average high temperatures reaching the mid-60's typically.
Sometimes avoiding those busy months is not possible, in which case timing your wedding or elopement in the park is important. Even planning a weekday instead of a weekend is a big help for minimizing crowds.
When to Avoid Arches National Park
Midday from 9am-3pm is the busiest time of the day at the park. The good news is that this time period is also the worst lighting, so it's easy enough to avoid that rush if you're planning far enough in advance to get a well-timed permit. Most photographers will recommend either sunrise or sunset for your celebration, when possible. Some arches, like Sand Dune Arch, provide shade most of the day and are easier to accommodate a mid-afternoon ceremony if needed.
Summer is another time that it's advisable to avoid the park. The excessive heat in July and August can reach well over 100 degrees most of the time, creating dangerous conditions for hiking and working outdoors for extended periods of time. If you cannot avoid these summer months, plan to start hiking before sunrise and aim for a very early morning ceremony to beat the worst of the heat if possible.
In general, the busiest days of the week are the weekends, and it's wise to plan for a weekday when possible.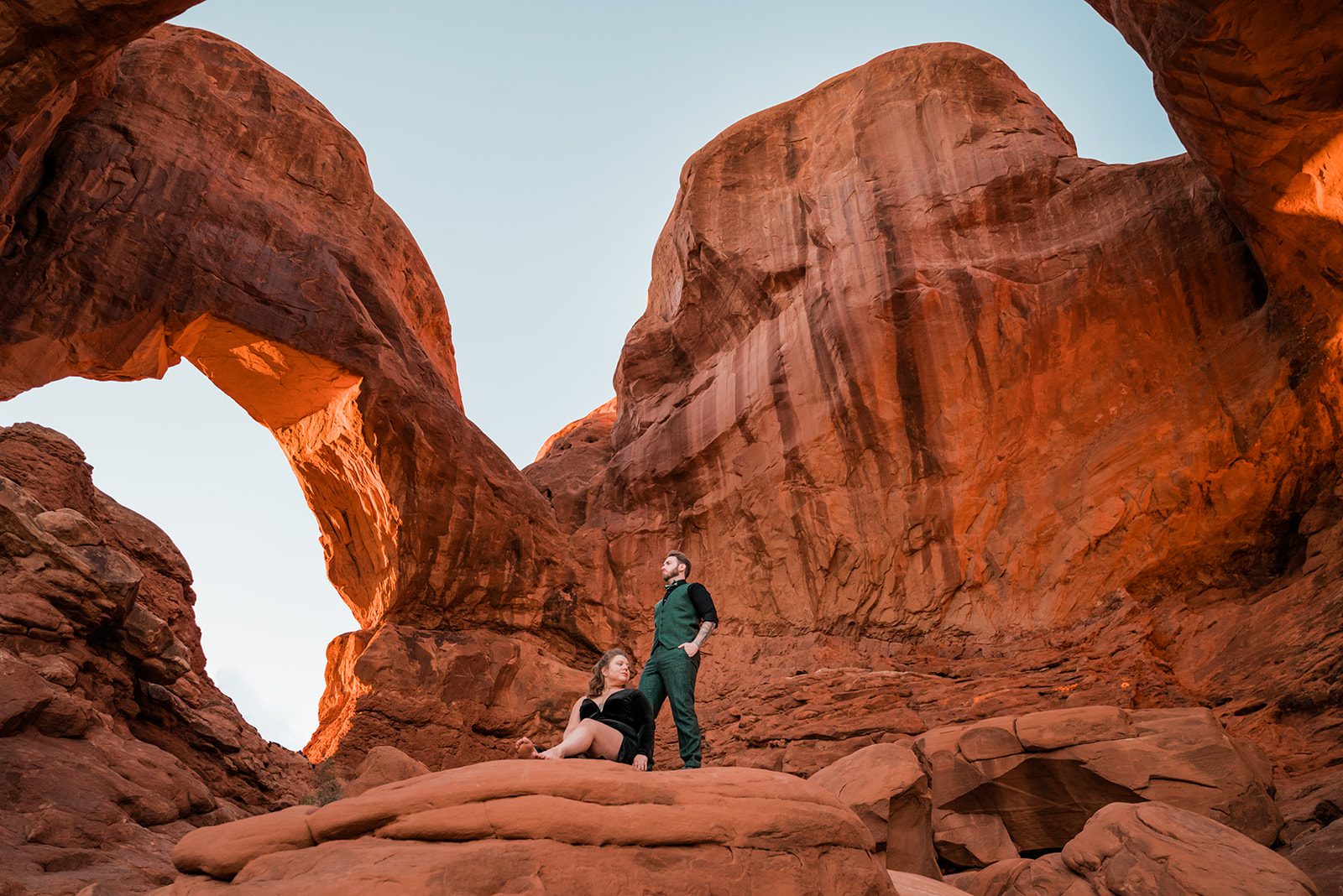 Leave No Trace in Moab
Moab is a unique area with delicate systems that need our protection. Before you visit, be sure you understand how to do your part in taking care of this beautiful desert. In general, the Leave No Trace guidelines apply here:
Plan Ahead & Prepare
Travel & Camp on Durable Surfaces
Dispose of Waste Properly
Leave What You Find
Minimize Campfire Impacts
Respect Wildlife
Be Considerate of Other Visitors
In more detail specific to Moab, there's a saying "Don't Bust the Crust" that is so important to be aware of before visiting. In the Moab area, there are extremely delicate soil crusts all throughout the desert, sometimes called "Cryptobiotic Soil." Be sure to take into consideration the surfaces you are stepping on! A single step off trail can destroy SO many years of growth for these biological soil crusts that take decades to recover from that one footstep. Biological soil crusts are essential to growth in this desert and also help to reduce erosion and create helpful soil creation. It is crucial that we keep on trail and durable surfaces like slickrock when recreating in Moab.
Being considerate of others is also important in Arches National Park, and part of why the park has certain regulations in place. Not playing music, and allowing visitors time with the arches between photos, among other regulations, allow guests to the park to enjoy their time while giving you the chance to still get married in these spaces as well. Everyone gets their turn and enjoys their visit!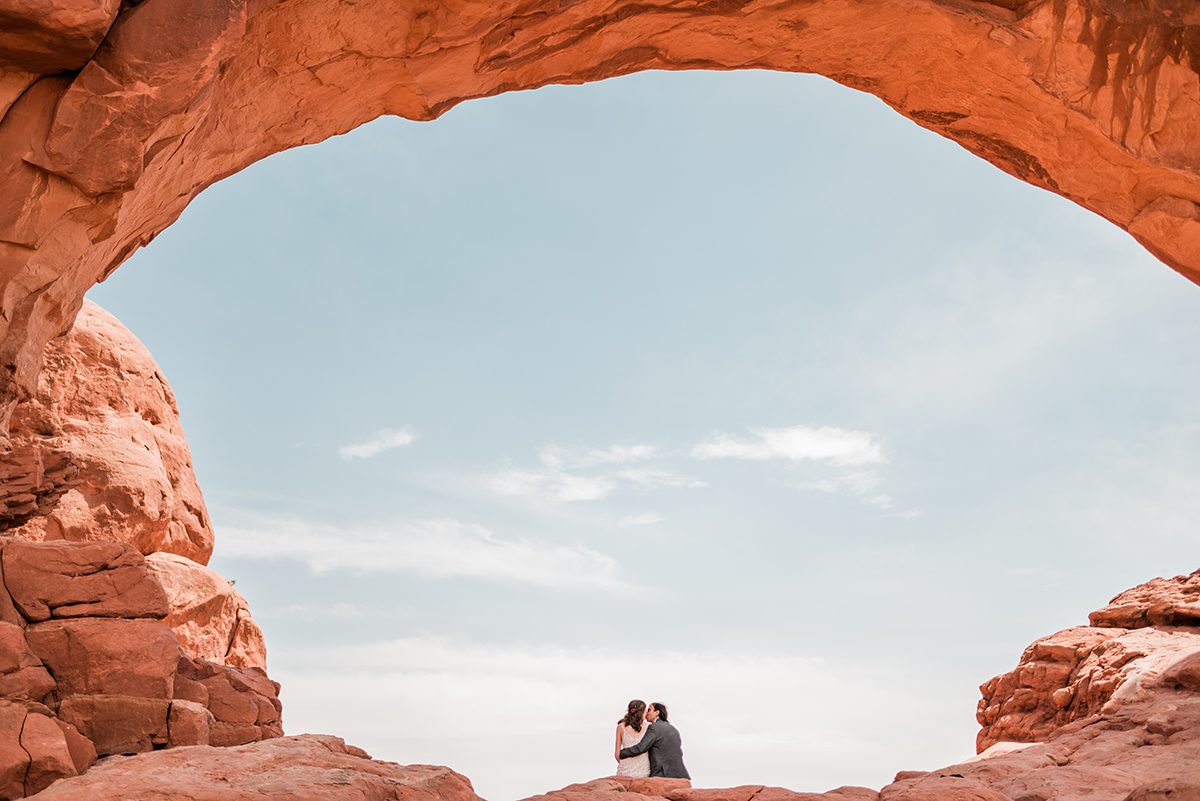 Climate of Arches National Park & Moab
Moab is considered the high desert, and spends all but a handful of days each year above freezing. December through February are the colder months of the year, with highs rarely exceeding 45-50 degrees. The winter months can still see snow and ice, especially on North-facing areas, so if hiking in the winter prepare accordingly with micro spikes or other shoe traction devices. Trails can often become icy from being melted and walked on during the hotter parts of the day, while freezing again overnight.
Spring and Autumn are the most temperate times of the year in Moab, with highs typically in the 70s and 80s. Spring in the desert is known to be very windy as well. Since these months are so beautiful for weather, there are some crowds to compete with. March is also usually Spring Break for Utah schools, something to consider if trying to beat the crowds.
Summer heat can be deadly in Moab, with highs regularly in the 90s and 100s or hotter. Over 120 days of the year are over 90 degrees in Moab. Prepare accordingly by packing more water than you think you need, knowing the trails or having a map, and avoiding the heat of the day for recreating outdoors.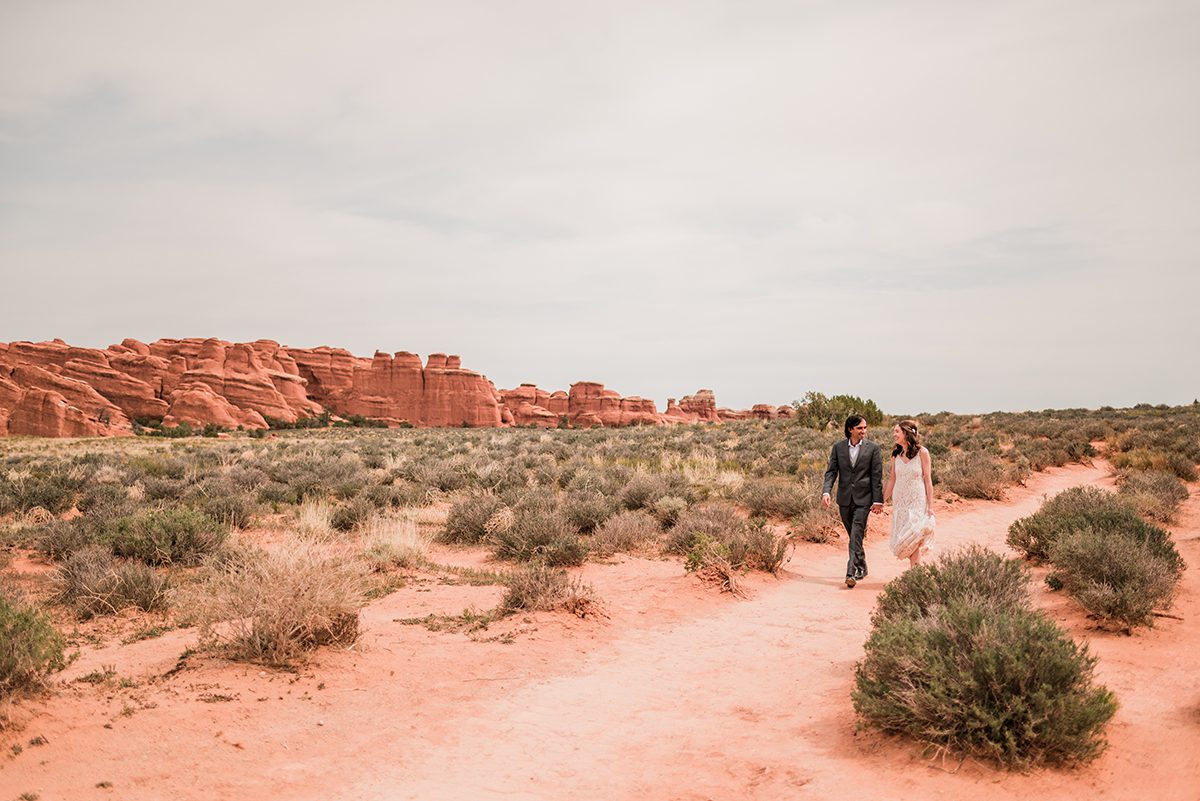 How to Get Married at Arches National Park
Permit Process
In order to get married at Arches National Park, you'll need a Special Use Permit. The cost of this permit, as of 2023, is $385. Couples must be the one to apply for the permit, which you can do on the park website. The park begins processing permits within a year of your event date. Due to recent popularity of getting married in the park, some permit processes have changed and spots may become limited over time. Be sure to check with the park rangers for up-to-date information.
Where You Can Get Married in Arches
There are designated spaces in Arches National Park where you can get married. A quick overview on the park website will give you this chart:
Location

Group Size

La Sal Mountains Viewpoint
50
The Windows Section
(North Window, South Window, Turret Arch, or Double Arch)
25
Sand Dune Arch
25
Pine Tree Arch
25
Park Avenue
15
Devils Garden Campground Amphitheater
80
Panorama Point
50
For more information, I'll dive into each of these spots for you here, so you can see what each location offers and more information about getting married there.
Sand Dune Arch





Capacity: Up to 25 people (including vendors like photo/officiant!)
Popularity: High
Because this is an iconic arch and one of the shorter hikes to get to, it is very popular. Outside of weddings, you'll also be competing for the space with a lot of other park guests. The area, as you might guess from the name, is quite sandy and becomes a bit of a huge play area for kids as well.
Other Insights: Outside of the general noontime, this arch is mostly shaded so it is often a good option if you're only able to get a mid-afternoon time slot for your permit.
The Windows Section





Capacity: Up to 25 people (including vendors)
Popularity: High
These are some of the most popular arches in the park, and they're very near the entrance compared to others. Between that and their relative accessibility, many park visitors and couples alike visit these arches. It's almost a given that your photographer will be photoshopping people out of the background of your images here. Sometimes off-season and sunrise/sunset will help with that.
Other Insights: North and South Window arches are a great sunrise spot. Turret Arch and Double Arch can be beautiful at either sunrise or sunset.
Pine Tree Arch





Capacity: Up to 25 people (including vendors)
Popularity: Medium
Being at the far point of the park and a much lesser-known arch, Pine Tree Arch isn't as busy as the highest popularity spots. It is, however, a spectacular spot, and not unknown by any means. It's a 10-15 minute hike into the trail, generally, and many guests miss it.
Other Insights: This arch is great in the morning if you need mid-morning for your permit time because of the way the sun hits it. It's also great at the standard sunrise/sunset. It's the closest arch to the Devil's Garden Campground if you're planning on camping in the park too.
The La Sal Mountain Viewpoint


Capacity: Up to 50 people (including vendors)
Popularity: Medium
Being an easy pull-off toward the front of the park is the only thing putting this at "medium." The views of the mountains are beautiful, but if you're coming to Arches for, well, the arches, you won't see any up close here. It's a wonderful option, though, if you're looking to bring more than 20-some guests.
Other Insights: This is a fabulous sunrise spot, or very close to sunset. You're completely unshaded by anything so it's a good idea to avoid midday for lighting and comfort. The park visitors you see will mostly be quick stops for a photo, and they might not stop at all if they see your ceremony in progress.
Park Avenue
Capacity: Up to 15 people (including vendors)
Popularity: Low
Being an easy pull-off toward the front of the park is the biggest thing that makes this spot more popular than you'd think. The views of the red rock walls towering around you are beautiful, but this is another spot where the arches are, well, lacking. Between the fairly "meh" views compared to elsewhere in the park, and the very limited capacity, this is one of the least popular locations for getting married at Arches.
Other Insights: If you're wanting to incorporate a walk or hike for your elopement or wedding, this could be a nice spot for you. The trail and the red rocks are beautiful.
Devil's Garden Campground & Amphitheater
Capacity: Up to 80 people (including vendors)
Popularity: Low
The biggest draw to this location is its capacity, which at 80 people is the largest of all the places you can get married at Arches National Park.
Other Insights: If you were hosting a bunch of friends and family at the campground and wanted an easy, centralized spot for the wedding ceremony before setting off for some portraits around the park, this is a great location for you.
Panorama Point
Capacity: Up to 50 people (including vendors)
Popularity: Low
This is an often skipped pull-off in the park as it's kind of in the "middle of nowhere" between two popular and arch-heavy areas.
Other Insights: This spot has beautiful views of the Fiery Furnace and fin-like red rock formations on the horizon, and it can be a cool spot to do some stargazing if you like.
Regulations at Arches
If you're thinking about getting married at Arches, the park (like most National Parks) has some rules and regulations we'll need to abide by. The National Parks in Moab have some recent updates to their regulations (as of 2023) that I'm including here. Be sure to check with the park for the most current rules and regulations.
Wedding and Elopement ceremonies at Arches National Park are limited to 10 minutes in length. A park ranger will accompany you and your group to the arch your permit is for, and ensure your ceremony doesn't go over time.
The park will evaluate the use of folding chairs on a case by case basis. Anticipate your guests needing to stand for your ceremony. If you're worried about this, consider hosting your ceremony at the campground/amphitheater where there is more chance of being able to have some seating without much impact.
If you're getting married at Arches, be aware that you are responsible for site clean up. It's a good idea to designate someone to help you with that if you don't want to worry about it – whether that's a friend or family member, or you hire a coordinator to take care of these little things for you.
The final rules to be aware of regard the impact you have on others visiting the park. One rule is that "you may not occupy more than half of a parking lot or pull-out. You must allow for free traffic flow for visitors." Be sure your guests are carpooling into the park to lessen your traffic footprint. You also must restrict wedding activities to slick rock, dry washes, or maintained areas of the park, and you must be in compliance with all park rules and regulations.
The following activities are prohibited for your wedding at Arches National Park:
Use of rice, birdseed, or any non-native plant seed.
Releasing butterflies, doves, or any other wildlife.
Conducting a wedding within any cultural resource site.
Establishing tents, caterers, sound systems, tables, etc.
Use of alcohol
Playing musical instruments
Amplified sound
Entrance Fees and Parking
While you need to pay for a special use permit to get married in Arches National Park, you are also still required to pay the entrance fee. During timed entry months, your permit acts as your timed entry ticket. One really important thing to note about your permit for getting married at Arches is that your permit does NOT guarantee you or your guests entry to the park! During the busy season, which can be March through October really, the park frequently stops entry due to the parking lots and trails being at capacity. Your permit also does not guarantee you or your guests any parking, which is why it's so important to carpool. Not only do you lessen your impact on others but it makes it easier to find that one last space that might be open. For these reasons, it is so important to work with professionals who know the area and know how to navigate these issues to make your experience easier and less stressful. We can help you know when and where to go to have fewer crowds to contend with.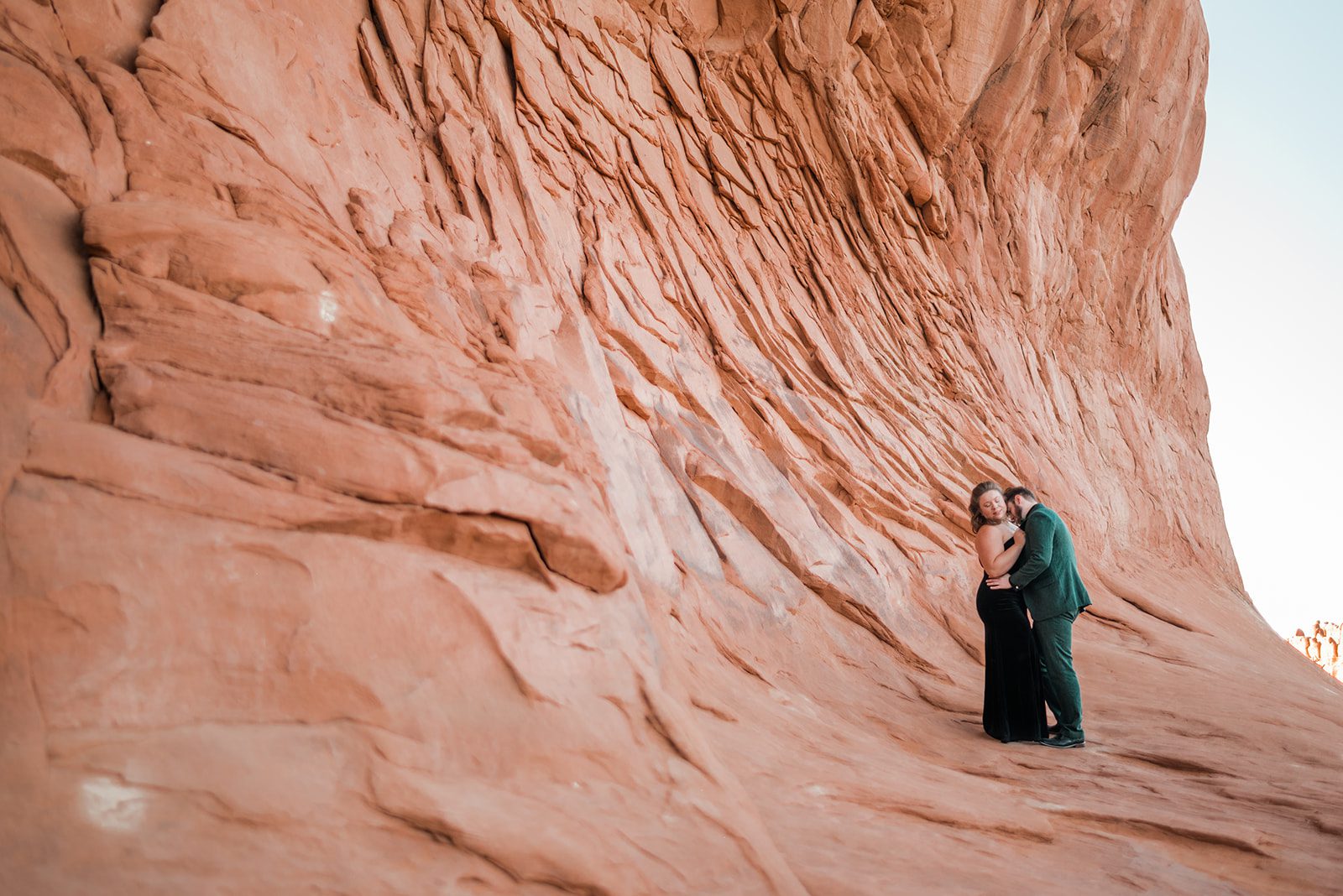 Vendors for your Arches Elopement or Wedding
If you're getting married or eloping at Arches National Park, there are some standard vendors you'll want for your elopement or wedding. Beyond just a photographer to capture the moment, you'll need someone to marry you, as Utah requires an officiant of some kind to oversee your ceremony. You may also want a videographer, some kind of dessert to pack in and pack out with you, and if you're bringing flowers to the park, be sure you're working with a local florist who knows what plants are safe and allowed to bring.
Getting to Arches National Park
If you're driving to Arches National Park, you'll likely take interstate I-70 (East/West) to highway 191 (North/South) which leads to Moab from the interstate and from the South. To fly to Moab, you have a few options. If you want to fly into a large international airport, you can fly into Denver or Salt Lake City and drive the rest of the way (about 4.5 hours from SLC or 5.5 hours from DEN). You can also find a connecting flight to Grand Junction and drive from here – about 2 hours, or fly into the little regional airport at Moab.
If you want a more unique way of getting to Arches and you're coming from Colorado, there's a train route on the Rocky Mountaineer that takes you across the Rocky Mountains of Colorado over to the red rocks of Moab.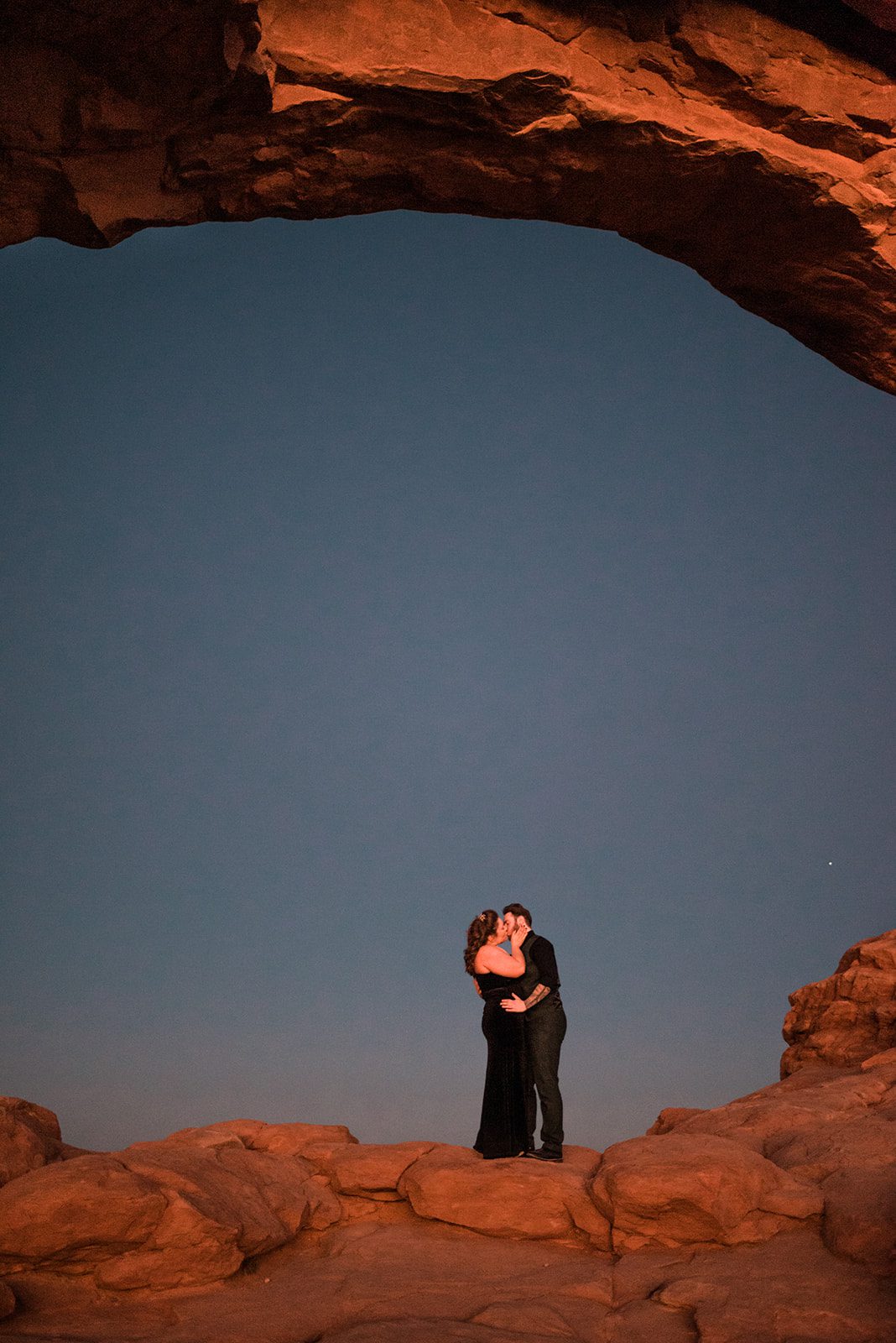 Where to Stay When Visiting Moab
Camping & Glamping
If you're up for some fun, unique lodging in Moab, consider camping or glamping in the area. The BLM lands around Moab offer established campgrounds and group camp sites if you're planning to stay with a group. For Glamping, there's a few really cool options. The Domes at Moab is a newer unique lodging offer where you can rent a geodesic dome to stay by the river. Glamping Canyonlands offers safari style tents and more south of town by The Needles District of Canyonlands National Park. If you're familiar with the Under Canvas company, there's an Under Canvas Moab near to Arches National Park as well.
Hotels & Resorts
Moab has a range of hotels to stay in, from traditional and familiar franchises, to more local hotels with all the charm of Moab. Hoodoo Moab is a popular hotel by Hilton in the area, with sleek, modern Moab vibes. Red Cliffs Lodge is a riverside ranch that offers 5-star lodging with a bunch of amenities on site. Sorrel River Ranch is a cool space outside of town if you want to stay closer to nature.
Vacation Rentals
Moab, as you can imagine, has a plethora of vacation rentals for tourists visiting the area. Some local favorites are Arches Vacation Rentals, Moab Springs Ranch, and those found on VRBO and Airbnb.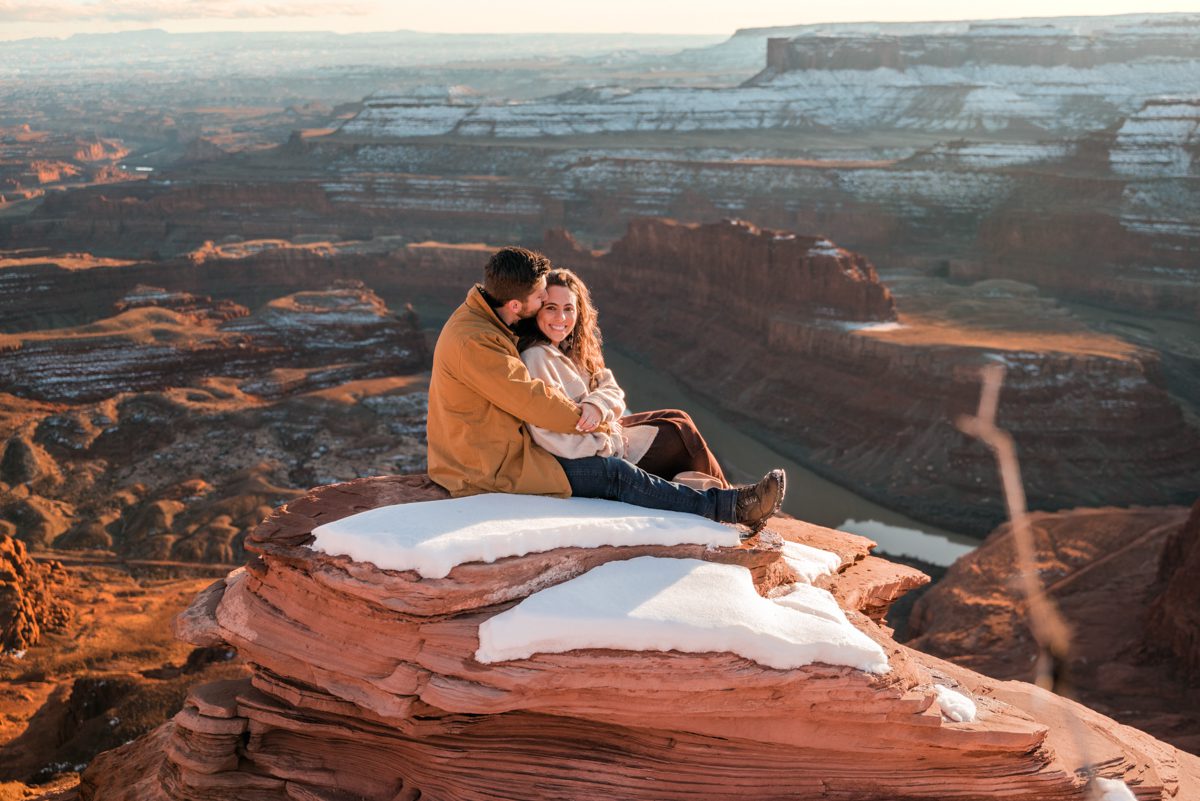 Alternatives to Arches National Park Weddings
Feeling overwhelmed or restricted by the logistics of getting married at Arches National Park? The areas outside the national parks in Moab have some great views to offer, without as much of the tourist attention of the national parks. Fewer crowds, more land to share, and unique backdrops are some of the benefits to getting married outside the national parks.
CLICK HERE FOR MY POST ABOUT WHERE TO GET MARRIED IN MOAB!















Your Arches National Park wedding and elopement photographer
Hi! I'm Amanda, your Arches National Park wedding and elopement photographer. I live under 2 hours away in Grand Junction, and frequently work in Moab. I hold a permit for the area BLM lands, and know and keep up-to-date with the parks regulations in town too. Having been at this for 10 years now, I'm your go-to for help getting married in Moab. Contact me to start planning your Moab adventure!
SAVE THIS GUIDE FOR LATER – PIN IT: