With so many couples potentially getting engaged on Valentine's day, I wanted to create a Grand Junction guide to engagement rings! We have so many great local jewelers to choose from in helping you pick the perfect ring to propose with.
Engagement Ring Style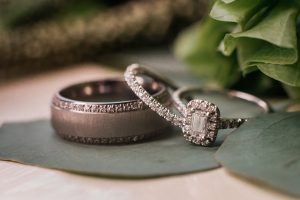 First, let's talk about styles. When I first thought about looking at engagement rings to drop some hints, I had NO idea what styles there were. I knew nothing about cuts, carats or stones. I did know that I wasn't super interested in a diamond, but beyond that I was helpless. I'm not here to teach every single cut (click here for a wonderful full guide!) but suffice it to say that you can get a diamond in circle, square, teardrop shape or more. Within those choices, consider what you might want your wedding band to look like! And yes, your engagement ring and wedding band are (typically) separate rings! Many people choose to get their engagement ring and wedding band soldered together to become one ring (insert Lord of the Rings joke here).
Stones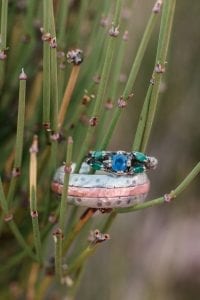 The second consideration for engagement rings is what stone you want. Don't like diamonds? Want a bit of color? Looking to save money? Consider a gemstone option! You can get a purple amethyst, a blue sapphire, green emerald, red ruby or more. These gemstones also come in the cuts from the guide above so don't forget to check it out!
Budget
The next big thing to consider is budget. In the past, magazines have recommended spending three months' salary on an engagement ring. Today's guides have quite a different recommendation, though. People today are thriftier, less traditional, and have way more options! Figure out a realistic budget for YOU and search from there. You can save money on certain stone settings, sizes, or types of stones. With so many great local jewelers you can likely find something they'll love within a budget that actually works for your wallet.
Shop Local
Speaking of local jewelers, let's talk about local options in the Grand Junction and western slope area! Here in GJ we have two great jewelers right downtown. Mesa Jewelers and Thomas Hunn Jewelers offer a variety of ring styles and from different sources. Thomas Hunn is known for creating custom pieces, which is another thing to consider that I will maybe go into another day. If you're looking for customized guys rings, Anvil Rings is based here in town and offers an assortment of unique rings for the men out there.
Outside of town there is a really cool, modern shop called Colby June, where you can find custom gemstone engagement rings that are so beautiful. This shop and Anvil Rings are both online, which can keep costs lower, but also comes with the issue of making sure you're properly sized before shopping. South of Grand Junction is Ouray Silversmiths, where guys can find some incredible and unique rings with a mountain theme! They serve the girls too, but I find it's a lot harder to find unique guys rings.
Hopefully this helps you start your search for the perfect engagement ring! If you have any other pro-tips, leave them in the comments below to help future couples!