If you're looking for more information on getting married at Beaumont Hotel in Ouray, this post is just for you! This incredible historic hotel is a staple wedding venue in Ouray, Colorado – and for a good reason! With convenient location on the main street and a host of spaces for your ceremony or reception, the Beaumont has a lot to offer.
Getting Ready
The Beaumont Hotel is a working hotel, with 12 rooms and suites elegantly renovated to reflect the hotel's rich history. These rooms can host your group for getting ready the morning of your wedding. The Tower Suite is a common getting ready room, with an ornate spiral staircase that lends itself well to the vibe of the hotel! If you're going to have a lot of wedding party or family members getting ready with you, though, this room can get a bit cramped.
The Presidential Suite is easily my favorite getting ready space in the hotel. With a TON of window light, gorgeous gold mirrors, high ceilings, and plenty of room for larger parties… there's everything to love about this room. Be aware, though, that if you're hosting a lot of guests at the hotel, it can fill up fast and getting ready rooms can get cramped easily.
Consider, too, if you're bringing hair and makeup with you, or if you need to factor in time to get to and from the salon(s) in town!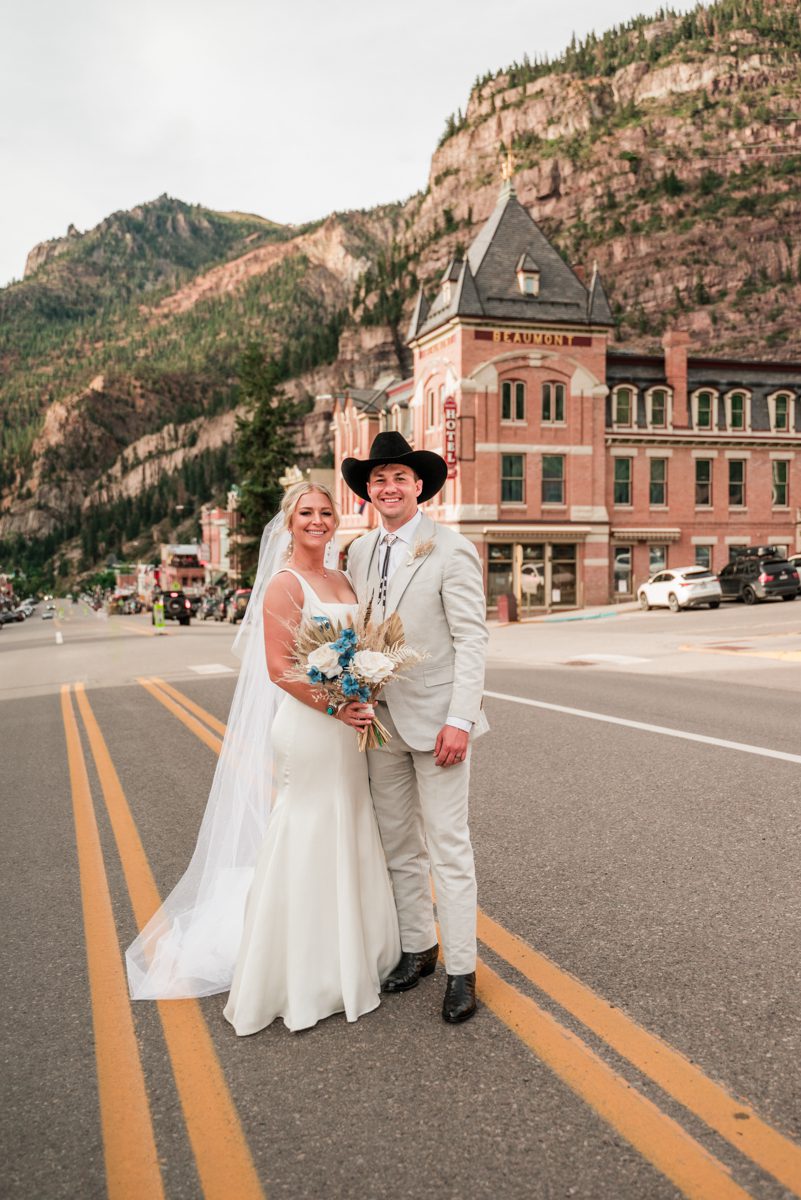 Portraits
I like to think I helped make this a staple shot for Ouray weddings, but almost every couple I work with there requests a middle-of-the-street portrait! The road right outside the Beaumont Hotel is perfect for this shot, as you can get unimpeded space in the middle of the street, and views of the mountains at either side of town. Plus being that far into town more cars are used to stopping at every intersection for pedestrians.
A lot of the Beaumont Hotel weddings I capture have their ceremony off-site – at spaces like Yankee Boy Basin or Top of the Pines – and the reception and party at the hotel courtyard. For celebrations like this, portraits get seriously amazing. You cannot ask for better backdrops than the San Juans! Yankee Boy Basin features some incredible vistas and waterfalls to make your portrait time a true adventure. Top of the Pines offers a great view of Mt. Sneffels and the full ridge of the mountains along the horizon.
For portraits in the Beaumont Hotel, couples love the "Titanic feel" of the grand staircase – though be aware that lighting that area can be tricky. Be sure your photographer knows how to work with flash or reflectors for the best staircase portraits! The ballroom is another beautiful space in the hotel, as well as the courtyard – with all the vines and wrought iron entrance.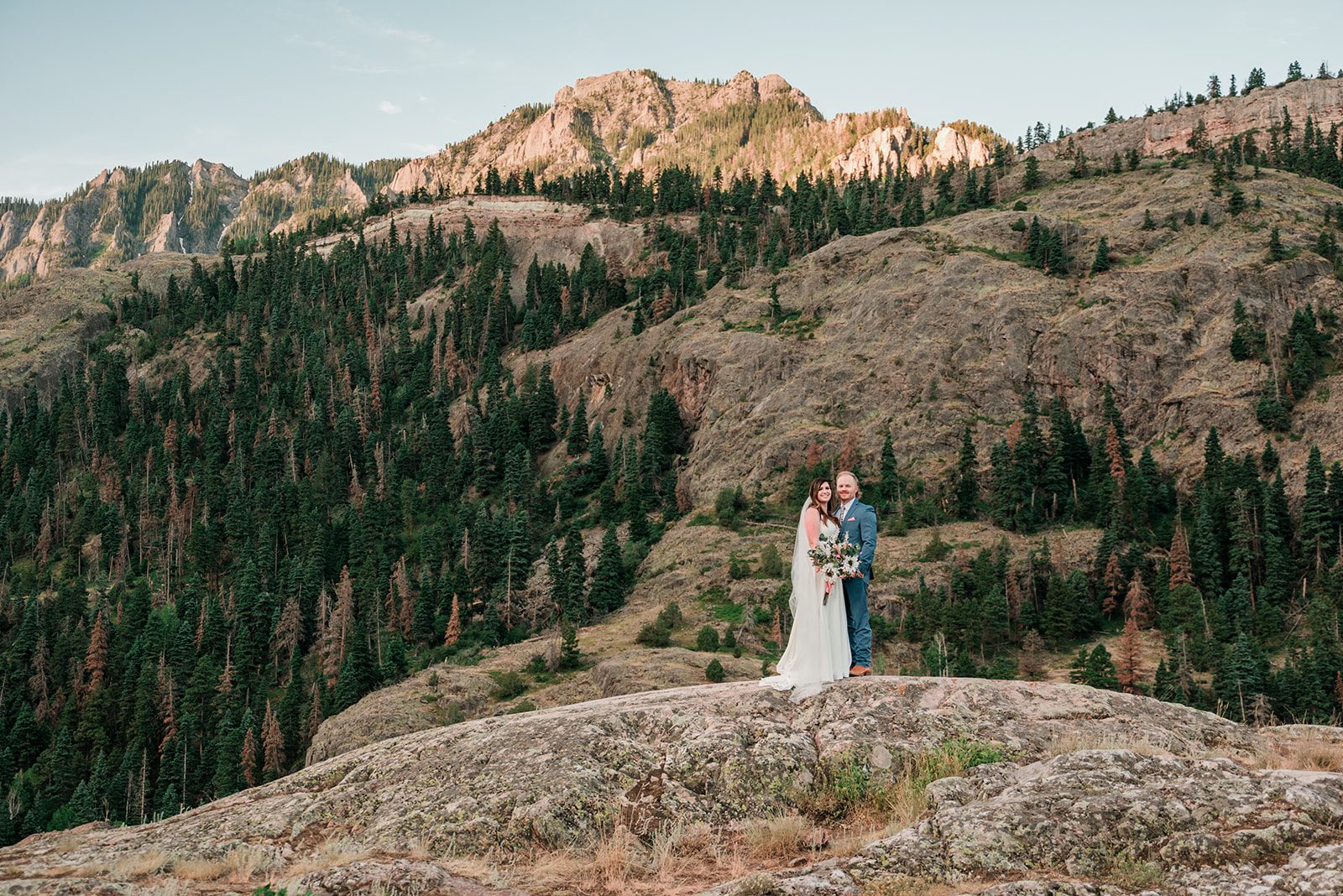 Ceremony
Wedding ceremonies at the Beaumont Hotel often take place in two popular spots. The first is the courtyard – a beautiful outdoor option with greenery and florals to decorate the space. The surrounding mountains will tower overhead as you say "I do." The other common option is best for smaller ceremonies; many couples love getting married on the grand staircase. This space can only fit a handful of witnesses, so keep that in mind.
Like I mentioned, a lot of weddings I capture at the Beaumont opt to have their ceremony off-site in the mountains. From driving just up Red Mountain Pass or four-wheeling up to the Amphitheater, to jeeping into Yankee Boy Basin or a wild ceremony at Top of the Pines, there are so many amazing options for getting into nature for your Ouray wedding. And the Beaumont Hotel will be there for lodging, getting ready, and the reception afterward!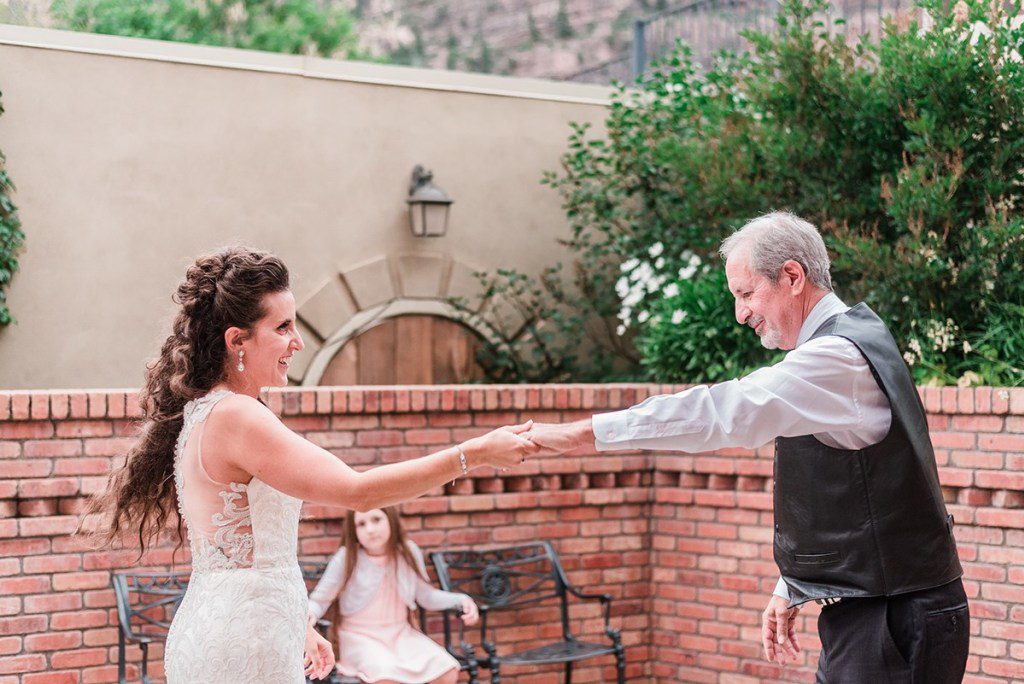 Reception
For summer weddings, most couples opt to hold their wedding reception at the courtyard of the Beaumont. With a bar and indoor space for buffet, kids table, or cake display, this space really has it all. If you're wanting the outdoor wedding feel with the security of an indoor Plan B, this is the perfect option! The Beaumont Hotel also has a grand ballroom, perfect for elegant, ornate weddings looking for a lot of pomp and circumstance for their celebration.
Overall, the getting married at Beaumont Hotel offers a host of amenities and spaces perfect for customizing almost any celebration you can dream up. With so many nearby areas to promise to forever in the mountains, but the comfort of an elegant hotel and spa to come back to, I definitely recommend checking out the Beaumont for your Ouray wedding!
Photos From Beaumont Hotel Weddings