There is so much information on the internet about how to save money on wedding flowers – and not all of it is accurate (at least not for where we live!) I sat down with Becca at Country Elegance Florist for an insider's perspective on smart swaps you can make, and how to save money without totally compromising your vision (you DON'T have to do all baby's breath!) Let's dive in.
STAY IN SEASON?
I had always heard for years that buying in season will help lower your expense for wedding flowers – but that's just not always the case! While more often than not, seasonality doesn't have much affect, certain premium stems do make a difference buying in season. Peonies are one of these flowers that can help to buy in season. They are more expensive year round, but even MORE expensive out of season! If you didn't know, the season for peonies is typically the last three weeks of May to the first week of June – but totally depends on that year's weather.
Another flower that is good to consider its season is lavender, especially here in the valley where we are spoiled with local lavender farms! Lavender is typically peaking in August-ish (but again can vary depending on weather and whatnot.) Beyond those, though, most stems will cost around the same all year round.
SMART SWAPS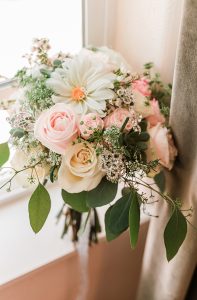 This is probably the biggest factor to help you save money on wedding flowers. You can make smart swaps to achieve a similar vibe at a much lower cost. Becca showed me images of one of the trending rose varieties right now: Juliet Roses. They are STUNNING but also EXPENSIVE! By working with a professional who knows all about flower varieties they can help you find a similar styled rose variety that achieves your vision with a fraction of the cost.
Similarly, it's important to let your florist help guide you. Maybe you're insisting on sticking with baby's breath filler because you want to keep costs down. Did you know that many of the filler flowers that are just as pretty (if not, in my opinion, way prettier!) are the SAME COST as baby's breath?? Why not get a more unique stem for the same price!
Speaking of stems that are the same price, it's really beneficial to work with a professional for all kinds of smart swaps to help you with your priorities. If you're wanting a big bouquet on a little budget, some stems are the same price and twice the size – so they can help guide you toward flowers that will accomplish your vision within your budget.
BE INFORMED & FLEXIBLE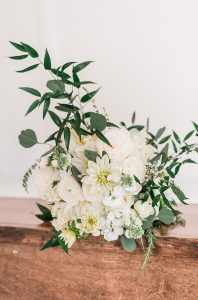 If you're looking for how to save money on wedding flowers, it's important to be informed. For instance, I literally had no idea what an average bouquet costs! Becca informed me they typically run between $150-$250 depending various factors. So it's good to know going into your flower consultations where the average is to start!
She also had a great tip for couples out there looking at inspiration online: the Rule of Roses. If you find a centerpiece or bouquet you LOVE online, notice a stem you recognize – for instance a rose. Most of these images will have a familiar flower like the rose in them that you can use to mentally size up the arrangement. If the roses look tiny in the display, you can tell just how BIG the arrangement really is. With so much inspiration out there without context, it's good to know what you're really looking at, and this Rule of Roses can help!
As for the flexibility side of things, when you select your florist you are trusting them to guide you to the best choices to achieve your vision while staying within budget – but they're not miracle workers (as much as I like to think they are!) Being flexible with what stems you are willing to accept will help your florist help you. If you insist on all premium stems, it's just going to hard to keep costs down! But if you're flexible and open to suggestions that are similar in style and vibe, you could save a ton of money.
This is just touching the surface of ways to reduce costs on your flowers. Be sure to see Becca at Country Elegance Florist NOW if you're looking for flowers in 2020! They are awesome and book up fast.