Getting ready on your wedding day is one of the longest parts of the day, and one that has a lot of things to think about and remember. Today I want to share my top five lifehacks for getting ready you should think about beforehand that will hopefully help you through!
Lifehacks: Getting Ready on Your Wedding Day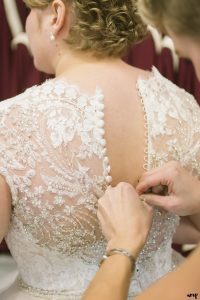 Get a Crochet Hook. If your dress does up with buttons on the back with those little loops — you need a crochet hook. I promise you, your mom's or maid of honor's fingers (and manicure!) will thank you! Not only does it make the task 20x easier, it saves a surprising amount of time. Trust me on this one – get a crochet hook.
Pack a sewing kit – one with scissors. You won't think you need this until you do. Buttons pop off, pins for corsages go missing, tags need cut off, and more. I see sewing kits get used (or needed) at most weddings I capture!
Skip the bra. Many brides have picked up on this one by now, but skip a bra the day of your wedding. Robes, cute flannels, and other adorable matching outfits for your girls help make this easy! Not only that, but they also are easily removed without messing up your hair and makeup. Skipping the bra helps avoid weird pressed marks on your skin all morning, especially if you're going right into photos after getting ready on your wedding day.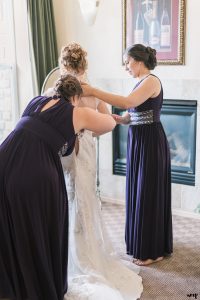 Plan the food. As I said, getting ready (at least for the girls!) takes a long time. You'll need breakfast planned and on hand, and possibly even lunch. Brunch can often suffice, but bear in mind if you'll be sharing mimosas you probably want to have munchies set out as well! It's nice to plan extra for your hair/makeup ladies and the photographer and videographer as well. 😉 Ease your stresses and have this planned out the week ahead, and try to delegate to one of the girls if you can!
It takes two. Make sure at least two people who will be in the getting ready suite with you know how to help you put on your dress! I've seen so many weddings where the bride's girls do their best but still end up saying, "Does it go over your head?" or "What does this strap do?" Trust me, not only does it save time and stress to have two people know how to help, but that way if one should end up sick or step out for some reason when it's time to get ready, there will still be one person leading the way.
I could probably go on and on with tips for getting ready on your wedding day, but these are the five top tips I narrowed it down to! I hope these Lifehacks for getting ready on your wedding day will help take some stress off and give you some great ideas to make the morning go smoothly!
xo,