Today on the blog I have the pleasure to introduce Ciera with Lucky Penny Event Planning. Based in Crested Butte, Colorado she deals with dozens of destination weddings every season, and she'll be sharing her insights with you all today! I am beyond thankful to know Ciera and excited for you to get a taste of her seemingly endless wisdom: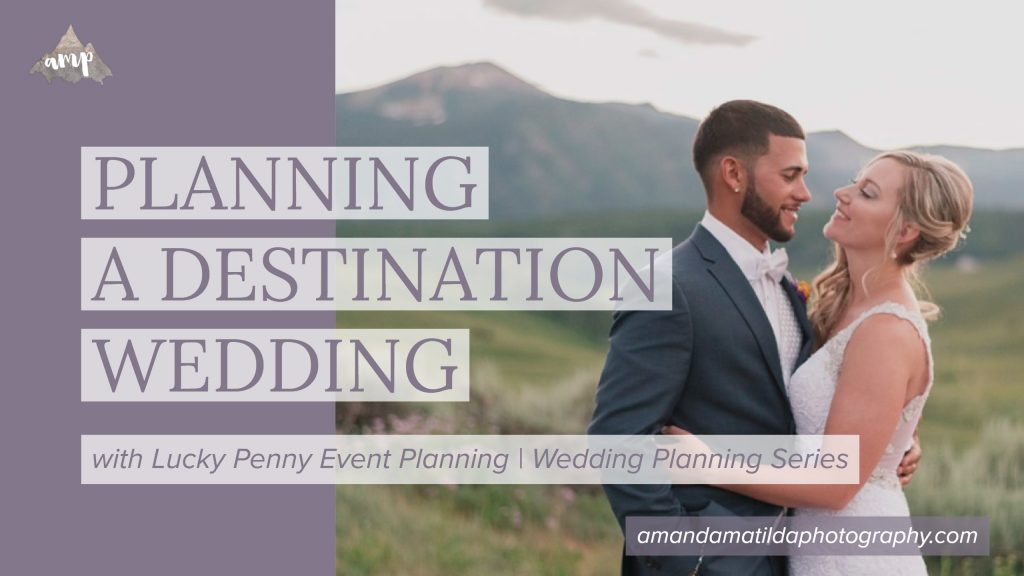 Nine Tips That Will Make Planning a Destination Wedding a Breeze
More couples are choosing a destination wedding for their vows, and who can blame them? Beautiful mountain peaks or white sandy beaches; there's something romantic about getting married in a unique destination. However, the logistics of planning a wedding remotely can turn into a headache. Obvious challenges include getting your guests to a remote location and finding vendors. Beginning to rethink the idea of a destination wedding? Hold on a sec. We are sharing nine tips that make planning your destination wedding a breeze.
1. Check with a local.
Don't be afraid to ask a local about the weather during the season you're getting married. They may also be willing to share some local tips and tricks to help in planning a destination wedding.
2. Insure Your Day Is Perfect.
Yep, insure. When I began event planning I wasn't aware of wedding insurance, but sure enough it exists. When you insure your wedding, you are covered against unexpected events that could ruin your day, such as severe weather, a vendor going out of business and not refunding a deposit or a vendor not showing up.
3. Send Save the Dates ASAP.
It's not uncommon to send save the date notices eight months to a year before the set wedding date. This is especially important for planning a destination wedding; it allows friends and family to begin searching for plane tickets, book accommodations and request time off of work.
4. Plan a Visit.
It's going to add to your overall budget to travel to and spend a weekend in your wedding location, but it is certainly worth the investment. Even more ideal, if you have a longer engagement, go exactly a year before your wedding date. A location visit will allow you to meet with your vendors, tour your ceremony and reception venues and experience the weather (if your visit is the same time of year as your wedding).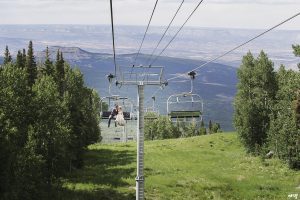 5. Bring your suitcase to the final dress fitting.
If you are flying to your destination wedding, bring your suitcase to your final dress fitting to ensure your dress will fit. If not, you may need to plan on carrying it on the plane with you. Ask your seamstress for some traveling with your dress tips and tricks.
6. Rent a steamer.
First of all, make sure you can steam your dress, some dresses have details that steam could melt. Even if your dress is not full of wrinkles after pulling it out of your suitcase or garment bag it, it will look it's best if it's freshened up. Freshening any piece of apparel is best with a steamer. Your bridesmaids' dresses will probably need freshening as well!
7. Hire a babysitter.
If you have guests traveling with wee-ones, ask a local wedding planner for a babysitter recommendation. A babysitter will allow your guests to relax and enjoy the reason they traveled to this destination.
8. Email guests an itinerary at least a week before your wedding.
Your guests will appreciate this detail more than you realize. Traveling can be stressful so preparing your guests with an itinerary helps them start their trip stress-free. It gives your guests an idea what to pack and allows them to plan their down-time. Consider putting directions, restaurant options and destination must-see information on your wedding website.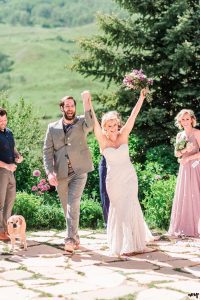 9. Hold local celebrations (shower, bachelorette/bachelor party).
For any destination wedding, when you figure in plane tickets or gas, local transportation (rental car, cab, etc.), lodging, dining out, and a wedding gift, your out-of-town guest's expenses are going to add up. To respect their wallets, consider holding your bridal shower and bachelorette/bachelor celebrations locally. This will also give family and friends who cannot attend your destination wedding an opportunity to share your special day.
About Ciera/Lucky Penny Event Planning
Ciera Freson began the boutique celebration planning, wedding design, and rental artistry business, Lucky Penny Event Planning in 2014. Based in Crested Butte, Colorado, surrounded by the beauty of the Rocky Mountains, the Lucky Penny team specializes in making outdoor weddings and milestones as remarkable as they should be.
Find Ciera and Lucky Penny Event Planning Online:
Facebook: https://www.facebook.com/luckypenny.events
Website: http://luckypenny.events/
Instagram: https://www.instagram.com/luckypennyevents/
Pinterest: https://www.pinterest.com/LuckyPennyEP/
Email Ciera: ciera@luckypenny.events