Why Custom Wedding Cakes are SO Expensive
An insight into what a professional wedding cake designer puts into creating your "Once in a Lifetime" wedding cake by Wild Rose Cakes
Congratulations! If you are reading this article, chances are you are planning a wedding in the near future. You have been scouring Pinterest, Instagram, and wedding magazines and have seen hundreds of beautiful custom cakes. You are forming your vision of what you want your wedding cake to be.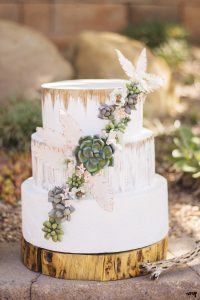 Your wedding cake is the centerpiece, the crowning glory of your wedding reception. This once in a lifetime cake will forever live on in your wedding photos. You and your guests will remember and talk about your cake for years. Your cake should be a reflection of your unique vision, your style, and your venue. It should not look or taste like anyone else's and should be crafted just for you!
Your wedding cake should be created by someone who has as much passion to create your wedding cake vision as you do. It takes a great deal of skill and years of experience to create these edible works of art. As owner and designer at Wild Rose Cakes, one of the first things I hear from a potential client is "I have been calling around and wedding cake is so expensive. How much will you charge me for a wedding cake for 100 people?" The answer is not as simple as you might think!
Custom Cakes
Custom wedding cakes are not uniform in design nor are they uniformly priced, hence the word custom. So let me explain: To understand how custom wedding cakes are priced, you have to understand a little bit about what actually goes into taking your vision from a concept to creating your one of a kind high quality edible work of art.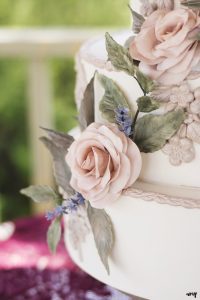 I think that one of the biggest surprises to my very special clients is finding out exactly how much time I spend on their cake. I spend a minimum of 30 hours, and depending on the size and design, up to 60 hours on each clients' cake. The ingredients used are a consideration, but a small element to pricing such a cake.
Skilled and experienced cake designers are professionals that have spent years perfecting their craft. You understand that there are huge differences in skill and quality between what a professional cake designer and other types of cake decorators can do. All wedding cake vendors are not alike and have different standards and goals for their business. There is a very noticeable difference in quality, both in taste and design between a professional cake designer and a hobby or amateur cake decorator. There is far less risk of something going wrong on your wedding day if you are working with a seasoned professional.
Cheaper ≠ Better
Cheaper is not, in this case, necessarily better. It is certainly worth the effort to find that person who is a good fit for you!
At Wild Rose Cakes, we have set a limit of two cakes a week in order to insure that each bridal couple receives the time, the quality, the expertise and attention they deserve for their once in a lifetime cake. The commitment and pressure for excellence in designer luxury wedding cakes is a far different animal than for the ordinary celebration/party cake. Each wedding cake begins with a consultation and tasting at their venue which often is several hours from our studio. When you contract with a professional cake designer you are purchasing their time, their skill, experience, their personal attention and responsibility for creating and delivering your wedding cake that not only meets, but exceeds your expectation.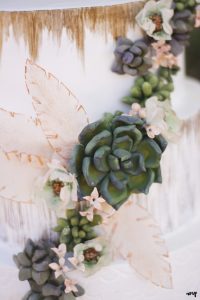 Our whole reputation depends on that level of commitment and high degree of personal service to our wedding couple clients. We spend hours communicating with our clients to insure we capture their vision. We have invested years and thousands of dollars learning the most cutting edge techniques and edible art mediums so that we can bring all our considerable skill to bear when we design your wedding cake vision. We have invested thousands of dollars on specialty tools and equipment that allow us to produce and execute the most exquisite forms of edible art. We continue to add to those skills and products. As businesses, we have overhead to meet and designing cakes is our full time job. This is how we make our living.
What It Takes to Make a Cake
To put it in some perspective, let's take that average of 45 hours spent bringing your vision to life and multiply that by even minimum wage. Let's say $9 an hour for example. That makes your wedding cake labor come in at $405, which is what you would pay a novice. Wedding cake designers are highly skilled professionals and their skill and experience is of far greater value than minimum wage.
Professional cake designers do have the training to produce lovely midrange priced cakes as well. It is important that you as a bride communicate clearly your vision and your budget, then trust them to design a cake that is within your budget. Most wedding cake designers have some kind of minimum, either a minimum price, or a minimum number of servings.
When it comes to wedding cakes, you do get what you pay for. Having said that, there are pretty wedding cakes available for any budget, however, the same level of skill, experience and personal service do not apply. In real life, across the board, we all would love to have a Mercedes, a Lamborghini, or a Jaguar. In reality not everyone can fit that Mercedes in their budget at the moment, and still deserve the very best value for the budget we have! Sometimes that means beautiful Honda's, Fords and Chevrolet's!
-Lindy with Wild Rose Cakes
Find Wild Rose online:
Facebook: https://www.facebook.com/wildrosecakesgrandjunction/
Instagram: https://www.instagram.com/p/BTEPzZwFHB-/
Email: wildrosecakes@aol.com