One of the uniting traits of the couples I work with is their longing for keepsakes. They love having their wedding albums to flip through and creating wall art from their favorite moments. With the digital files they receive, couples love getting the files on a tangible USB drive, so today I'm highlighting this product!
I have long used beautiful wooden USB drives when couples want a tangible delivery of their digital files. These match the timeless, genuine aesthetic of my brand and the celebrations I get to witness here in beautiful Colorado! I received some samples of wholesale USB drives recently from USB Memory Direct that had custom engraving of my logo and I have to say I love the custom addition! They really help your USB stand out and you'll know right away what the drive holds. Another neat feature of these drives is their magnetic lid that makes it harder to lose and keeps your files safe!
When you add on a USB or book a collection that includes one, the drive contains all the delivered digital files just like your online gallery. They are delivered in a handmade USB box from another of my favorite resources. The box is a smaller version of the Keepsake Prints Box I also offer, which contains up to 100 prints along with your USB drive.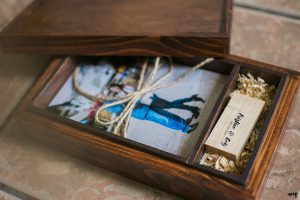 All in all, USB drives are a great way to hold on to your digital files in a tangible way, and they offer another level of backup to keep your files safe!