Do you really NEED a wedding planner?? Yes! If you can make it happen in your budget. Planners help with so much more than you would ever think. So today I'm sharing my insight about why you need a wedding planner, with some notes from local planners I love working with!
Let's start with the most common misconception I hear about why couples don't want to hire a wedding planner: "We're only having a small wedding." Even if you're having a small celebration, planners are invaluable. Ciera with Lucky Penny Events in Crested Butte was the planner and designer for an elopement I captured in the fall. She helped the couple, who was coming from out of state, line up their local vendors, reserve the ceremony spot out in the mountains, helped set up and decorate while we were out doing portraits and their private vow exchange, AND she designed their invitations. Even intimate weddings and elopements can benefit in huge ways from having the help of a planner!
On to more traditional, larger weddings. Some wedding planners can help negotiate and keep record of contracts with vendors, which can actually help you SAVE money by hiring one! As I photographer, I am with you most of the morning of the wedding, while everything comes together. My personal biggest point for hiring a wedding planner is that they ensure you and your family don't work on the big day. So often I've seen weddings without planners or coordinators where your mom and aunt are rushing to get dressed minutes before the ceremony because they were finishing up decorating the reception area. You don't want that kind of stress for your family on your wedding day!
I talked with
April from April Marie Events
, and she had a great point: "Wedding planning takes so much more time than you realize. First, there's researching how to plan a wedding and gathering checklists. Then there's researching individual vendors, emailing or calling to check availability, scheduling meetings, managing contracts and payments, and following up with questions. And you have to do that for every vendor category. If you work full time, or just don't your life to be consumed, a planner can take on that process for you and simply deliver hand-selected choices with information built in, schedule appointments, manage contracts and payments, and answer any questions for you." Feeling dizzy reading all that? Me too.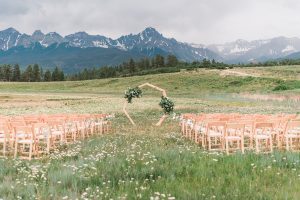 Finally, let's talk about wedding coordination. You can always hire a wedding planner to act as just a coordinator for the final month before the big day. They will help with organizing the last details on the day of, assist with decorating your spaces, and be a liaison with your vendor team. A less common, but still pretty cool, option offered by some wedding planners is to hire them for help getting started with wedding planning! If your venue has a coordinator for the day-of but you want some help with getting a game plan put together when you're starting out on the planning journey.
Overall I could go on and on with reasons why planners are so awesome and helpful on your wedding day. Ultimately it's important to consider what parts of the process you would love help with, what you'd like to outsource to a planner, and what you feel comfortable doing yourself along the way! Check around with local planners to see what options fit best. Happy planning!