Perhaps you're searching for ideas on what to do during your elopement or maybe you're an out-of-the-box kind of couple looking for the coolest experiences Colorado has to offer. Either way, this list of the top five most unique ways to elope in Colorado will certainly get your creative juices flowing for some awesome experiences you can have on your wedding day.
Top Five Most Unique Ways to Elope in Colorado
Fly in a Vintage Airplane
Vintage Aviation offers thrill-seekers and/or history fans a unique experience to partake in on your wedding day. Offering "scenic flights in their newly restored WWII era 1942 Boeing Stearman aircraft throughout most months of the year" this would be a great photo opportunity as well as one incredible experience and story to tell! Get photos with the plane before or after take-off and have the time of your life in the skies.
Stand at Land's End
If you want to feel like you're on the top of the world without the effort of hiking a 14er on your wedding day, get married at Land's End! This point on the world's largest flat top mountain, the Grand Mesa, is truly magical. With a sheer drop-off to the valley below, you can see for hundreds of miles on the horizon. The best part is most cars can drive there!
Ride a Train
If riding a train sounds like an incredible way to sit back, relax, and take in a variety of views on your elopement day then there are a couple great train rides that would be unique ways to elope in Colorado. The Durango Silverton Railroad is a train ride from, you guessed it, Silverton to Durango and vice versa. Spend a day or two in the area and tour some historic mines, experience amazing jeep trails through the most rugged mountains in the state, enjoy the historic and cute downtown of Durango and more! The Royal Gorge Railroad train on the front range is another famous train ride in Colorado that would be a great addition to an elopement day. You could also simply catch the Amtrak to Glenwood Springs for a dip in the hot springs and first class dining!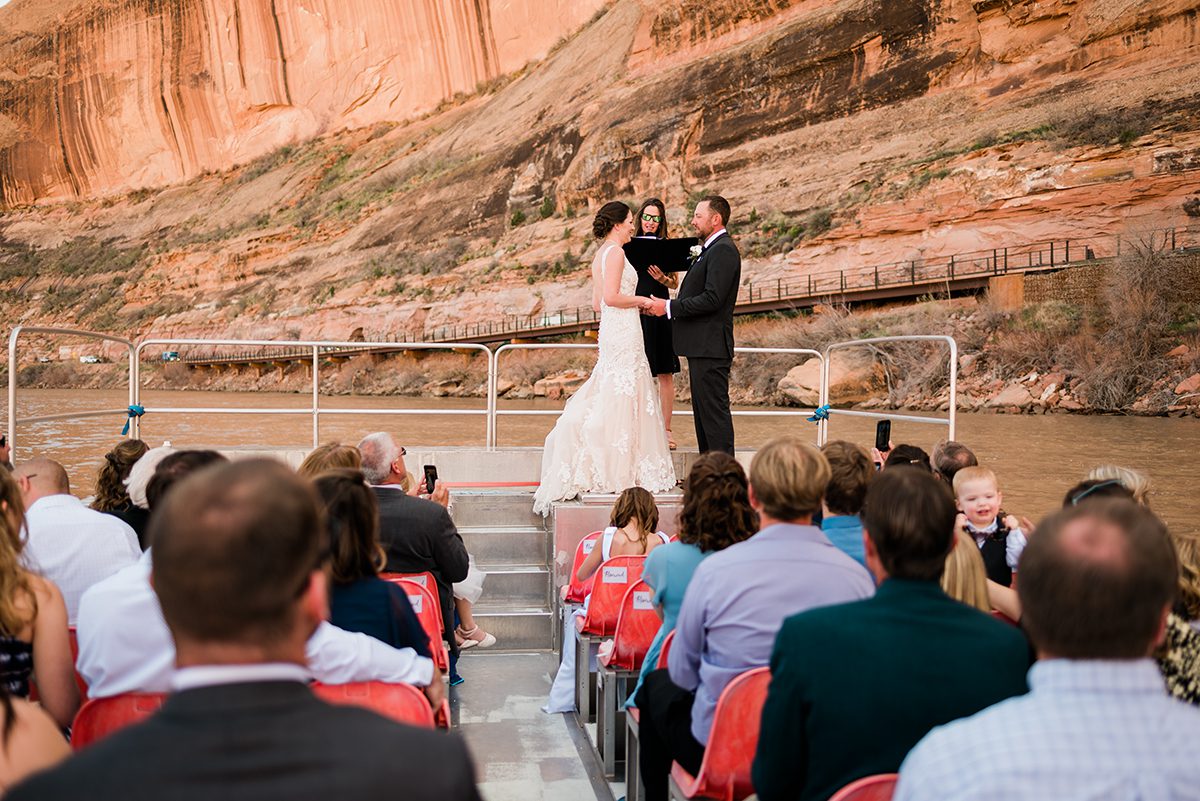 Get Married on a Boat
Okay, this one is technically just over the border in Utah, but it is still a pretty unique way to elope! Canyonlands by Day and Night offers weddings while floating along the Colorado River, the perfect experience for river rats. Pair it with a camping reception on BLM land, utilize their patio space to stay near the river, or class it up at the Hoodoo Moab – whatever floats your boat! (I'll see myself out…)
Hop in a Hot Air Balloon
For an adventurous couple who's not quite ready for skydiving or anything too crazy, a hot air balloon ride could be the perfect unique way to elope in Colorado. This company in Aspen offers flights all year round with a sunrise view of the beautiful valley below. Scenic and stunning views, with a champagne toast to boot? What's not to love!