One of the most pressing questions couples ask when eloping is "What do we do all day??" The best thing about elopements is that there are no rules, but for some couples that freedom is intimidating! Whether you're an outdoorsy couple with a love of adventure and adrenaline, or you're a laid-back couple that have more hours on Netflix than miles on your car, there are so many ways to make your elopement day perfect for YOU. Here are some elopement ideas in the form of 50 things to do during your elopement day: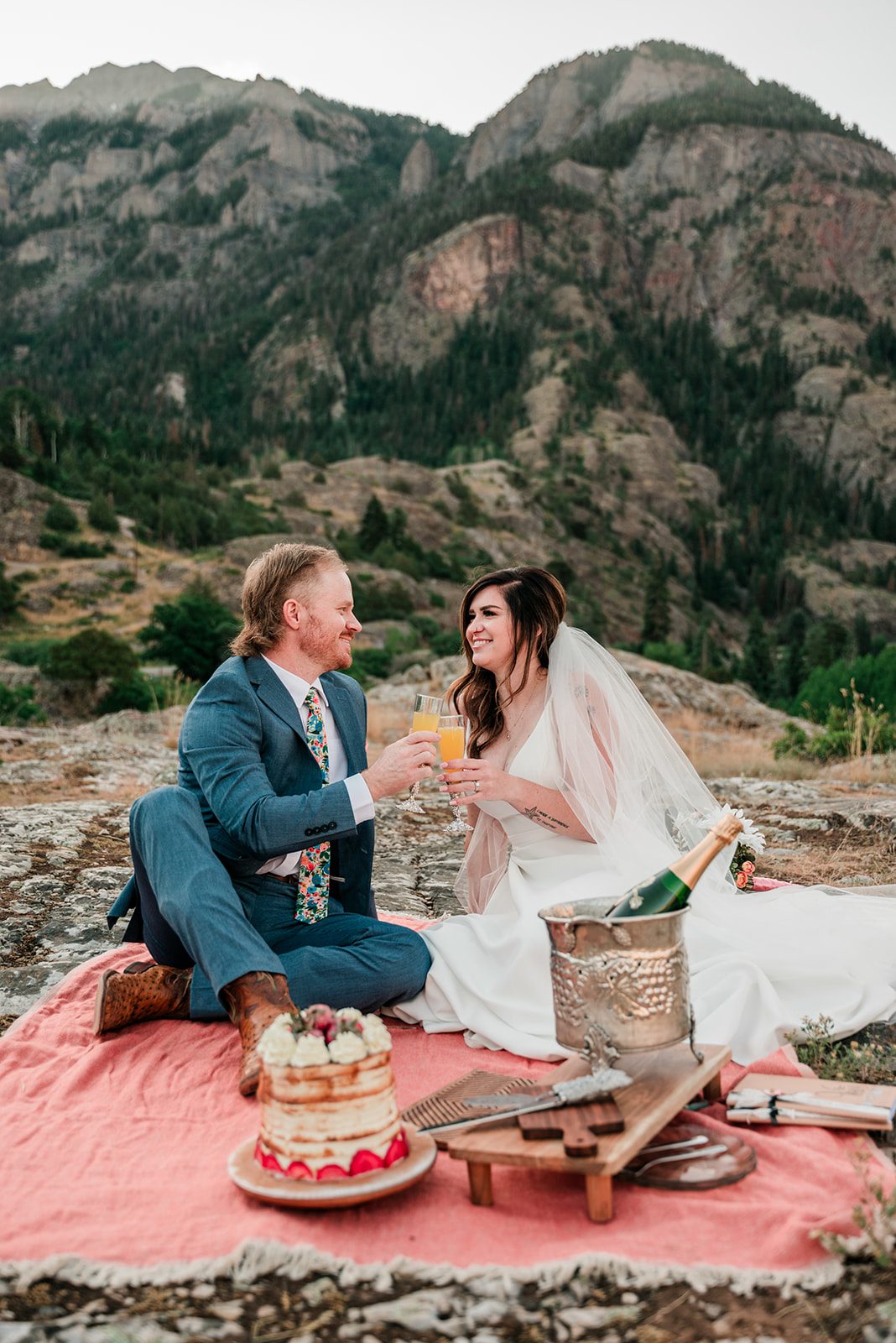 50 Things to do During Your Elopement Day
Pop champagne
Share some bubbly with your new spouse! Makes for great photos.
Write your own vows
Whether you're self-solemnizing or hiring an officiant, sharing personalized vows is an intimate touch for an intimate day.
Share a cocktail hour with friends in the woods
Rent a farmhouse table and hire a mobile bar for the ultimate cocktail hour in the woods!
Cut a small cake
If you want a touch of tradition on your elopement day, do it! You can cut and share a cake whether it's just the two of you, or if you have guests to help you eat it too.
Explore a ghost town
Colorado has a bunch of accessible ghost towns to explore on your elopement day! Just remember to be respectful and leave no trace.
Find a natural hot springs
The western slope is home to SO many incredible natural hot springs. Do some research and plan to find one on your elopement day!
Jeep to an alpine lake
Rent or bring your own jeep into the mountains to an alpine lake, and enjoy their bright blue and green hues!
Bring some guests
Yes, you can totally have guests at your elopement! If they have guests, most couples choose up to 20 to invite to their elopement.
Walk your dog
Pups are part of the family, and always a welcome guest at your elopement (area permitting, of course!)
Go for a hike
Hike to a spot for your ceremony, or hike your favorite areas afterward.
Visit a new national park and get your passport stamped
Why not check off a new national park from your list on your elopement day? Colorado and Utah are home to nine national parks, so there are plenty to explore nearby!
Do brunch
Whether your ceremony was at sunrise, or you slept in and are starting the day, brunch is always a great idea.
Get a unity plant from a greenhouse
Start your marriage together by purchasing a plant to grow together.
Say I do on a bridge over a river
There's just something so symbolic about getting married on a bridge.
Share private vows before a group celebration
Even if you have guests at your elopement, you can always schedule in private vows just the two of you!
Stay in a tree house or yurt
There are some pretty cool, unique places to stay for your elopement weekend.
Explore the city
Whatever town you're eloping in, explore the shops, local pubs and restaurants, and parks. You don't have to be in the middle of nowhere to elope!
Camp under the stars
Find some dispersed camping for your elopement weekend and enjoy some relaxation
Build a Bonfire
A bonfire is a great addition to any elopement (bonus points if there's s'mores, in my book!)
Grab lunch at a food truck
Get some food to go from a local food truck. You can enjoy it there or take it to a park!
Take a train ride
The Durango-Silverton Train is a fun excursion for the day and makes for some really cool photos!
Rent a boat & enjoy the water
Kayak, canoe, paddle boat, paddleboards, jetski, or a whole houseboat… the possibilities are endless!
Have a picnic
Build a picnic yourself or have one catered. Enjoy a light meal in nature
Find a waterfall for your vows
There are many accessible waterfalls on the western slope you can find for your ceremony
Enjoy a toast/local craft brews
Pack in some local craft brews or wine and share a toast, with the two of your or with guests!
Host a game night
More of a homebody type of couple? Cool! Plan a game night with a few of your closest friends to celebrate your elopement.
Hop a vintage plane
Grand Junction has a program where you can fly in a vintage plane around the area! See the sights from the sky.
Grab a beer at a brewery
Colorado is known for its craft brews. Find a local brewery and grab a beer!
Share an afternoon of wine tasting
Palisade offers 20 or so wineries for you to enjoy during your elopement.
Find a cliff side at sunrise
Watch the sun illuminate the area as you exchange vows at first light.
Take your favorite shots
Not beer or wine people? Take a shot with your new spouse!
Enjoy a jeep tour
Love the idea of jeeping but have no experience? Enjoy a jeep tour of the mountains or desert where the work is done for you.
Adopt a pet
Start building your family right away and adopt a new pet on your elopement day.
Go on a helicopter ride
If you'll looking for a little thrill on your elopement day, go on a helicopter ride! Both Gateway Canyons and Moab offer heli tours.
Have a private dinner
Hire a private chef or rent space at a favorite restaurant for a private dinner.
Rock climb
If you're really adventurous you could rock climb on your elopement day!
Catch a drive-in movie
Head to a drive-in theater to catch a movie
Go horseback riding
Love horses? Go for a horseback ride for your elopement
Have a handfasting ceremony
Unity ceremonies are still very common at elopements, and a handfasting ceremony is a popular one.
Share a first dance
Bring a Bluetooth speaker (where allowed) and share a first dance in nature
Get tattoos
Head to the tattoo parlor and make the commitment even greater by getting tattoos together!
Get ready together
Whether that's literally getting dressed together at your rental or on location near your chosen destination, or just spending the morning together with you and friends, taking the pressure off having to "not see each other on your wedding day" is always a great move if you ask me.
Share a bubble bath
If you always share bubble baths and want to add that to the itinerary we can do that!
Camp w/ friends (or alone!)
Bring some tents and firewood and spend a day or two in the mountains enjoying your time with loved ones. It's like a camping trip but even better because you get married!
Grab your favorite pizza
If you love a local pizza joint, let's include it in the wedding day! Same goes for fast food (Taco Bell anyone?!) or a food truck!
Share a joint
It's Colorado and legal, so if you want to share a joint together that's cool with me!
Go paddleboarding
If you love to stand up paddleboard, include it in the day's activities.
Walk some alpacas
I know a place or two in the Grand Valley where you could walk alpacas together if you wanted!
Make breakfast together
Start the day right and make breakfast (or brunch) together. It's a great way to set the mood for the day, and break the ice with your photographers before the more important festivities begin.
Watch the stars
There's no reason your wedding day has to end at sunset! If you love to watch the stars together, we can totally add that to the list.
Found some things to do during your elopement that you love and need a photographer to capture the magic? Click here to see more of my elopement information!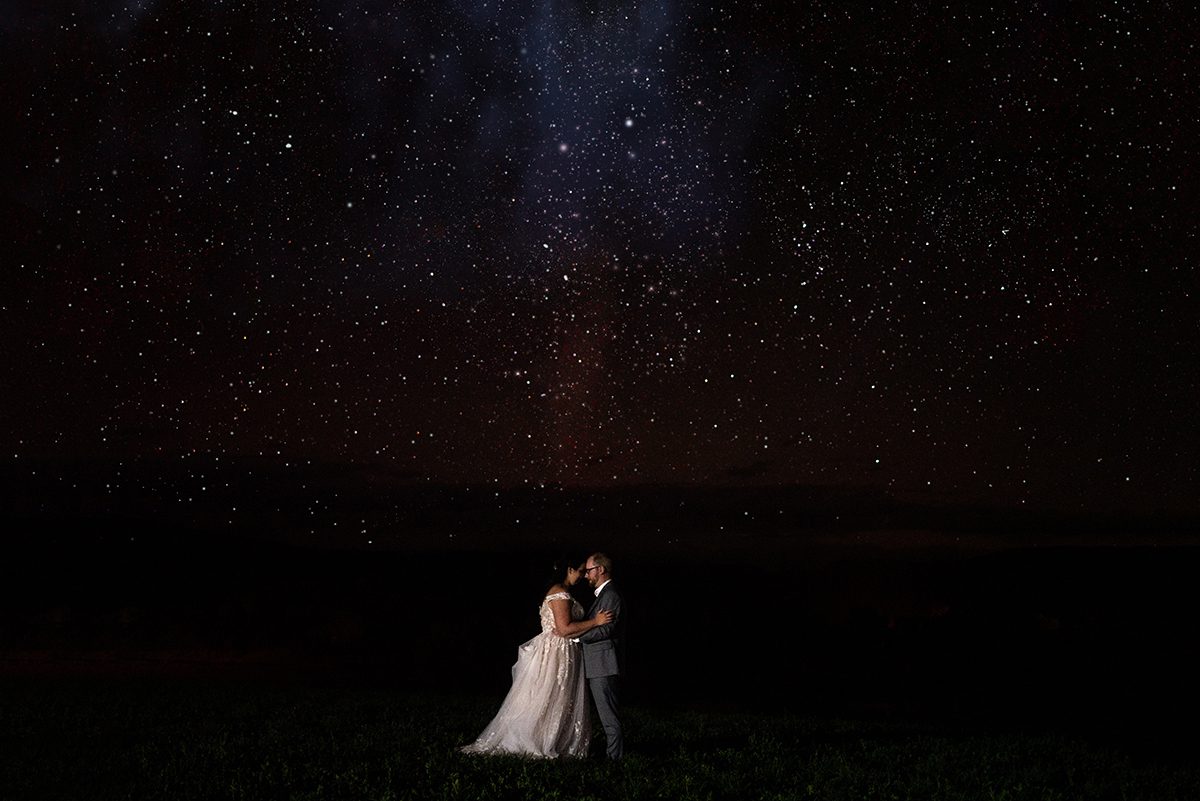 Elopement Activities – Inspiration Gallery of Things to Do During Your Elopement: