Five weeks after the fact, and I finally hung up our wedding photos in frames today! Eric and I have been reflecting a lot lately about our wedding and what we loved and what we would do differently if we could go back in time. Here are some of our lessons learned, cherished moments, and laughable memories (with pictures!) :
1. Roll With the Punches
Weddings are stressful, crazy, and dramatic. There is no avoiding drama — trust us. We went to the courthouse to sign the papers with our closest family and a few friends, and followed the weekend camping on the Mesa with a reception for all our loved ones. We had less than 50 people. There was STILL drama. It just comes with the territory. Try not to let it get to you, and try not to let it become your focus. No one will remember the nit-picking a year from now!
2. For Better or For Worse
Things will not go as planned. Maybe the flowers aren't what you hoped, maybe communications get messed up, or maybe like us you get a flat tire on the highway on your way to the reception. (YEP. That's one for the memory books. Yeesh.) That "for better or for worse" stuff is real. You'll learn very quickly to lean on one another! Life is crazy, y'all.
3. Be Together
Weddings are busy. We all know this. I especially know this with how many weddings I am part of each year. One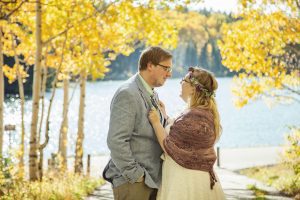 thing I've done for years now is have my couples take a break from it all – together. We take photos of the two of you away from the party, away from the hustle and bustle of setting up… just come together as a soon-to-be- or newly-wed couple in a quiet space. For us I made sure we did this as well. With so many family and friends around all weekend, I felt like we barely saw each other. It was nice having even half an hour away to watch the sun set over Sunset Lake, all the aspens illuminated bright yellow. We cuddled and Brandon–our photographer–clicked away. It was bliss.
4. Sleep
We both had to go back to work by Tuesday — taking a minimoon the next weekend — but we still had family to see off most of Sunday. Even having taken Monday off with the intention of recouping… it just wasn't enough. Get plenty of rest beforehand when you can, and plan to be wiped out for at least a few days after everyone leaves!
5. Do Your Own Thing
We definitely had an unconventional celebration — but it was perfect for us. We had breakfast for dinner, with a donut tower "cake" for dessert, and a giant bonfire all night long. We had a lot of complaints, to be honest, but we've come to terms now with the fact that you can't please everyone, and in the end it's more important to do what feels honest to yourselves as a couple. It's YOUR wedding! Have a great time and do it how you want to.
Here are a few more glimpses into our celebration! What are some unique things you're doing at your wedding?








Photos by Ruckman Studios