There are so many reasons you should exchange letters on your wedding day! Everyone wants keepsakes to have after the celebration is done, and what better memory to hold on to than a love note from your spouse? Below I will be detailing my top five reasons I believe everyone should read a love letter or exchange gifts with their partner on their wedding day: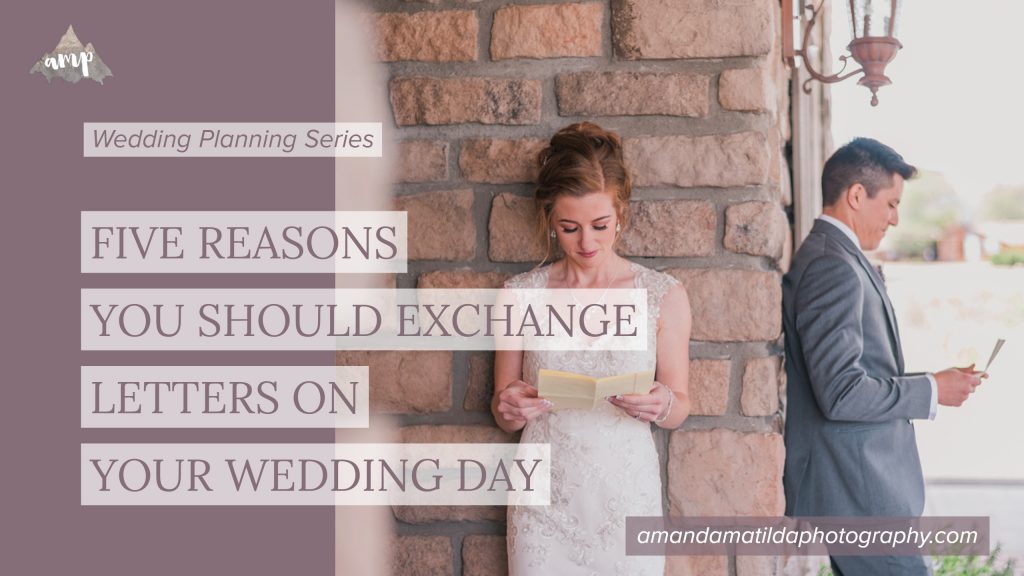 Five Reasons You Should Exchange Letters on Your Wedding Day
Meaningful Keepsakes
The most important thing for many people are the keepsakes to take away from their wedding day. These are the things that capture your memories of the beautiful celebration, remind you of the love you share that started this journey you're on together, and these are also the things that become heirlooms to share with your children. By setting your plan to exchange letters or gifts on your big day, you are adding one more keepsake to take away from your wedding day!
Add Emotion/Memories to your day
You may be looking at me like I'm crazy right now. "Um, Amanda, weddings are nothing but emotional!" Yes, yes. I know. BUT hear me out! Some of the most emotional moments of your wedding day will become your favorite. This is why more and more people are incorporating first looks with their soon-to-be spouse, or setting aside a special moment with their mom or dad. You can add another amazing moment by sharing love letters with one another. This can add anticipation and connection if you're waiting to see each other as you're coming down the aisle, or it can be beautifully incorporated with your first look! No matter which way you do it, reading all the ways your fiance loves you only adds to your big day.
Quiet moments
Getting ready is a crazy busy time of your wedding day. You're stressing about timelines and wondering if the guys are even at their getting ready space yet… making sure your bridesmaids' dresses aren't wrinkled… trying to remember that trick to avoid chaffing… it can be an overwhelming time. All of your friends and moms in the same space makes for lots of fun, but also lots of activity! Exchanging letters with your love during this time allows you to take a moment to yourself and step out of the busyness. You connect with your soon-to-be-spouse even from afar as you read his handwriting spelling out his thoughts on your wedding day. Just a quiet moment alone with your thoughts of love and memories of what brought you to this moment. It's priceless!
Those Getting Ready Photos Tho
I mean, I'll be honest. I'm pretty biased on this one. But those getting ready photos though! As you take that quiet moment away to read your partner's words it's just you and me. Your kids will LOVE to see those tears in your eyes as you read each other's words. Is there anything better than seeing your fiance choke up a little bit when he is overwhelmed with how lucky he is? Trust me, you want those photos! There are really cute ways to go about this in unique ways too. You can add suspense to your first look together by standing back to back, or around a corner, reading each other's letters before you see each other for the first time. This makes for great photos to cherish as well!
Why Not?
Lastly, why not? Even if you're really pushing your timeline and think you can't possibly fit a moment in for gifts or letters, I would urge you to try to make room! As I mentioned before, this cute trend can be added into things already on your timeline, like your first look. So why not?