One of the first things you'll do after getting engaged (besides showing off the ring online!) is begin looking for a venue. Some venues will host just your ceremony or just your reception so be sure to look into what they offer. There are more detailed things to consider when looking for a wedding venue, though. While this list could certainly be longer, below I'll go into five things to look for in a venue.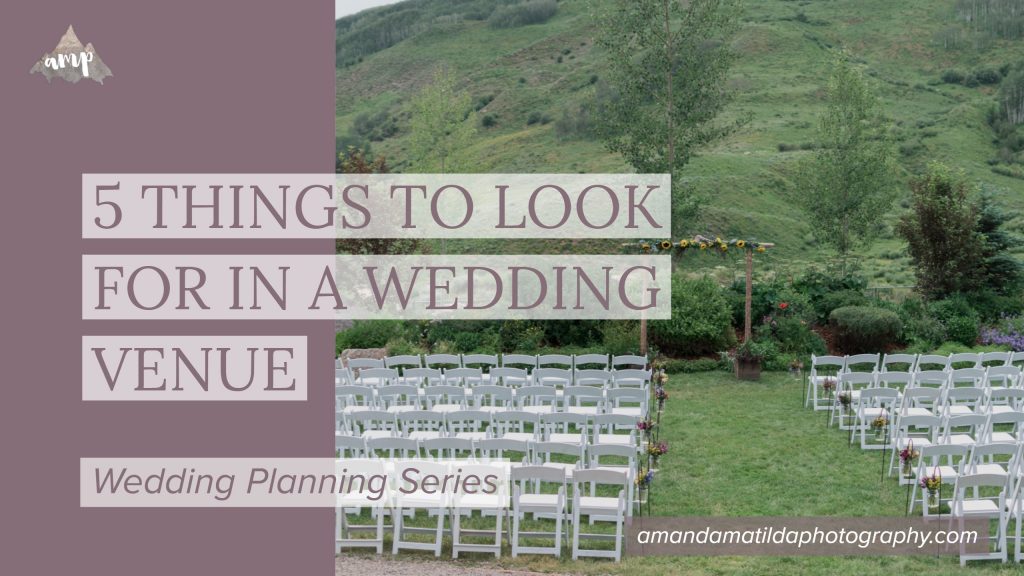 Five Things to Look for in a Venue
Location  –  Is the venue near accommodations for you/your family? Does it have the views that you and your fiance want for your wedding backdrop? Your wedding venue will set the stage for your photographs, whether it's a big wooden lodge or it has fantastic mountain ranges in the background — keep your photographs in mind! Will family and friends be able to find it? While it may not be a deterring factor, the ease of access is certainly something to consider. If it's your dream location but it's a 15 mile hike from the parking lot, keep that in mind! If you absolutely want to get married beside that lake 20 miles from the reception venue, maybe consider creating a map for guests so no one gets lost.
Light  –  Along with location backdrops, it's important to consider the lighting. Is it a dark lodge? While there's nothing wrong with that, just be sure to let the photographers you meet with know these challenges to make sure they're up to it. Getting married by the light of a bonfire is beautiful, but not every photographer is into that. Be sure to consider and communicate the lighting situations with your photographer, and bonus points if your photographer has shot there before!
Size & Style  –  Are you having a high-end black tie affair for your wedding? It may be best to skip the log cabin or barn venues. Similarly, if your wedding is rustic with jeans and boots attire, a ski lodge might not be your scene. Make sure the venues you look at will enhance your wedding theme, and keep in mind your decoration goals to be sure you can make your dreams come to life!It is vital to make sure your venue will hold enough people. If your venue allows 100 people and you're inviting 200 that is an obvious issue, but at the same time a venue built for 500 when you're only inviting 100 people holds the same problems. Just as you don't want overcrowding, you don't want vast empty spaces. Consider the parking – will everyone have a spot to park? Have a guestimate of your guest list as you're looking at venues to be sure they'll be the right size for your party.
Budget – What's Included?  –  It is important to find out what comes with your venue for what price. Are chairs and tables included? Do they offer tents if it's an outdoor location? Is there a rain plan in place if it's outdoors? What about tablecloths? A/V equipment? Do they have a team that helps you set up the table decorations or do you need to prepare to do them yourself (or hire a day-of coordinator to do it)? Be sure to find out every last detail of what you're getting for your money.
Vendor Policies  –  Some venues have strict vendor policies. They may have a preferred vendor list you must book from, others require vendors to have worked with them before. Ask your venue if they allow outside catering, or photographers who are new to the venue. It's always a good idea to ask venues whether they offer additional vendor services as well. If your venue has a list of vendors you must choose from, consider whether those vendors align with your needs/wants. Don't feel pressured into choosing a photographer or bakery you don't like just because they are on a preferred list.
I hope this list was helpful! If you're newly engaged, check out my article "What to do When You Get Engaged."
Booked your venue? Now is the time to look at photographers! Here's my post "What to Look for in a Wedding Photographer"
Until next time,