One of the centerpieces of your wedding day is your bouquet. There are a lot of things to consider with your bouquet, from size and shape, color, and type of flowers you want to fill your celebration! Together with local florist experts and my own experience from photographing dozens of weddings, I want to highlight four top tips to consider about your bouquet today.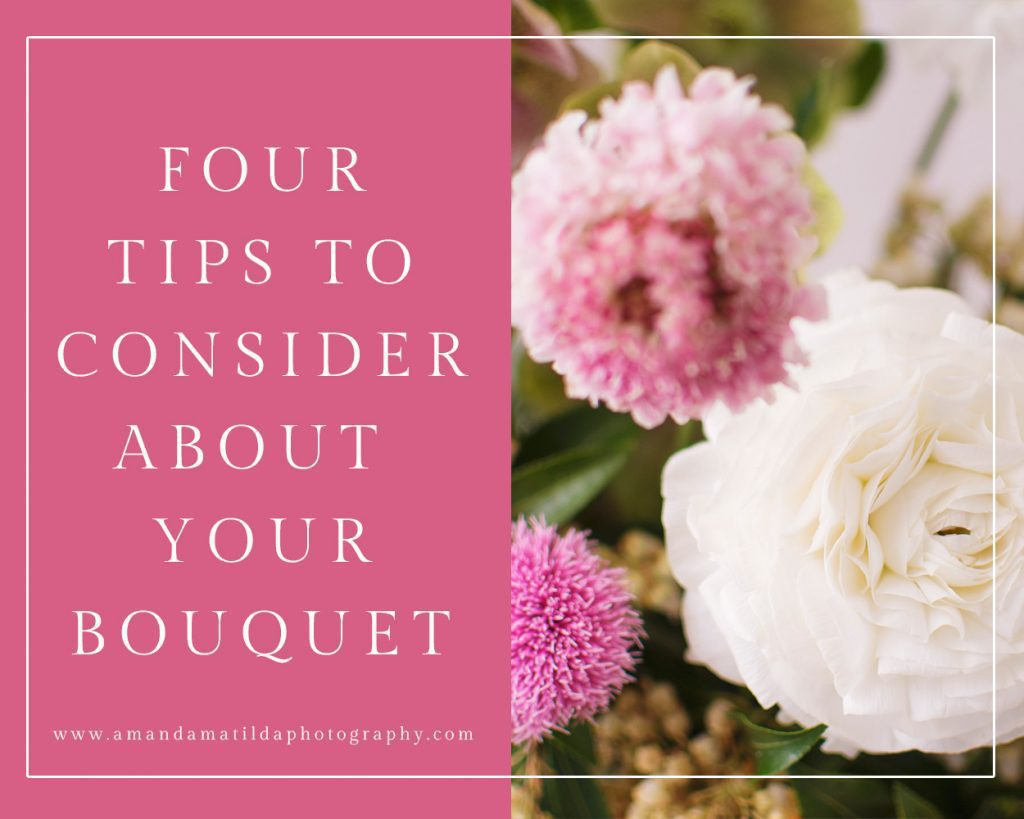 Four Tips to Consider About Your Bouquet
Trust Your Florist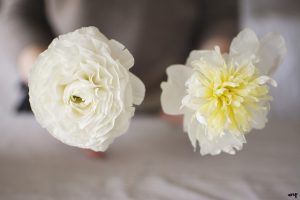 Some flowers are just better than others at certain times in the year. You may think you really want peonies for your March wedding, but ultimately you could save money and have better flowers if you allow your florist to give input about in-season flowers that are a better fit! The photo here shows Kelly with 3 Leaf Floral in Grand Junction demonstrating how much bigger Ranunculus are in the spring than peonies or other typically sought-after flowers. What a difference! I would definitely recommend allowing your florist to have some flexibility, input, and creative control in your flowers — they are professionals after all!
Consider the Weather
If you're doing real flowers from a florist, consider the types of flowers you're after and whether they'll hold up at your location. Some flowers need more water and could easily be wilted by the time your ceremony is over, which is not good if you're doing all your formal photos after the ceremony! Talk about these concerns with your florist to ensure you get the beautiful bouquet of your dreams, but without having to worry about it. Some "tricks of the trade" could also come in handy if you absolutely want those more delicate flowers — such as setting your bouquet in a vase of water on the altar throughout the ceremony to help preserve them! Again your florist and wedding planner can be a huge help with solving these little and less-thought-of problems.
Match Your Location – Or Not!
Sometimes it's great to pair your location with your flowers. A bouquet of wildflowers for your wedding in a field outside Crested Butte in July, for instance, couldn't be more perfect! Sometimes, though, it is fun to intentionally "clash" with the venue. If your reception is more urban or grungy it could be beautiful to juxtapose that with big blush/pink florals. Think about the overall aesthetic you're going for and talk about this with your wedding planner and florist so they can help you create most stunning displays for your big day!
Shop Local
We have so many beautiful local farms and vineyards here in the valley, and some local florists who grow their own flowers! It is such a great idea to shop local to your wedding area. Some florists in the area will work with local farms to collect in-season flowers that could save you a bundle and look really great with your local wedding venue! Bouquets of lavender for your Palisade wedding, or cherry blossom branches in your table centerpieces for a March wedding… what could be better? Think outside the box about where your flowers will come from and talk with local florists to see if that's something they accommodate.
Above all else, the biggest recommendation is to communicate closely with your florist of choice and you will be sure to get the most from your wedding day florals!
xo,