Whether you're planning on getting married at the Colorado National Monument with a formal ceremony or you're just interested in an adventurous elopement with a fantastic backdrop, this post will help you through what you need to know!
What is the Colorado National Monument?
Because it is the most unknown park in the state, considering that it is a national monument, you are probably wondering what the Colorado National Monument even is? Not only is this park a beautiful and hidden gem spot, it is an increasingly popular place to elope. It's important to be well-informed about the monument before you elope there, though, so that this space continues to be accessible for events like these.
The park is located in Grand Junction and Fruita Colorado. Known as "The Heart of the World" as dubbed by its creator John Otto, the "Colorado National Monument preserves one of the grand landscapes of the American West." As put on the park website, "This treasure is much more than a monument. Towering monoliths exist within a vast plateau and canyon panorama. You can experience sheer-walled, red rock canyons along the twists and turns of Rim Rock Drive, where you may spy bighorn sheep and soaring eagles."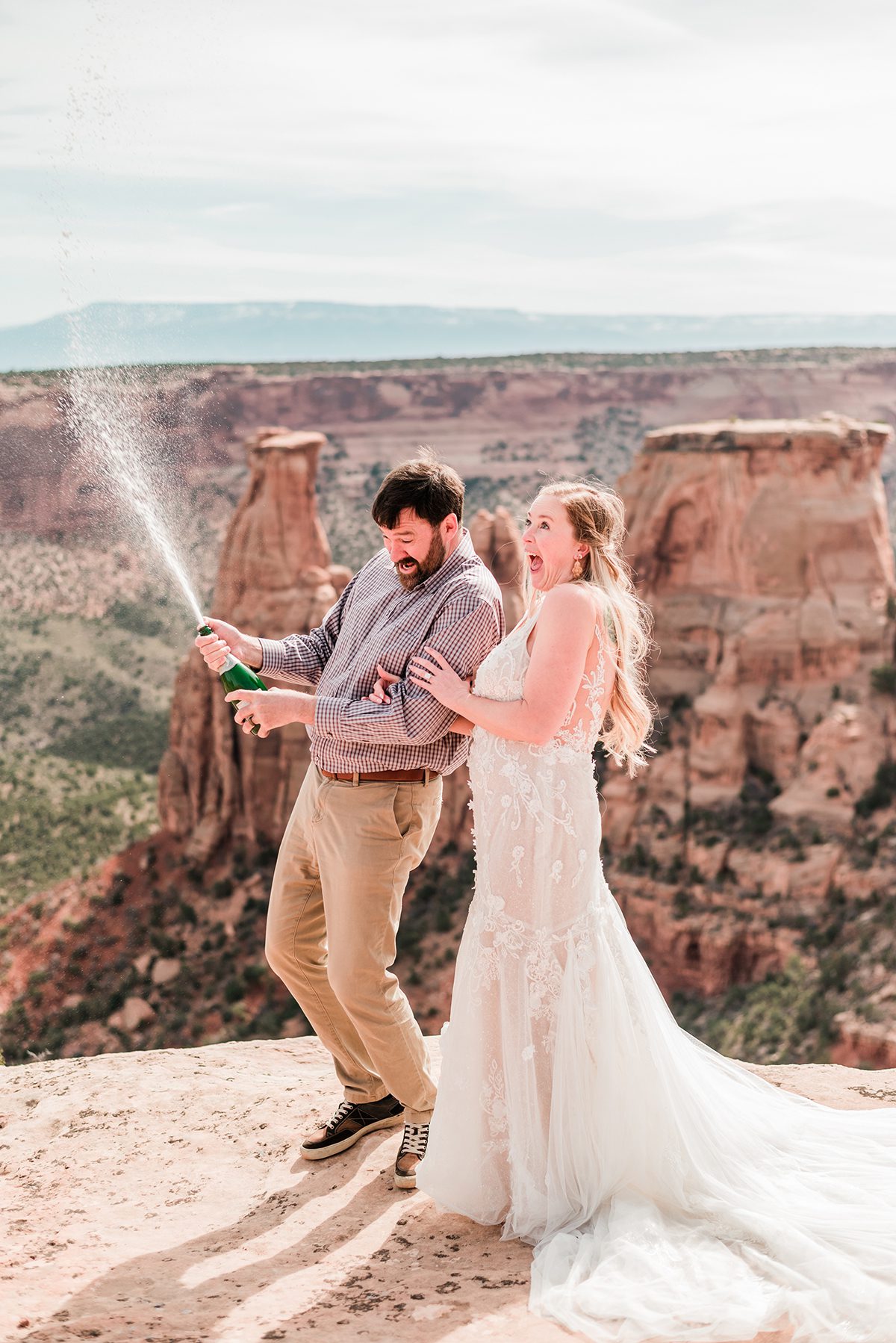 WHEN TO GET MARRIED AT THE COLORADO NATIONAL MONUMENT
The area is very similar to Moab and has a high desert climate, making it scorching hot in the summer months. You should plan accordingly if you're considering visiting May-September by bringing sun protection and plenty of water, and aiming to host your event at sunrise or sunset.
The most popular times to elope in Grand Junction for the best weather are early spring and the late fall, when the temperatures are moderate and the snow hasn't fallen yet.
The red rocks of the Colorado National Monument do look beautiful draped in white snow though, too!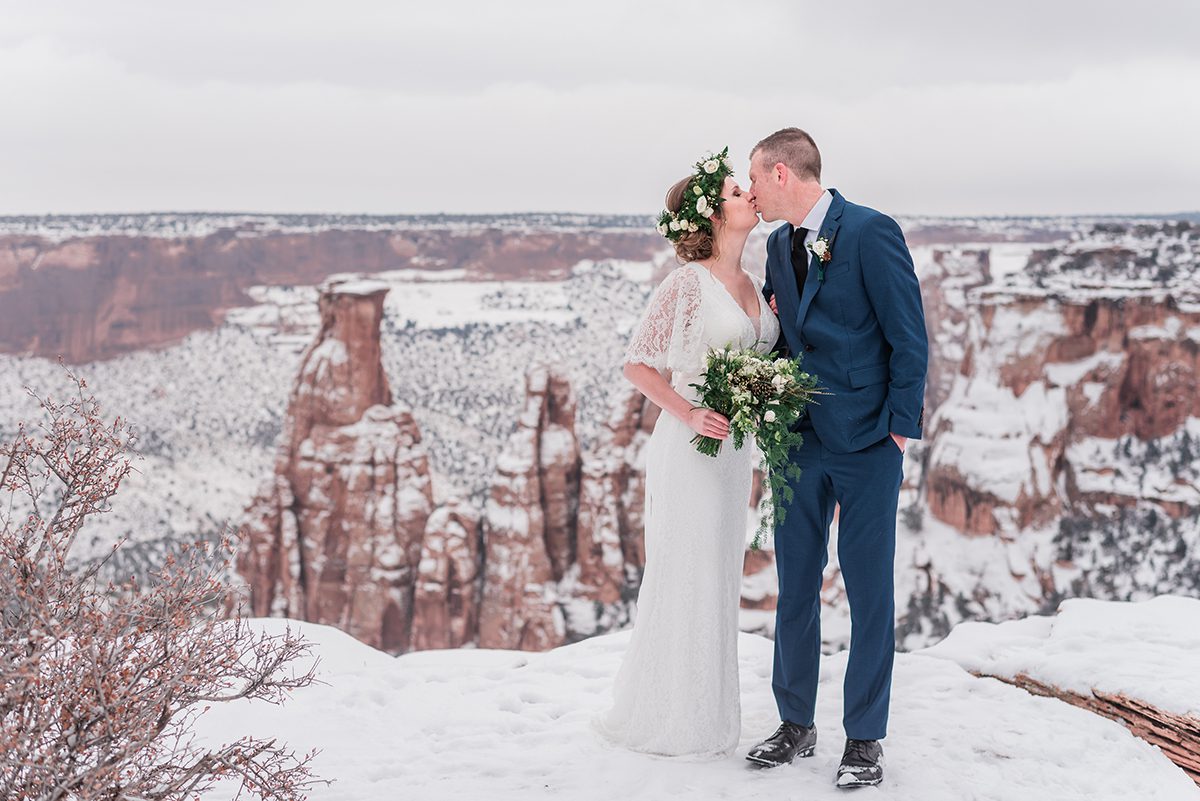 PERMITS
When you're beginning to plan your Colorado National Monument wedding or elopement, you'll need to contact the Park Ranger services. They will help you with any permits and reservations you need to keep your celebration legal and official. The park also has a guest limit, so contacting them from the get-go will help you plan your guest list as well. Here is some helpful information from their website:
Colorado National Monument allows special events in the following locations:
·Book Cliffs View – groups of 25 or less
·Book Cliffs Shelter – groups of 15 or less
·Saddlehorn Amphitheater
·Saddlehorn Picnic Area
·Devils Kitchen Picnic Area
A non-refundable administrative fee of $150.00 will be charged to cover the costs associated with issuing a standard permit. There is also an Hourly Management Fee of $50 per hour/per employee rate. Click here to read all their information and for the link to their application.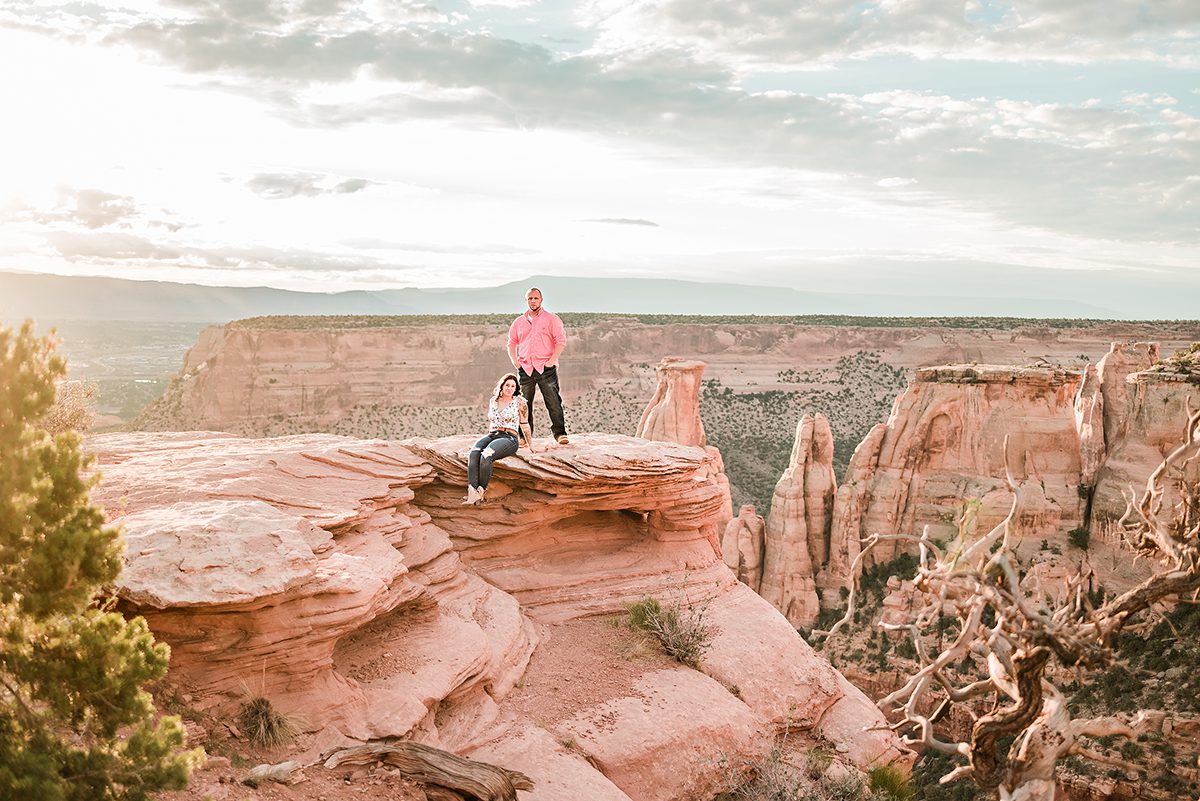 PARKING & TRANSPORTATION
It's important to consider how your guests will get to the Colorado National Monument and where they'll park once they're there. The park services recommend limiting the number of vehicles in your party if possible. Consider car pooling or hiring buses to transport your guests. Park personnel will not be available to offer special assistance for traffic, parking, or other logistical needs associated with your wedding.
Your guests will be required to purchase an entrance pass to the park as well, so keep that in mind!
RULES & REGULATIONS
Beyond the permit and parking situation, there are a number of important regulations to be aware of. As they say on their website, "Activities may not interfere with normal visitor use of the park; therefore, areas will not be closed to public access during the event. Any event that interferes with the normal activities of visitors, such as the closing of trails, overlooks or public use facilities, will not be allowed." Amplification of sound is also not permitted according to park policies, nor will you have access to park utilities for power.
The park also asks that you follow basic Leave No Trace principles. "Park regulations do not permit the throwing or scattering of rice, birdseed, flower petals or any similar material. In addition, the release of animals including birds, butterflies or other insects is prohibited. Leave the site as you found it, or better."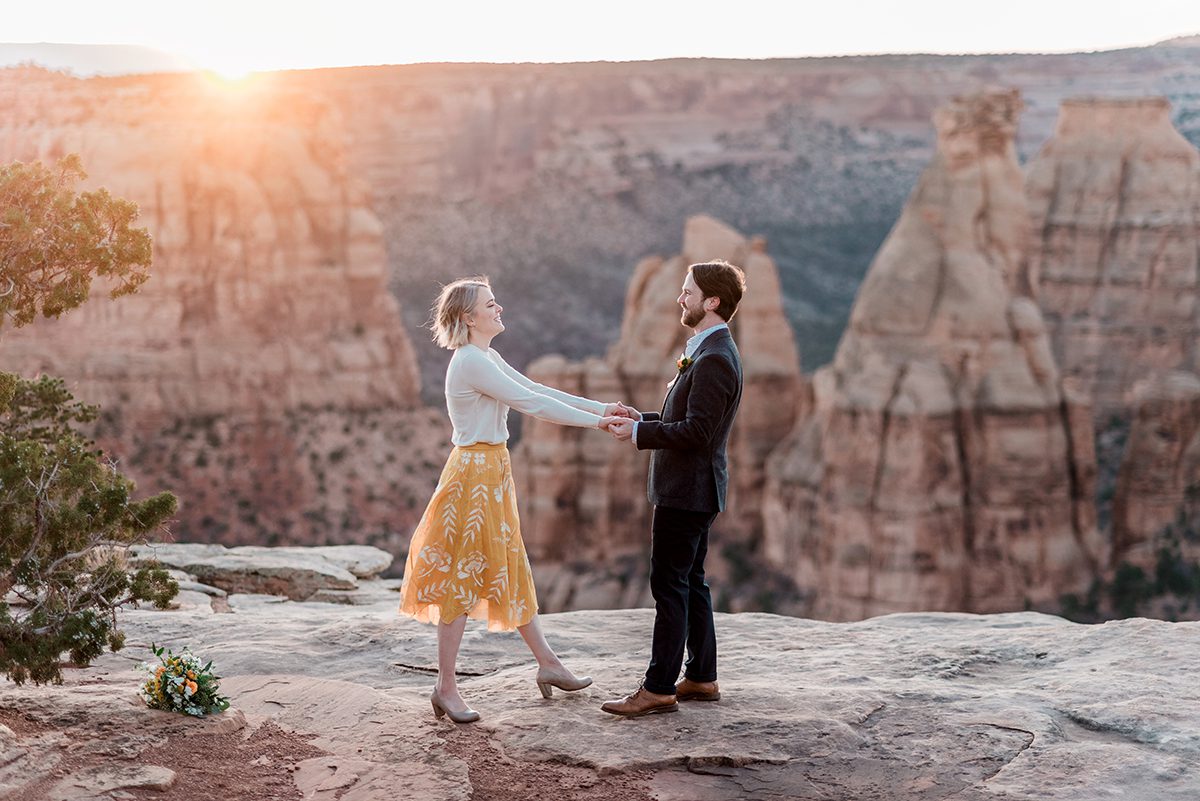 PORTRAIT LOCATIONS
There are a number of fabulous portrait locations near the locations allowed for wedding on the Colorado National Monument! Some of my favorite spots are just short hike, or a few minute drive away. Click here to check out some past elopement and wedding photos at the Colorado National Monument! It's a good idea to wear sensible shoes for walking around the rocks and sand, or bring a back up pair to change into after your ceremony!
RECEPTION IDEAS
Since your permit only allows for three hours of use for the facilities and locations, most couples opt for an off-site reception. Whether you have a backyard celebration at a nearby vacation rental, or you go for one of Fruita's finest hotspots, there are a bunch of great options in the area. My personal recommendations for restaurants in Fruita to host your reception are Hot Tomato, Strayhorn Grill, Suds Brewery, or Copper Club Brewing!
I hope this helps you as you plan for getting married at the Colorado National Monument! It's really just a gem, and one of my favorite places to photograph. If you're interested in learning more about booking me to document your celebration click here!