Maybe you've heard the latest wedding industry term floating around the internet lately, and you've been wondering, "What is a micro wedding?" The answer is probably more simple than you think – it's literally just a small wedding! In between an "elopement" and a big wedding lives the micro wedding, becoming more popular especially in states like here in Colorado. Couples want to adventure into the mountains to exchange their vows, but have more friends or family with them than just going alone. Enter the micro wedding! So what does a micro wedding look like? Let's dive in…
What is a Micro Wedding?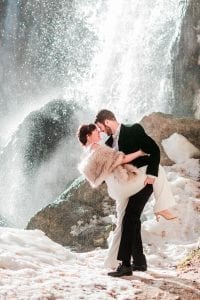 You guessed it…. A micro wedding is just that — a small, intimate wedding. If an "elopement" is typically two people and a photographer, and a "wedding" is usually two people plus a wedding party and 100+ guests, then a "micro wedding" is somewhere in between. These smaller weddings typically include the couple and their closest friends/family to witness their vows in a beautiful location. This could look like gathering your immediate family beside a mountain lake as you commit to forever, then celebrating around the bonfire into the night. It could look like renting out a lodge for your 50 closest loved ones to watch your ceremony, where your wedding party stands beside you and your cousin plays guitar and officiates your ceremony. It could look like a morning hike through Arches National Park, followed by the "I do's" beneath a sandstone pillar, and a dinner at the best local hamburger stand or a fancy restaurant. Your micro wedding can be a myriad of different things – whatever you want it to look like!
Is There a Certain Guest Limit?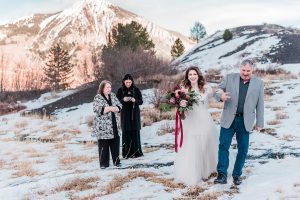 Typically micro weddings have up to 50-60 guests, but there is no "national standard" to these things. It can vary from vendor to vendor and wedding to wedding. I've seen micro weddings with nine guests and micro weddings with 53 guests. It just totally depends!
Who Should Have a Micro Wedding?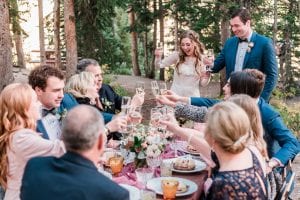 If you're already overwhelmed about planning a big wedding, all the details and expenses that go into it and the time/stress of it all, a micro wedding might be for you! If you are like me and have a very close circle of family and friends, it might be a good choice for you too! Or if you absolutely hate being the spotlight and can't imagine 250 people watching you profess your love to your partner… a micro wedding could be the best option for you. Perhaps all of your guests are coming from out of state, and you know only a handful will be able to make the trip — that's a great reason to plan a smaller wedding as well.
Why is a Micro Wedding Awesome?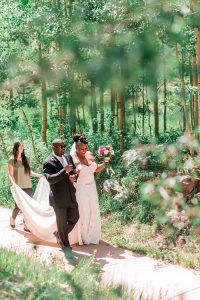 In my opinion, a micro wedding is awesome because it's the best of both worlds! You've heard the Goldilocks and the three bears story — well hello, Mama Bear! Have your cake and eat it too. Okay, okay… I'm done with the cheesy metaphors. But seriously, planning a micro wedding allows you the freedom and flexibility to imagine a wedding day exactly how you could dream it. Want to exchange private vows in a glowing, golden aspen grove before meeting up with your family for a lakeside ceremony surrounded by flowers and the scent of the pines, followed by a cocktail hour and cake cutting from your favorite local bakery and mobile bar service? YOU CAN DO THAT! (Hint, that's exactly what Amy & William did — check out their day here!)
It's also awesome because keeping things small allows the entire focus to be on love. You're not worried about hiding from your other half, focused on what planned event must happen next and whether your aunt is getting along with your partner's friend's father. Everyone there is someone you probably know really well and who is so stoked to see you get married – not just to get free booze. You can actually have conversations with every one of your guests! There will probably be stories shared and a lot of bonding going on and you'll feel on top of the world in happiness.
What Vendors Do You Need for a Micro Wedding?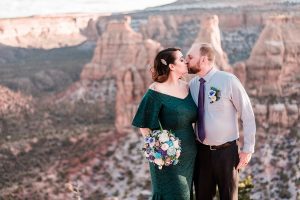 The short answer is – whatever vendors you want! You could have just a photographer, or you could have a planner, photographer, videographer, mobile bar, catering, hair/makeup salon, florist and DJ. It's totally up to what you want the day to look like! I highly recommend at least getting your hair and makeup done, hiring a photographer of course, and maybe getting some kind of flowers (we didn't and I had NO IDEA what to do with my hands… trust me, if you're into that kinda thing, get some flowers.)
Hopefully this has helped clear up a lot of your questions around this latest trend in the wedding industry. Maybe you even understand why micro weddings are becoming so popular! If you're interested in learning more about booking your own micro wedding adventure, let's grab some wine and chat!