What a weird time, yeah? No one really knows what's coming or when we'll be able to gather again. We can have hope, of course, that things will lessen in the coming weeks. No matter how much hope we have, if your wedding is coming up this year, you're probably still stressing a little bit about what to do if your wedding is affected by COVID-19. And that's to be expected! With all the unknowns, it's normal to feel unsure of your celebration. Let me assure you, even if your wedding is affected by the coronavirus, it will happen and it WILL be incredible. What does that look like? Well you have some options…
Elope
If guidelines are still looking pretty strict for your wedding date, but you still want to move forward just the two of you, great! We can plan an elopement instead. It might not be the wedding you dreamt of initially, but I promise we'll make it magical nonetheless. We can pop some champagne, play your first dance song while you dance just the two of you overlooking an amazing vista, and watch the sunset knowing you're now officially married! If you're sad not to be able to celebrate with your loved ones, you can always plan a really great party for after the guidelines are lifted – and we'll all need a really great party at that point!
Adjust Your Guest Count
It's entirely possible that weddings through the rest of the year will go ahead, but have smaller guest counts. I don't expect we'll go right from stay-at-home mandates to gathering 200 people in a space. If it means a lot to you to still tie the knot on your original date – that can probably still happen! We just may be dealing with a new "social distancing" celebration. The wedding industry calls these smaller weddings, "Micro Weddings" (click here to find out what is a micro wedding and what it looks like!) and I actually highly recommend them! You can (hopefully) still have the people closest to you, family and friends who you love, while you commit to forever. In fact having a smaller group really gives you more flexibility in planning! You might even be able to save some costs on downsizing, between linens and food/drinks. Having to slim your guest count isn't the end of the world, but I know it isn't for everyone.
Reschedule
If the first two options just aren't for you, you always have the option to reschedule. A few of my couples now have opted to reschedule to a safer time, whether that might be this fall or next year. It's hard to say for sure what date will be "safe" again but most vendors I know and work with have a similar policy to me. We're all happy to move your dates, and prefer to do so rather than have to cancel your celebration altogether! We've spent a lot of time with you planning and getting to know each other, and it would break my heart to have to cancel a celebration that we all looked forward to. Instead, we can just move the retainer to your new chosen date – something many couples have decided is their answer to "What to do if Your Wedding is Affected by COVID-19?" If your date isn't a big deal, and you prefer to be married in front of the hundreds of guests you intended, rescheduling is probably the best option for you.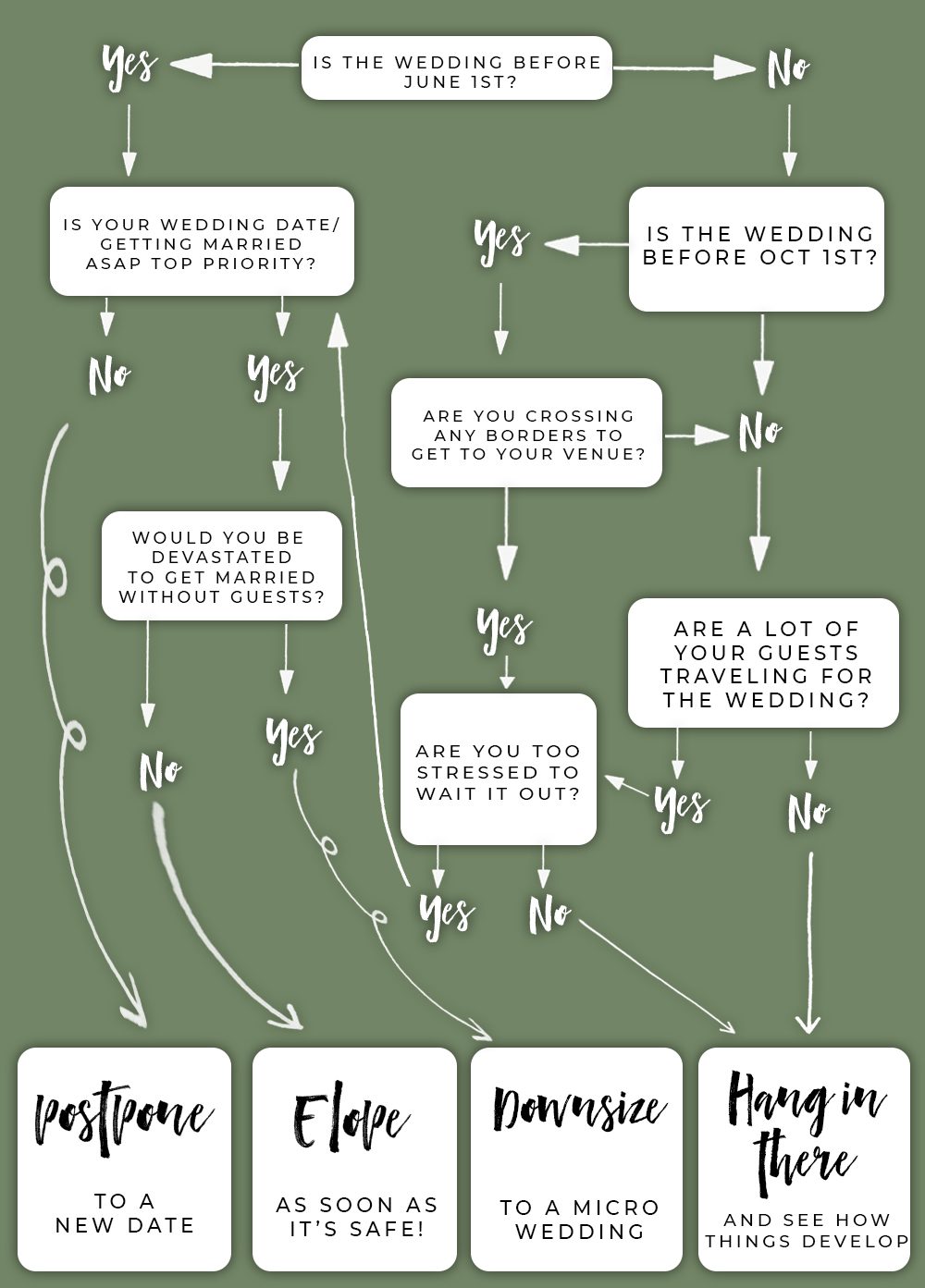 I know that this is a difficult decision to have to make, and I'm so sorry that COVID-19 is affecting your wedding this way. I do firmly believe, though, that your celebration will be incredible whenever and however you decide to get married. If you're looking for a photographer for your new date or if you need someone to document your now-elopement, click here to view my pricing.