How to Elope in Colorado
If you've just stumbled upon the idea of eloping, you might have a lot of questions. Having so many questions can make eloping feel overwhelming or stressful, maybe even scary. Whether you're considering eloping because you've heard of it before, or you know so little about eloping you think you have to secretly run away to the courthouse, this article will leave you feeling like an expert on elopements and feeling confident to start planning yours.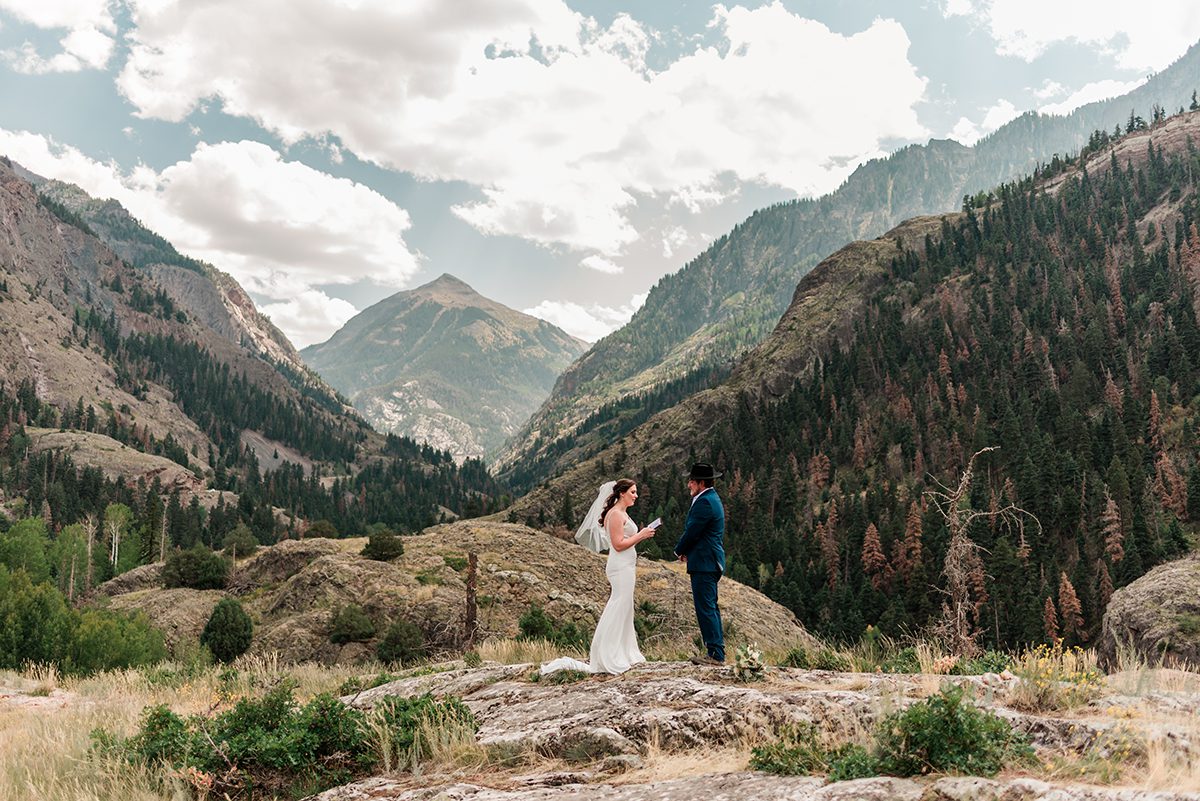 What is an Elopement?
Let's start with the basics. What is an elopement? An elopement is no longer a stealthy, secretive wedding (though it can be if you want it to!) Eloping is choosing an intentionally small, intimate, and authentic wedding celebration rather than a traditional and larger wedding. It could involve escaping to the mountains, going to the courthouse, or any other activity that seems like the perfect way to spend your wedding day. It could be just the two of you and a photographer, or it could involve guests. There are very few rules involved when it comes to eloping!
Frequently Asked Questions about How to Elope:
Q: Can we have guests at an elopement?
A: You can totally have guests at an elopement. 
As mentioned, there is no right or wrong way to have an elopement, and if you want guests that's allowed! Most people who choose to elope do so because they don't want the big traditional wedding. Therefore most elopements are 20 people or less typically. There's a few guest situations most commonly seen:
1 – Self-solemnize (Just you and the photographer)
Some states allow you to self-solemnize, which allows you to sign the papers just the two of you, and you're legally married! You don't need an officiant or witnesses. Most couples who opt for this type of elopement do so because they don't care about the formality of an official ceremony overseen by anyone. Maybe your location is pretty remote and the fewer people involved the better. Perhaps you're just really shy. Whatever the reason, Colorado is a self-solemnizing state which is why so many couples choose to come here to elope.
2 – Overseen ceremony (You + Photographer + Officiant)
If you are looking for a little more tradition and want a formalized ceremony, you could opt for hiring an officiant to oversee your celebration. They can create a customized ceremony perfect for you, and create a little more structure if that's something you're seeking. You may be required to have witnesses in some states if you opt for an officiated ceremony, so double check your state's laws before finalizing plans. You can always have an officiant but legally self-solemnize if you wish (if the state allows!)
3 – Invite guests (You + Photographer + 20 Loved Ones)
If you can't bear the thought of getting married without some certain people in your life – invite them! There's no rules against guests at your elopement. Some areas require certain permits for groups of larger sizes, so be sure to reach out to the offices in charge of the area you'll be eloping to see if there are any caps on group sizes and what permits you'll need to apply for. If you're having over 20 guests, that's totally allowed as well but most professionals would consider that more of an "intimate wedding" or "micro wedding" – but just be clear with them what you're planning upfront and you'll be fine!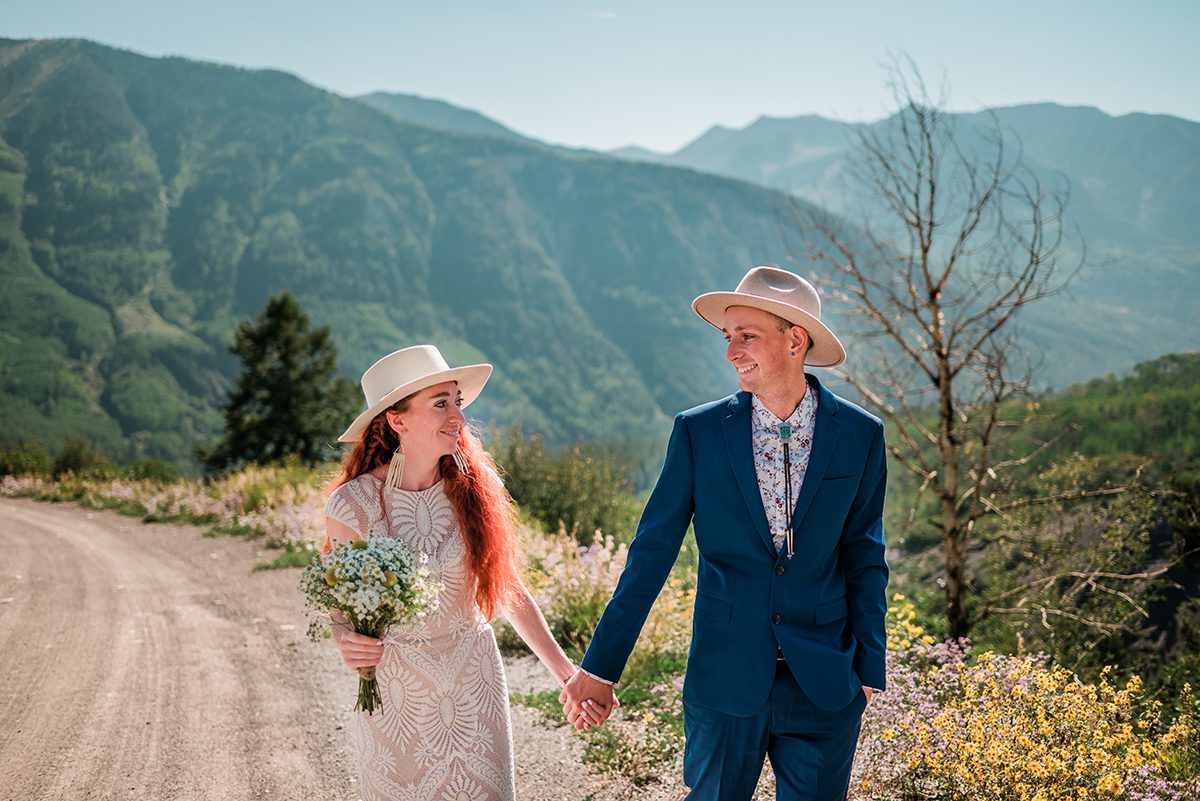 Q: Do we have to go to the courthouse to elope?
A: You don't have to elope at a literal courthouse if you don't want to.
If the courthouse isn't part of your vision for your wedding day, it doesn't have to be! In Colorado, you can apply for your marriage license at any clerk's office in the state, and sign the certificate where you get married (within Colorado.) After the celebration you'll just submit the certificate to your clerk/recorder's office and they'll walk you through the rest.
Q: Do we have to hike to elope?
A: No! You don't have to have any special abilities or go anywhere crazy in order to elope
You might have seen "adventure elopements" all over the internet these days, but being adventurous or able-bodied is not a requirement to eloping. There are plenty of accessible spaces with mountain views if you need that. You could also elope without any outrageous backdrops at all! If you're more inclined to grab a beer and build a bonfire, do that! If a game night or movie night at home is your jam, that's totally an option too. There's no prerequisite for eloping.
Q: How much does it cost to elope?
A: At least $30 but usually under $10k
Most marriage licenses come to about $30 (and often must be paid in cash) – to legally elope that is the only expense you could have! However most couples opt for some sort of celebration, and usually hire a photographer to document the events of the day, which do add to the cost. Eloping is certainly cheaper than a big traditional wedding, though, and most couples spend under $5-10k. Added fees to expect: Photographer, Land Permits, Flowers, Attire, Champagne, Travel, etc.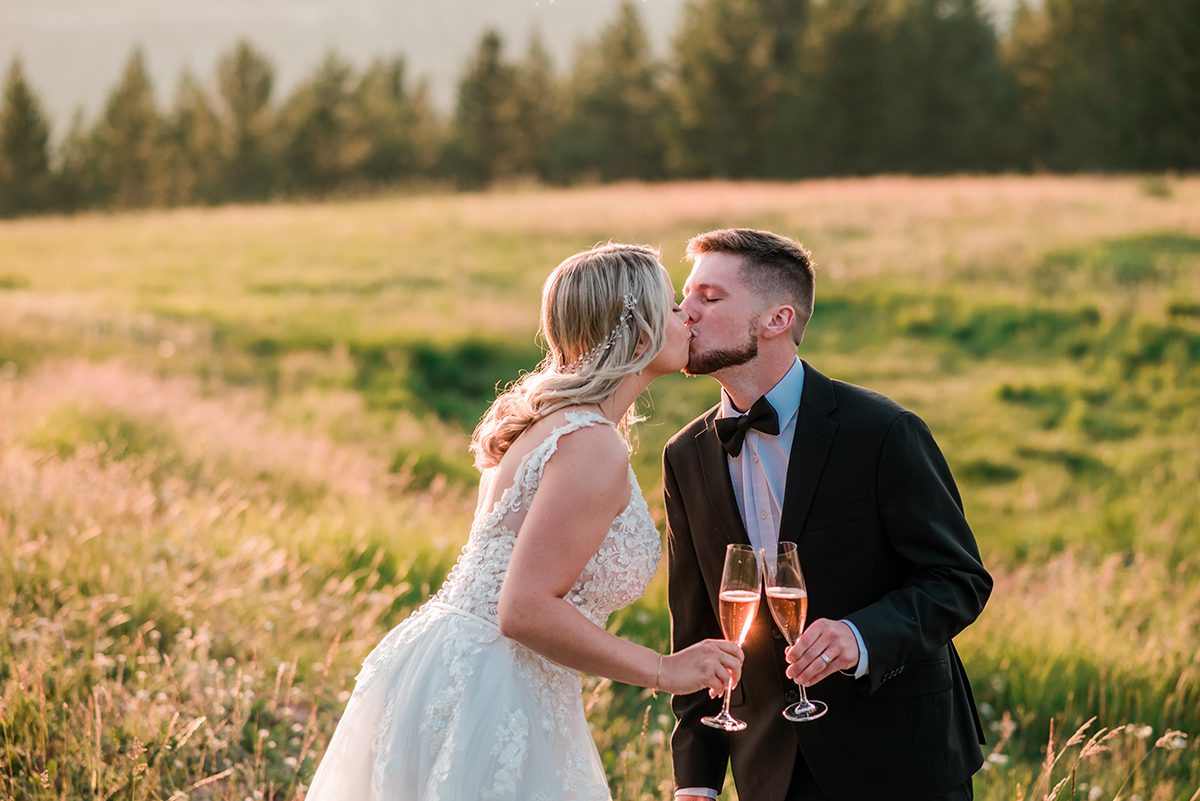 Q: What is an elopement ceremony like?
A: There's no one right way to do an elopement ceremony.
It can be whatever you want it to be! Keep any traditions you like and throw the rest away. Exchange vows and rings if you want, have a unity ceremony, get tattoos, jump in a lake, share a toast, eat cupcakes, have a picnic, etc
Your elopement day could look something like this: 
8:00  Wake up and enjoy coffee together
10:00  Get ready for the celebration
12:30  Photographer arrives
1:00   Head to ceremony location
1:30   Ceremony
1:45   Champagne toast
2:00   Portraits around ceremony area
2:30   Head to second location
3:00   Portraits and picnic around second location
4:00   Sign papers
4:20   Share cupcakes & local beer
5:00   Head to town for private dinner
Or it could be as simple as this:
4:00  Get ready for celebration
5:00  Head to location & meet photographer
5:30  Share dinner
6:00  Ceremony
6:30  Toast champagne
7:00  Portraits as the sun sets
8:00  Head home
[wc_button type="primary" url="https://amandamatildaphotography.com/elopement-ideas-40-things-elopement-day/" title="What to do on your elopement day" target="blank" url_rel="" icon_left="" icon_right="" position="" class=""]What to do on your elopement day[/wc_button]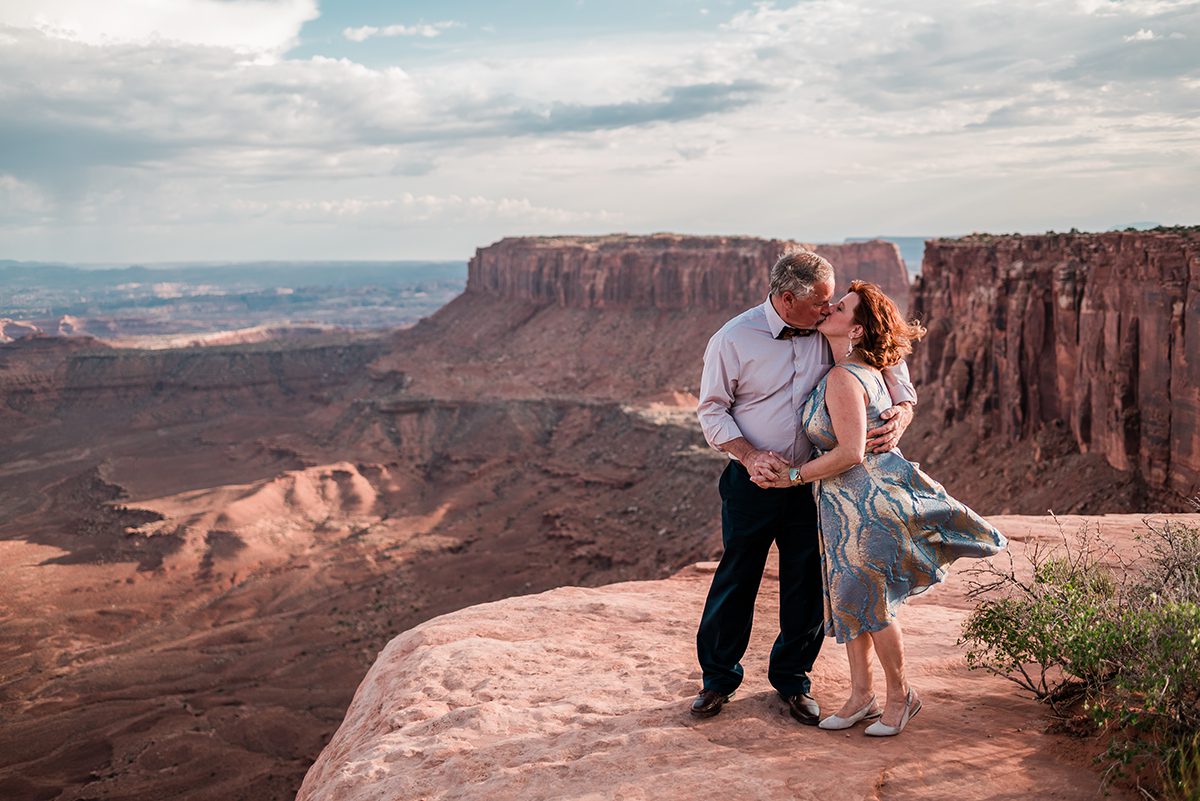 Q: Where should we elope?
A: You can go almost anywhere!
I personally love central and western Colorado, as they're home to my favorite mountain ranges and a wide array of backdrops from mountains and canyons to deserts and rivers. Start by dreaming about what your ideal wedding day looks like, and think about the bigger picture too. Are you staying there for a weekend? A week? Are you doing it near home? Do you have guests you need to accommodate? If you want some ideas, click below for my location ideas:
[wc_button type="primary" url="https://amandamatildaphotography.com/ten-places-elope-colorado-arent-rocky-mountain-national-park/" title="Ten Places to Elope in CO That AREN'T RMNP" target="blank" url_rel="" icon_left="" icon_right="" position="center" class=""]Where to Elope[/wc_button]
Q: Do we need an officiant or witnesses?
A: Every state has its own rules on what makes your marriage legal.
Before you plan your elopement, make sure you look up the laws of your home state and the state you'll be getting married in. Most states recognize other state legal marriages, but with self-solemnization it's good to verify beforehand. You may need to apply for a marriage license before you leave home, or you may need to apply in the state you are getting married. If Google doesn't help you, you should be able to call a clerk's office in your home town or in the state you're getting married for some clarification, or your photographer may know the local rules to help guide you.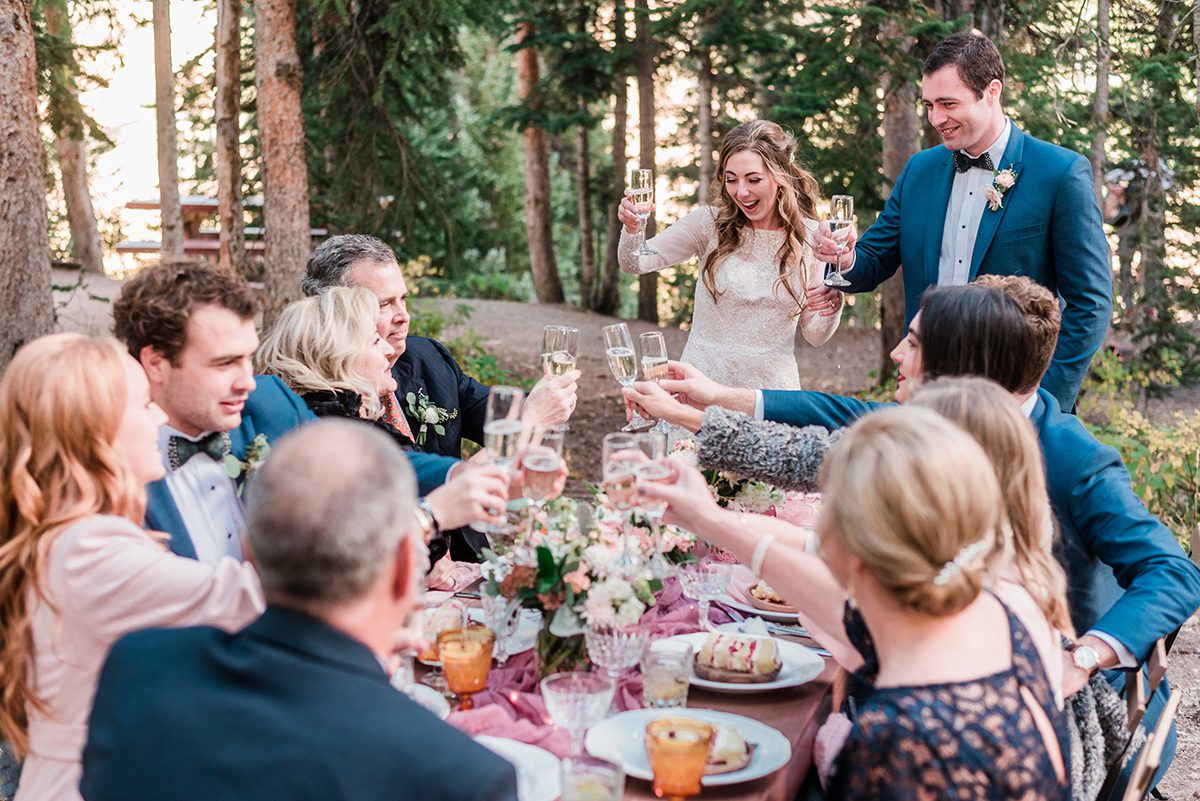 Q: When should we elope?
A: There's no wrong time to elope!
The biggest factor for planning your elopement date should be what you envision. Do you want to hike? Ski? Be outside without snow? Do you love fall? Do you hate the heat? Do you want wildflowers in your photos? Do you want nice weather but snow capped mountains? Colorado is a little bit of a weird state for seasons, but generally speaking there can be snow in the mountains from October to May. Here's the pros and cons to each season:
Spring: March-May
Pros: The weather is likely to be nice and starting to warm up. There are snow capped mountains almost guaranteed. 
Cons: This is considered mud season in the state. As snow melts things get muddy and could affect your experience. Travel is still a little up-in-the-air as snow storms are still possible. 
Summer: June-August
Pros: It's much less likely to have any snow. July and August are peak wildflower season in the mountains. Travel is easiest this time of year. Highs in the mountains are mild but warmer (70s and 80s are common.)
Cons: With warmer weather, it's best to avoid the desert areas like Gateway and Grand Junction. Highs in the desert can be over 100F. Summer is also becoming a bit of a wildfire season, so smoke and active fires could potentially affect your selected area.
Fall: September-November
Pros: Fall starts early in the mountains, usually around the second or third week of September. The aspen leaves turn golden yellow and orange and last typically 2-3 weeks. The weather is cooling down but still typically beautiful. Fires are less common as temperatures aren't as hot. There's fewer crowds than in the summer.
Cons: It is getting quite cold at night. Snow is possible at any moment, which can be tricky if you're very opposed to snow and can make travel trickier.
Winter: December-February
Pros: If you're looking for a winter wonderland these are the months for you! There will be snow and plenty of it, especially later in the season. If you're looking to ski, snowshoe, or just want a snowy backdrop you'll love winter in Colorado.
Cons: With snow comes crowds in ski areas. It can also make travel trickier throughout the state.
You've got the "who, what, where & when" of how to elope in Colorado. Enjoy this season of planning your personalized, intimate wedding day! Looking for more info and inspiration? Click here to see my full resources and session inspiration. I help dozens of couples each year elope in this great state of Colorado!
[wc_button type="primary" url="https://amandamatildaphotography.com/galleries/elopements/" title="Elopement Info" target="blank" url_rel="" icon_left="" icon_right="" position="center" class=""]Elopement Info[/wc_button]
[wc_button type="secondary" url="https://amandamatildaphotography.com/contact/" title="Contact Amanda" target="blank" url_rel="" icon_left="" icon_right="" position="center" class=""]Contact Amanda[/wc_button]