Being one of the most photographed mountains in Colorado, Maroon Bells is an iconic scene of the state, and a popular destination for weddings and elopements. If you're wondering how to get married at Maroon Bells Amphitheater, this is the post for you! We'll dive into everything you need to know about how to get married at Maroon Bells, when to apply for a reservation, the permits you'll need, logistics of transportation and more.
When to Begin Planning Your Wedding at Maroon Bells
Reservations for the Maroon Bells Amphitheater open one year in advance, at 8am MST. If you're planning to get married at Maroon Bells amphitheater, it's in your best interest to go into planning without a specific date, as reservations go fast and are tough to secure. You may need to try several days (or weeks!) in a row before landing a reservation. Don't give up, though, it is possible! If you want to get married at the Maroon Bells Amphitheater, plan on getting married over a year after you're engaged (or lock it in before they propose – that's your call ha!)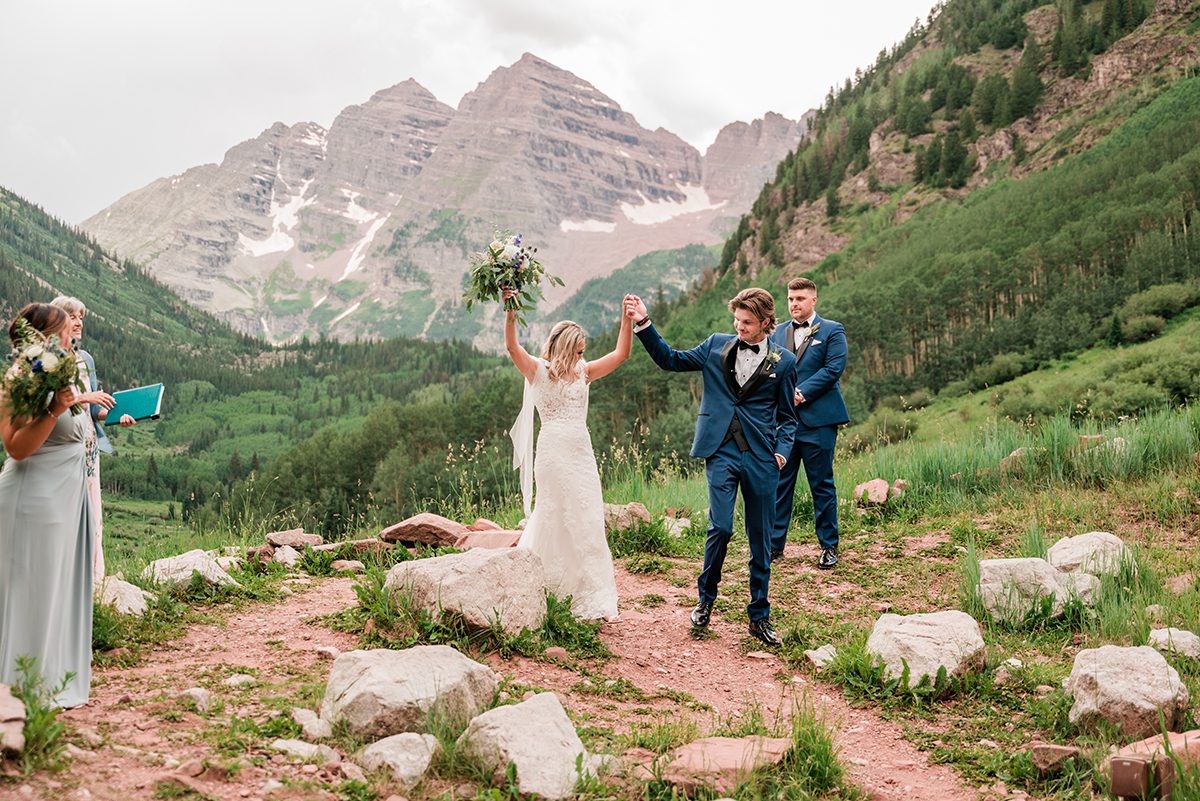 The Best Time to Get Married at Maroon Bells
Since you want to be open to several dates when getting married at Maroon Bells, it's a good idea to first decide what time of year you want to get married there. There are certainly more popular times to get married than others, but there's no wrong answer to the best time to get married there. There are, however, busier times of the year that make it harder to get a reservation. As of writing this, the website states, "Due to being situated at a very busy location, events are not reservable on Fridays or Saturdays in June, July or August and Fridays, Saturdays or Sundays in September and the first week of October at the Maroon Bells Amphitheater."
Your wedding at Maroon Bells, then, will need to be held on a weekday. Most couples will plan an afternoon ceremony at the amphitheater, which makes for great lighting and a good schedule for your guests. The most popular months to get married in Colorado are July for summer weddings, and September for fall weddings. Here are the pros and cons of each month, with the best time to get married at Maroon Bells:
Summer Weddings at Maroon Bells
June-August:
Pros – It is much cooler at Maroon Bells in the summer than down in Denver/Colorado Springs or other parts of the country, which makes for beautiful weather for your wedding. The wildflowers begin peaking in July (sometimes earlier or later) and offer great natural decor for the day.
Cons – Dates are limited to Sundays or weekdays and therefore tend to get reserved faster. There will certainly be many other visitors in the area as well, which makes it harder to find solitude for photos. July and August are also monsoon season in Colorado, and afternoon rain storms are very common so you will want to plan accordingly with umbrellas/ponchos just in case.
Fall Weddings at Maroon Bells
September-November:
Pros – The aspen leaves typically begin changing to fall colors in the middle of September, sometimes lasting into October creating the most breathtaking backdrop for your wedding. It becomes less busy in the fall as kids are back in school and summer vacations dwindle.
Cons – This is a peak month for fall weddings and reservations go faster in September than other months. There is potential for snow in October and especially November, and the road may become inaccessible into the later fall.
Winter Weddings at Maroon Bells
December-March:
Pros – it is not very busy at Maroon Bells in December. It would be much less likely to have other people around if you're getting married here in December. There will likely be plenty of snow to play in!
Cons – The area itself is "open" in the winter, but the road to it is not open in the winter. You would have to transport any guests you're having in, and that means snowmobiles, cross-country skiing, or snowshoeing your way in on the 12.4 mile uncleared road. This time of year is really more often selected for elopements of just the two of you, for this reason.
Spring Weddings at Maroon Bells
April-May:
Pros – It still isn't very busy yet as the road may or may not be open and accessible. There may or may not still be snow around the area.
Cons – It is considered mud season at this time in Colorado and can make travel difficult and the road to the bells may be inaccessible even by cross-country skiing.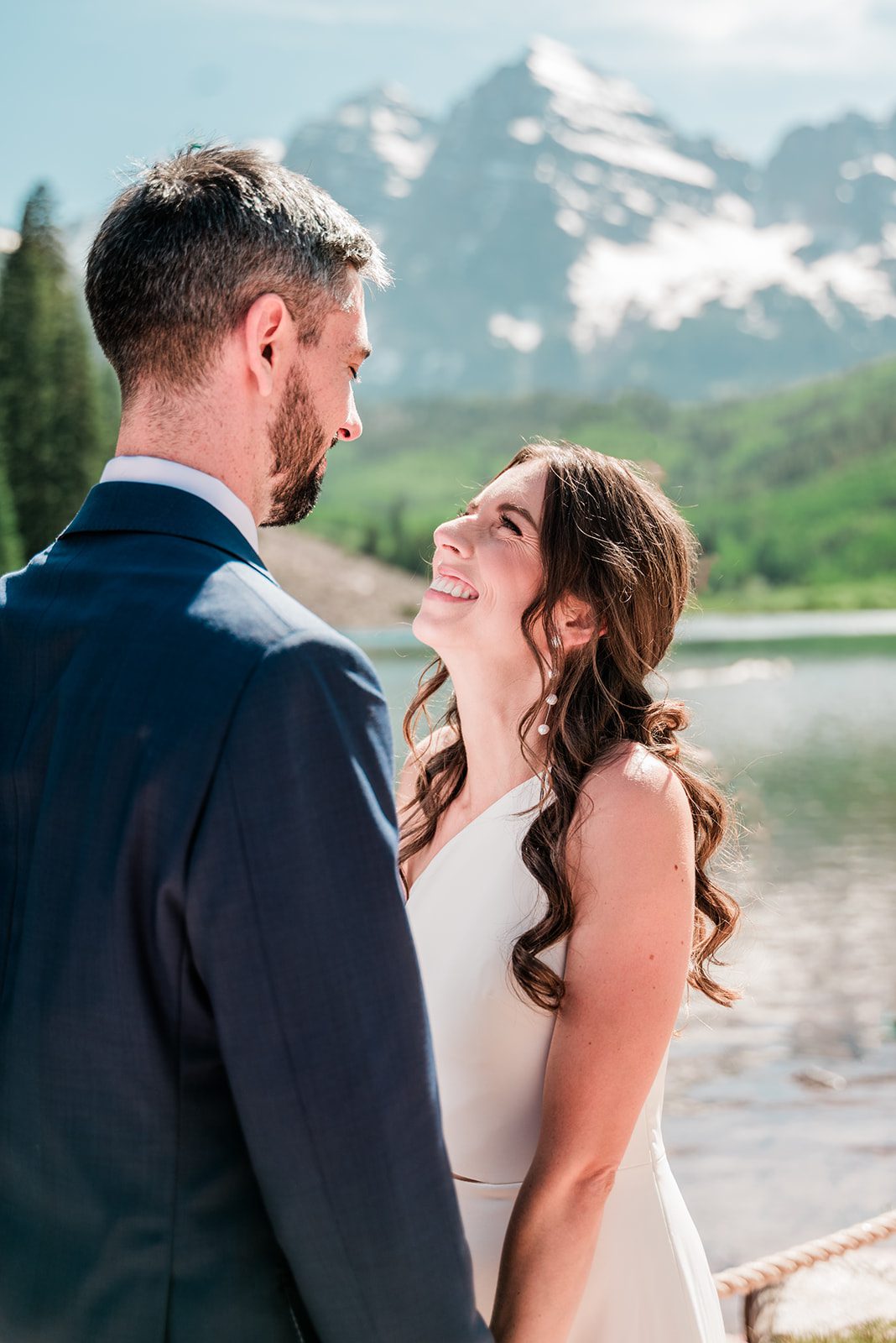 How to Reserve the Maroon Bells Amphitheater for Your Wedding
Reservations for Maroon Bells Amphitheater open one year in advance, at this link. The reservations for Maroon Bells must be made online. The daily rate is $200 at the time of writing.
If you're looking to elope just the two of you, there are wilderness locations nearby that allow ceremonies with under 10 people, and there are no paid permits for that area at this time, beyond the parking reservation.
How to Transport Guests to Your Maroon Bells Wedding
Maroon Bells requires a shuttle service to get into the area as vehicle traffic is restricted on the road from 8:00 a.m. to 5:00 p.m. When you reserve the amphitheater, you are issued five vehicle passes that allow a motorized vehicle past the welcome station. These passes are available for pickup at the welcome station five days prior to your wedding. You can use these passes for you, your vendors, or hired shuttles for your guests.
As their site says: "Other options for access to Maroon Bells include parking at Aspen Highlands Ski Area. The Maroon Bells shuttle bus is $16.00 per adult and $10.00 for seniors 65 or older and children under 12. Reservations are required to reserve a space on the shuttle and can be made here. Operating hours for the shuttle bus are 8:00 a.m. until 5:00 p.m. Dogs are permitted on the Maroon Bells Shuttle."
Many couples will choose to hire a shuttle service to transport guests to their Maroon Bells Wedding. Some shuttle services include Blazing Adventures, Aspen Party Bus, or Aspen Transportation.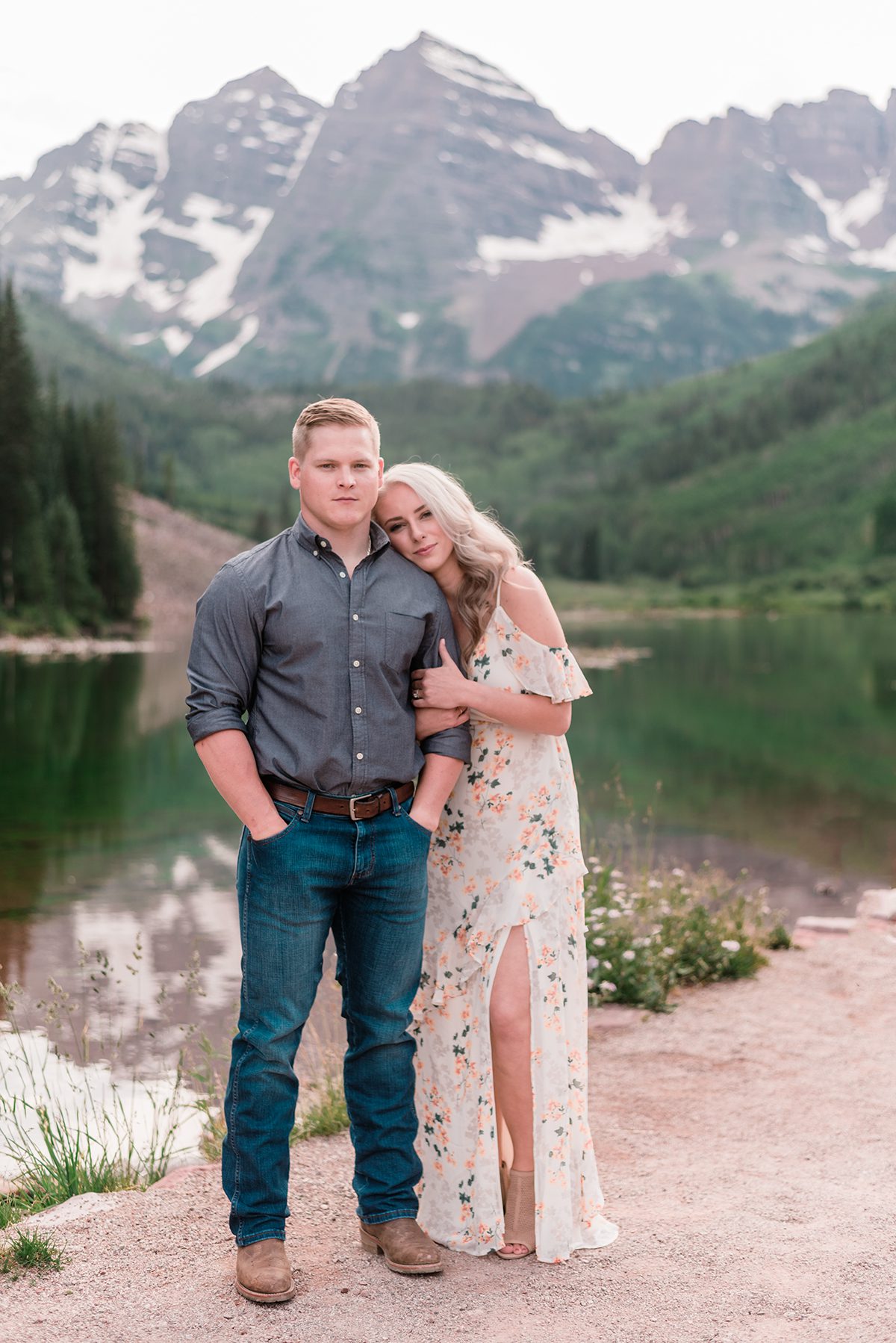 Where to Host Your Reception After Your Maroon Bells Ceremony
Receptions are not allowed at the Maroon Bells Amphitheater. If you're looking to stay near the bells for the party, the East Maroon Portal Picnic is available to reserve and can accommodate up to 75 people. It is a picnic site, though, so expect to rough it or bring in rentals as allowed.
Other Reception venues for Maroon Bells weddings include T-Lazy-7, a wedding venue along the road to Maroon Bells that includes a large meadow, a log built lodge, and large yard space with shade cover to host your reception after getting married at Maroon Bells. If you're looking for something closer to Aspen or Snowmass Village, there are many more options for hosting your reception from hotels to museums to outdoor spaces. Here's a quick list of some of your options of where to host your reception after your Maroon Bells wedding ceremony:
Quick Facts About Getting Married at Maroon Bells
How much does it cost to get married at Maroon Bells?
The reservation for Maroon Bells Amphitheater is $200 at time of writing. Parking is $10 for the first 3 hours, $15 up to 8 hours, and $30 for 8+ hours if you or your guests will be parked at the Aspen Highlands Garage. Beyond that, it's just standard wedding costs like photographer, dress, flowers, etc!
How accessible is Maroon Bells?
There is a required shuttle June through October, though there are certain exceptions. The shuttles, I'm told, are handicap accessible and allow dogs (not just service dogs.) The parking lot and shuttles both drop you off not a far walk from the views you came for, and the pathways and amphitheater are both wheelchair accessible. There is a vault toilet on site and the toilet is also accessible.
Can we drive to Maroon Bells?
Yes, in certain circumstances you can drive to Maroon Bells. Before 8am or after 5pm you can make a reservation (limited amount per day) to drive to Maroon Bells.
Can we bring our dogs to our Maroon Bells wedding?
Yes! Dogs are allowed at Maroon Bells Amphitheater and designated pathways around Maroon Lake. They are also allowed in the wilderness area on-leash only. Dogs are not allowed in parts of the wilderness areas due to wildlife in the area.
How many guests can you have at Maroon Bells weddings?
The Amphitheater allows up to 50 guests at your wedding. Many couples opt to have a small ceremony out here with a larger reception at a second venue if they wish to invite more guests. If you are eloping with under 10 guests there are also wilderness locations in the area that you may use instead if desired.
What is the elevation at Maroon Bells?
The elevation of Maroon Bells is 14,163′, however the amphitheater at Maroon Bells sits at about 9,585 ft.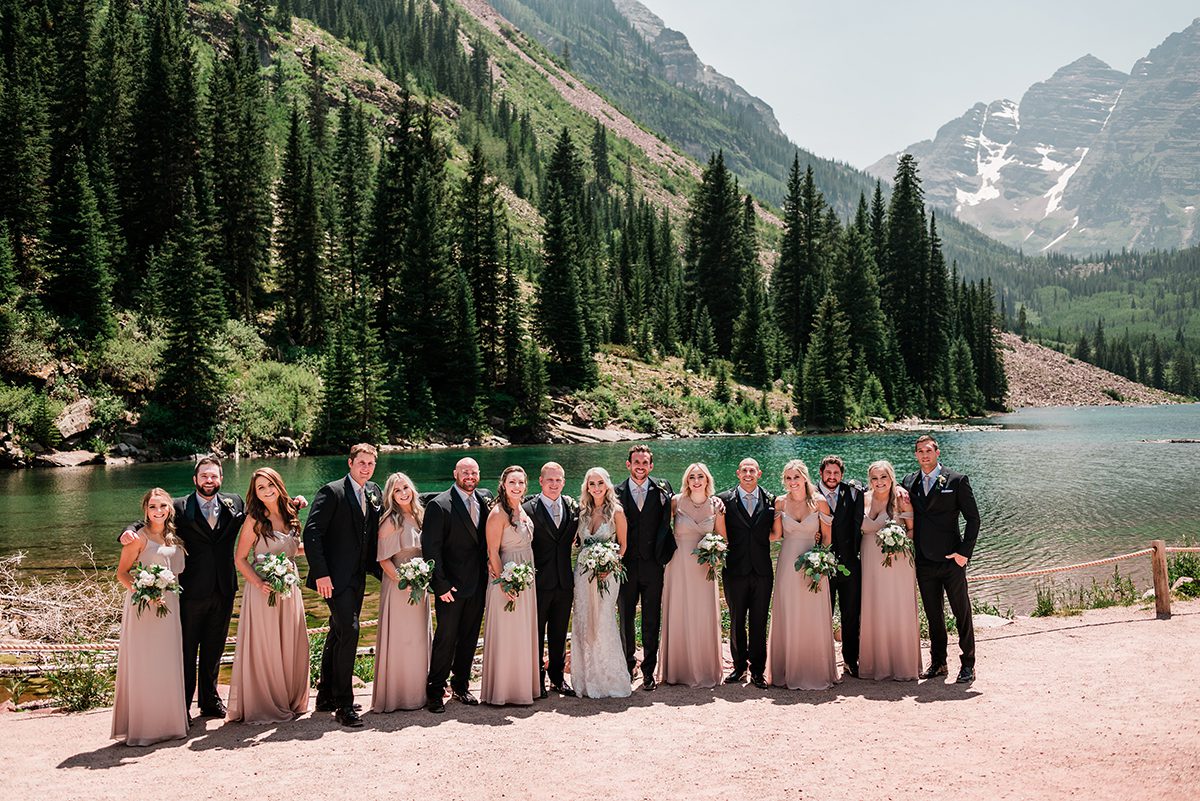 When does it snow at Maroon Bells?
It can snow any month in Colorado, but it typically snows at Maroon Bells mid-October through April or so. There will often be snow lingering on the ground and the peaks into June.
How far is the hike at Maroon Bells?
The parking lot and shuttle drop-off put you right at the Amphitheater with minimal walking. The hike at Maroon Lake is under a mile, out-and-back. The wilderness area at Maroon Bells allows one to backpack or hike 11 miles over to Crested Butte.
What Leave No Trace rules should I know at Maroon Bells?
Bear-proofing food and other enticing items when you're away from them is essential in this area, especially the wilderness area. Do not get too close to Maroon Lake, or try to enter the lake. Stay on the trail at all times – you may not cross perimeter barriers or fencing, or trample into wildflower fields. If you're looking for an area without as many ropes and barriers in the photos, you may continue into the wilderness area, but please stay on trail and watch for fragile fauna. Be aware of moose and bear in the area.
What is the weather like at Maroon Bells?
November through April the highs at Maroon Bells are usually in the 30's-40's and snowy. May and June see highs creeping into the 50's and 60's, with summertime highs in July and August topping out at 70's and 80's. September brings in the fall, with highs in the 60's and down again to 50's in October.
How do you elope at Maroon Bells?
If you are just wanting to elope at Maroon Bells with under 10 guests, or just self-solemnizing, then you do not have to reserve the Maroon Bells Amphitheater for your wedding! You may instead head out into the wilderness area to elope there. No permits are required for day use like this, at this time, but parties are limited to 10 individuals total. You will need to plan to take the shuttle in or make reservations to drive in depending on the time.
Need at photographer for your wedding at Maroon Bells?
If you're looking for a photographer with experience at Maroon Bells for your wedding or elopement, I might be your gal! Here's some helpful info to learn more about me and how I can serve you:
Wedding at Maroon Bells by Amanda Matilda Photography
Engagement Photos at Maroon Bells by Amanda Matilda Photography