Since last week we covered wedding dress shopping and what to expect, today it's time to focus on the guys. With shows like "Say Yes to the Dress" and how frequently the brides-to-be invite an entourage to the dress shopping, selecting menswear for the wedding is often overlooked and can be a huge unknown in the planning process! Here's what you need to know:
Timeline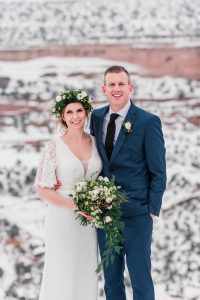 It's best to begin planning your outfit at least 4-6 months out from the big day. This will not only give you time to order your suit/tuxedo, but it also allows your wedding party to buy or get fitted for their suits/tuxes. The fitting and ordering process isn't overnight!
Rent or Buy?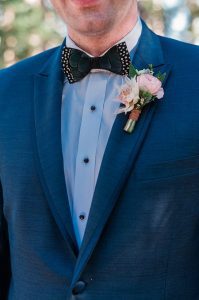 When selecting menswear for the wedding, if you're considering your suit/tuxedo, think about how much you care about the fit. If fit really matters to you, then plan on purchasing instead of renting. Rentals are available in slim or extreme slim fit, but are limited in terms of the items being altered. Typically rental items cannot be altered! If you are planning on wearing a full suit, ensure it fits properly. This includes sleeve length, only buttoning the top button of the coat (YES you should only be buttoning one button!), length of pants, etc. Vests can be buttoned fully, some like to leave the bottom button undone.
Color Matching
According to our local Men's Wearhouse, brown shoes can be worn with blue, light-medium grey suits, and of course tan/beige. Remember to always match belts to shoes!
Avoid Faux Pas
As mentioned above, when you're wearing a suit coat, only button the top button of the coat. If you're buying a new coat or jacket, check the pockets and tails for places it might be sewn shut for transportation. These should be undone before wearing! Also, do not wear suspenders and belt together — it's counter-productive.
Groom Style
Whoever is being photographed should be wearing similar style to the groom, for example suit for suit, vest for vest, etc. With some modern trends, groomsmen wear only vests while the groom wears both coat and vest, to make groom stand out. Either way, try to keep a color theme between all the guys' outfits. Don't forget about fathers, grandfathers, ring bearers, and ushers for this rule!
Think about weather and location for what all the guys should be wearing. Here in the mountains with outdoor venues the style is more casual, so a vest, slack, etc. is acceptable. Typically with indoor weddings should be dressed in a tuxedo, or full suit.
Menswear Pricing
Pinterest is a great starting point for finding the variety of options with guys style, but don't have high expectations to complete EXACTLY what you see. Average price for rentals are around $200, which includes everything from head to toe (shoes, shirt, vest, tie, socks, cufflinks, coat, pants). To purchase just varies depending on what each person will be wearing. Buying is typically a little more of an investment, but you can still expect to spend between $250-400. Purchasing may have additional tailoring, which is typically additional to purchase price so keep that in mind too.
The biggest advice when selecting menswear for the wedding is to visit a local menswear store like Men's Wearhouse for a consultation to see what's available as a couple before including the groomsmen.