Your Instagram bio includes the phrase "dog mom" or "fur baby" and will fight anyone who says pets aren't family, right? Now that you're engaged you're thinking about ways of including your dog in your wedding. Read on for some cute ideas my couples have done over the years!
Including Your Dog in Your Wedding
Save the Dates. If your celebration does not lend itself to dogs attending, consider including them in your engagement session for the save the dates! Many of my couples bring along dogs to their engagement and it's always so fun to see the resulting photographs hanging on their walls as family photos and distributed around the wedding reception to include the dogs in the big day through photos.
The Program. If your wedding programs list your wedding party and/or family, include your fur babies on there too whether they are present in person or not. This can be a special way of including them in the big day!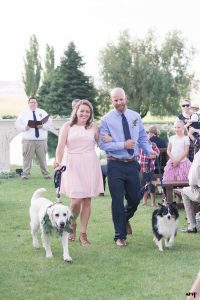 Ring bearers/flower girls. Many of my couples actually include their dogs in the wedding ceremony itself, especially if your wedding will be outdoors! You can dress them up in a flower collar or bow tie and have them walk the aisle with the rest of your crew or family. Sometimes grooms will tear up as much when they see their dog as when they see their bride haha!
Getting Ready. If your wedding ceremony can't include your dog, sometimes your getting ready space can. This can be a special time having your fur baby around as everyone does their makeup and gets dressed. Plus it makes for some cute photos!
Cake Toppers. Include your fur baby in a customized cake topper to celebrate the full family! This is great for cats, bunnies, horses and all the pets that make up your family.
Usher. Some dogs are so chill, they make the perfect ushers! Set them up outside the ceremony space with a greeting sign, or instructions for where people should sit. Though you might make sure there are human ushers too, in case the line gets backed up with people admiring your pup!
Remember, if your ceremony allows for your dogs to be part of the celebration be sure to designate a pup-sitter for the evening. Dogs can internalize excitement or get weary of too many people. If your dog needs a safe, quiet place to get away during the party be sure someone is there to make that happen!
How are you planning on including your dog in your wedding? Leave your ideas in the comments below!
xo,