If you're here you're probably considering or have decided on an elopement for your wedding. Congrats! But now you're probably wondering… How long is an elopement? What do we do all day? What does an elopement even look like? There are tons of resources out there for planning a timeline for a traditional wedding day, but not as much info about elopement day timelines. That's where this resource comes in. After being in business for ten years, I love helping guide my couples through their planning journey of crafting an amazing elopement day.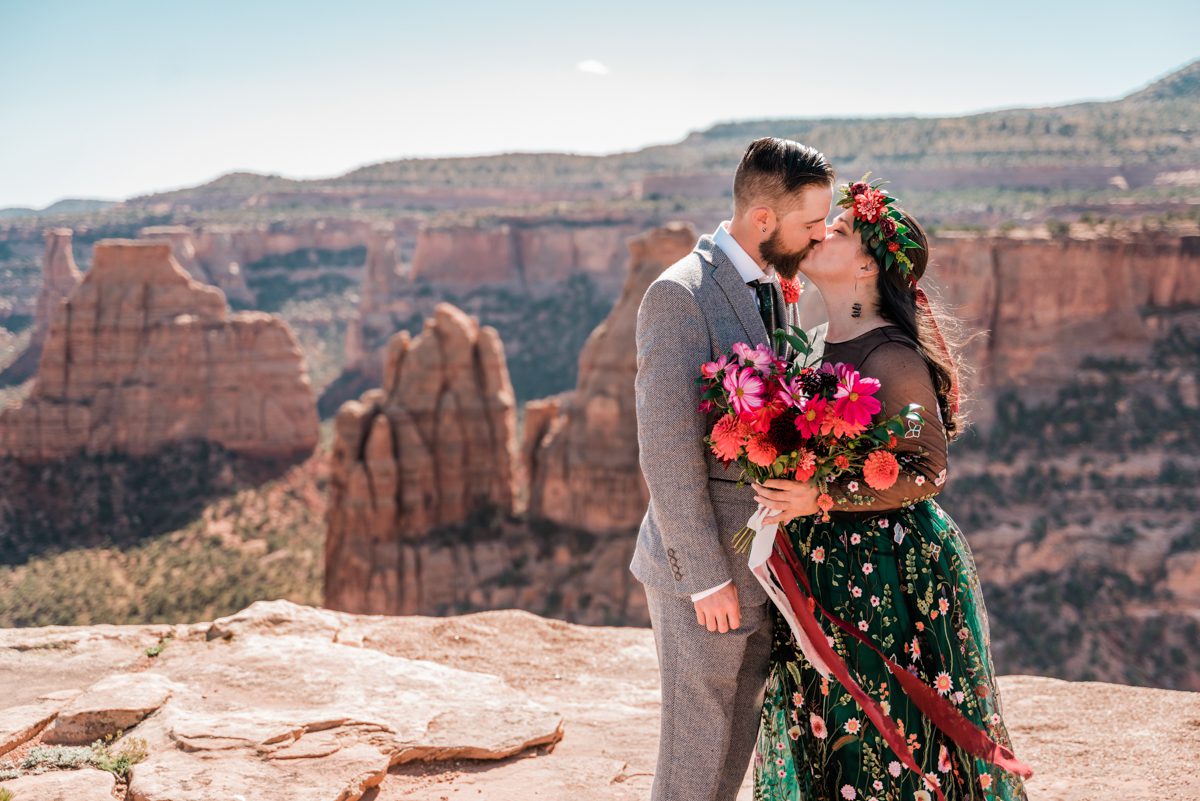 How Long is an Elopement Day?
Your elopement day is more than just a ten minute thing – your wedding day and commitment to partnership deserves celebration! Even if you're shy and hate photos, you'll want to remember such a special day in your life. I encourage my couples to start with a visioning exercise:
Close your eyes and imagine yourself with your partner. Imagine it's the most wonderful day you can think of. The weather is perfect, you're comfortable and happy, and you are looking at a day spent doing what you love ahead of you. You are committing yourself to this person today. Where are you? What will you be doing? Are you by a lakeside? In the desert? At a coffeeshop? Around a fire? Are you hiking? Is there an afternoon nap planned? Just take a minute and dream a little bit.
You deserve to celebrate your love and this next step, even and especially if you're eloping.
You deserve to enjoy your day with no stress in planning.
You deserve to have no one else's opinions dragging you down.
You deserve to spend a day doing what you love.
You deserve to have time to relax in the day.
So with all that in mind…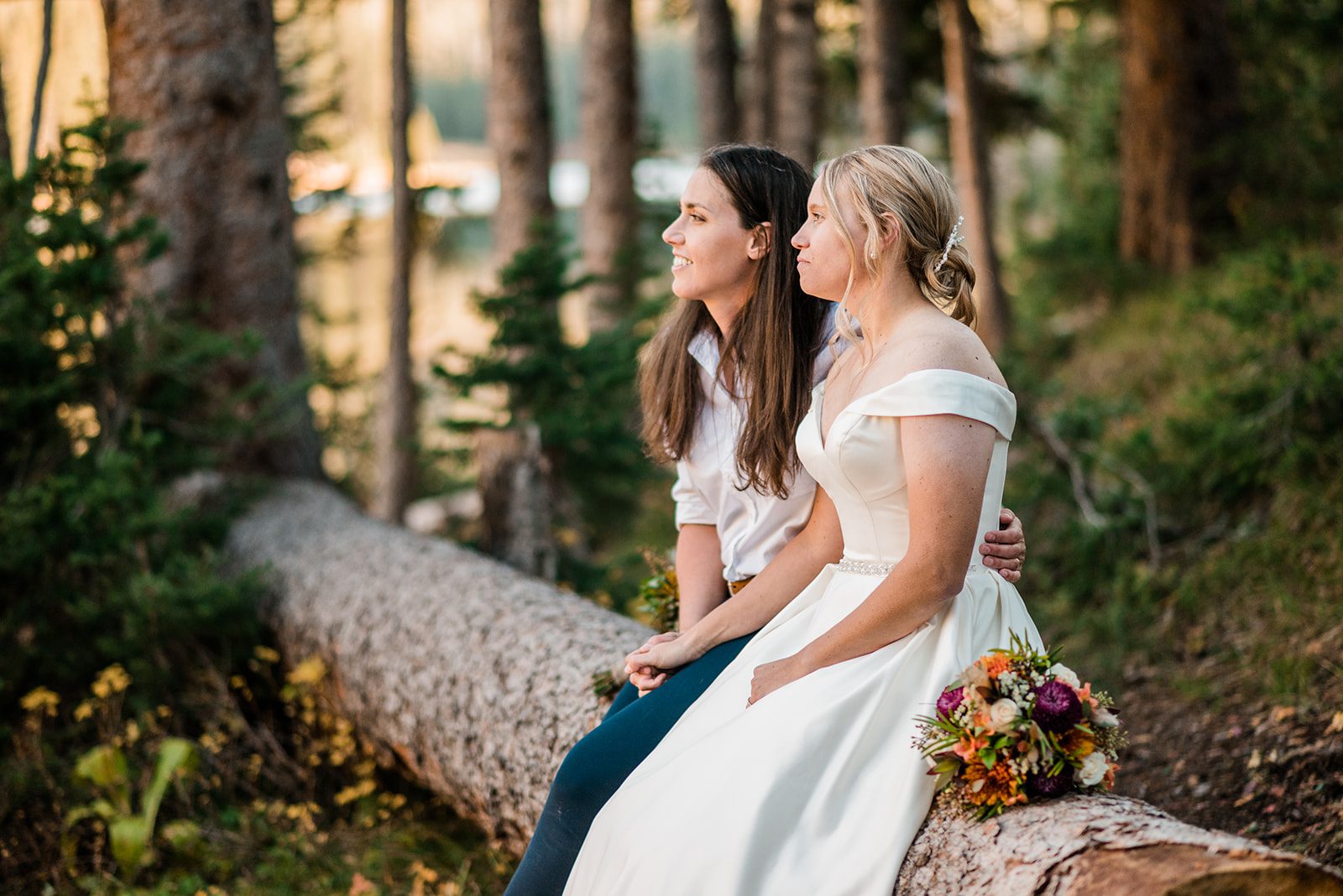 What Does an Elopement Day Look Like?
A lot of an elopement day timeline can have a similar structure to a wedding day timeline. At the end of the day, though, each and every elopement is totally unique! The point of eloping is creating a wedding day that is enjoyable to plan and enjoyable to experience. If that looks like a hike, helicopter ride, or swimming in a lake – awesome! If that looks like a Bed & Breakfast private dinner, accessible mountain views, and coffee and shopping at the bookstore – that is great too! (Click here for more ideas for what to do on your elopement day) Overall, here's what to expect for your elopement day: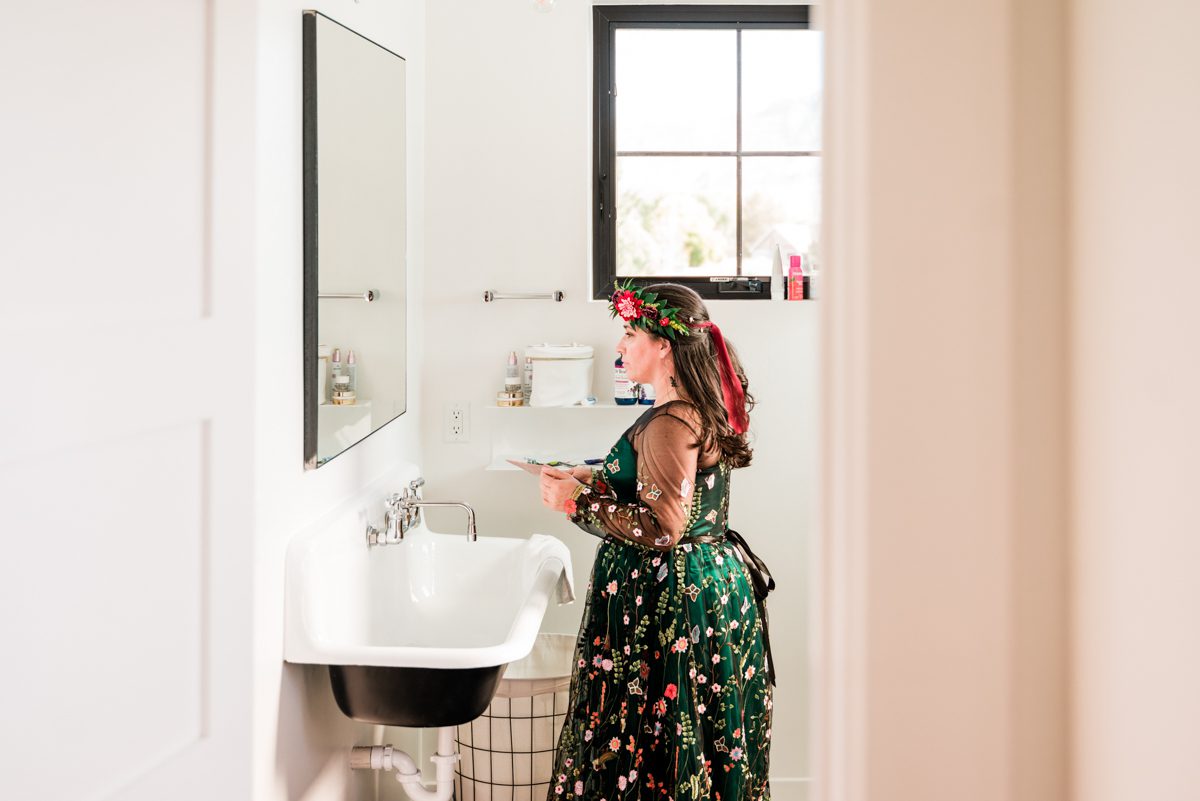 Getting Ready
This is the ice breaker of the day, where we meet (sometimes for the first time in person!) and you can get used to me being around. You'll have butterflies and a lot of emotions going on as you finish up your vows, and do your hair/makeup to finalize your look for the day. This part of the day especially flies by as the anticipation builds and the realization that you're getting married sets in.
If you're not helping each other get ready, it's fun to see how the other person spent this time of the day too! Capturing getting ready helps tell the full story of your wedding day for you to relive later on.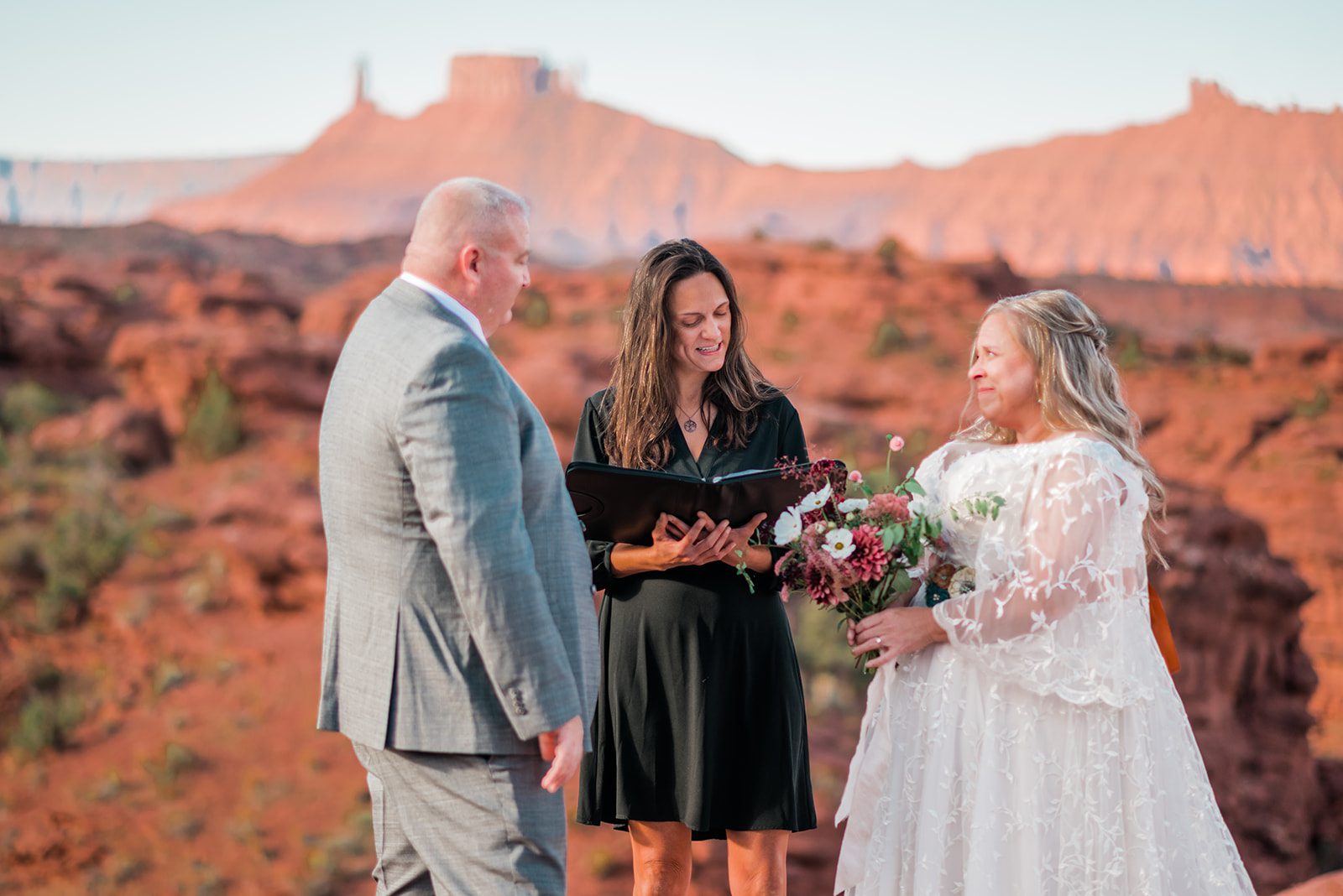 First Look
If you're not getting ready together, doing a "First Look" moment – where you see each other for the first time in your wedding attire – is a great moment to include in your coverage.
Especially if you have guests at your elopement, using this time to connect before other people get involved in the day is a great idea. If you are having guests, some couples will use this first look as a chance to exchange private vows as well, before a more public ceremony later in the day.
If you'd prefer to have a more traditional route and see each other at the ceremony for the first time, think about writing each other a letter or doing a "first touch" on either side of a door or corner in the building.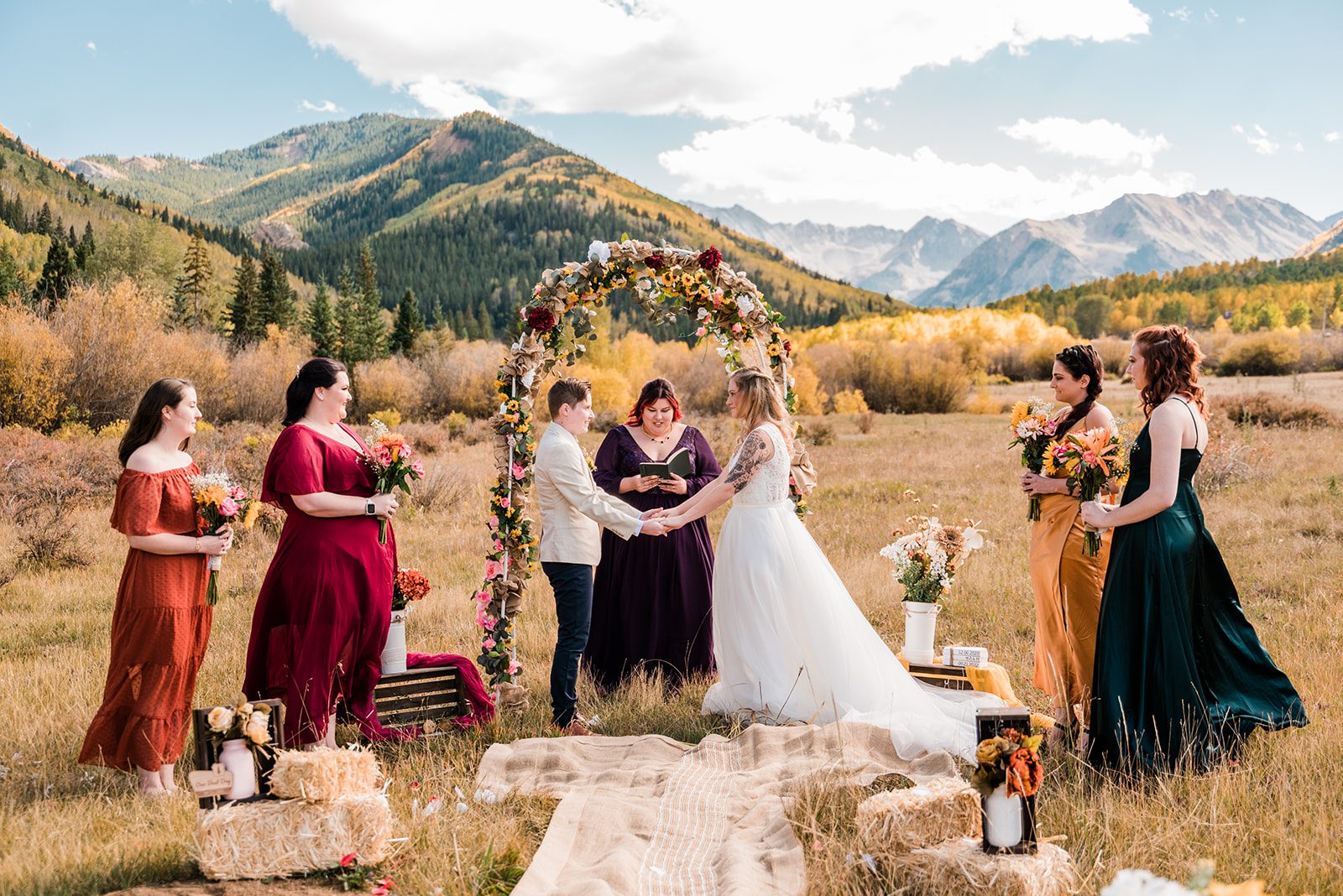 Ceremony
This is the most essential part of an elopement day! Whether you're having a legal wedding ceremony or a commitment ceremony without the government involved, this is the part of the day where you make your vows, and take this next step in your relationship. You can include unity ceremonies like a ring exchange, handfasting, or other symbolic activities.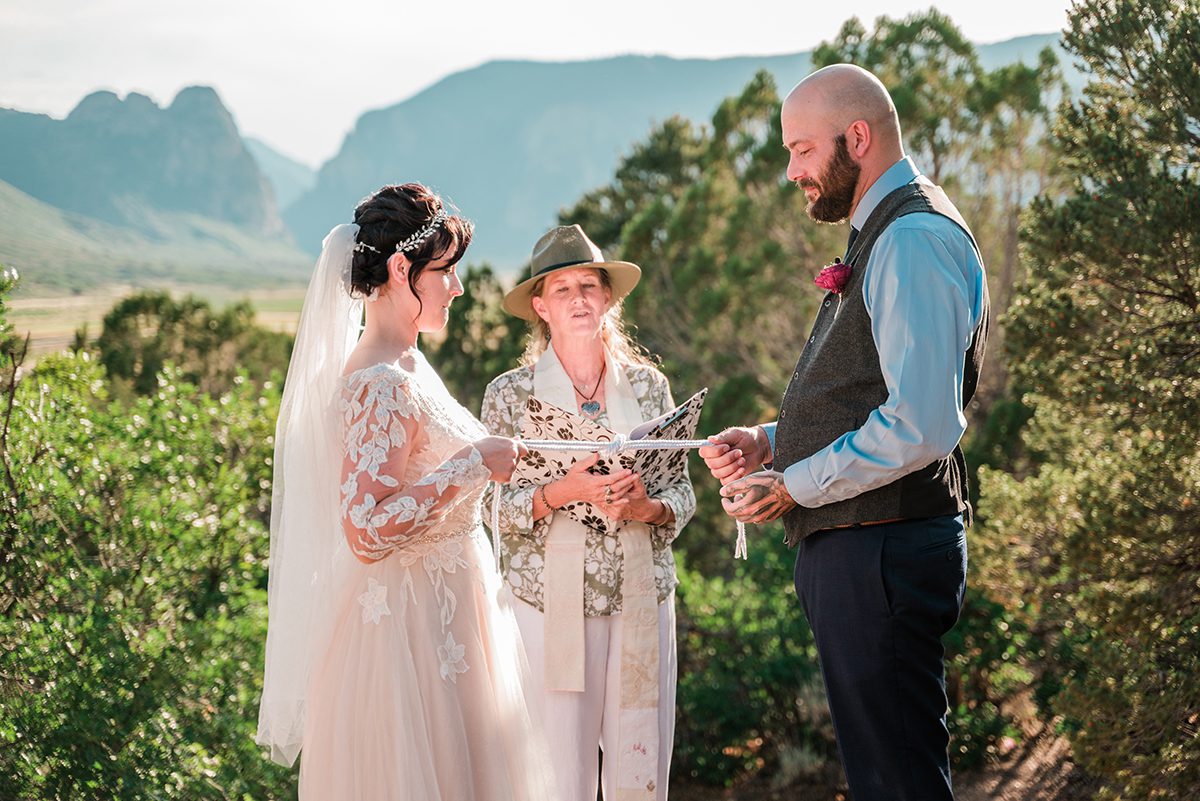 Group Photos
If you're having any guests, get some photos with them if you want! It's nice to remember who was there that day, plus how often are you all dressed up together in such a beautiful place? I'll help you create this list so that everything flows well and no one is forgotten.
Couple's Photos
These are the photos that couples put on their holiday cards, the gallery wall in their home, and on their desk at work. All in all, though, the great thing about an elopement day is that it's not an 8 hour photoshoot where you stand and smile for the camera in stiff poses. We'll be doing things you love throughout the day, and I'll be there to document every joyful moment. Which brings me to my next point…
Exploring & Activities
You deserve to make a big deal out of your wedding day. Even if you're eloping, this next step in your relationship deserves to be celebrated! Crafting your dream day can and should excite you. Think about what you love to do together, or dream of one day doing together, and plan your day with those things in mind. Are you hikers? Tandem bikers? Book nerds? Lego lovers? National Park collectors? Skinny dippers? Whatever your day looks like to you is great! Capturing how you spend your day, and whom you spend it with, will help you relive this incredible day you have planned; however you choose to spend it!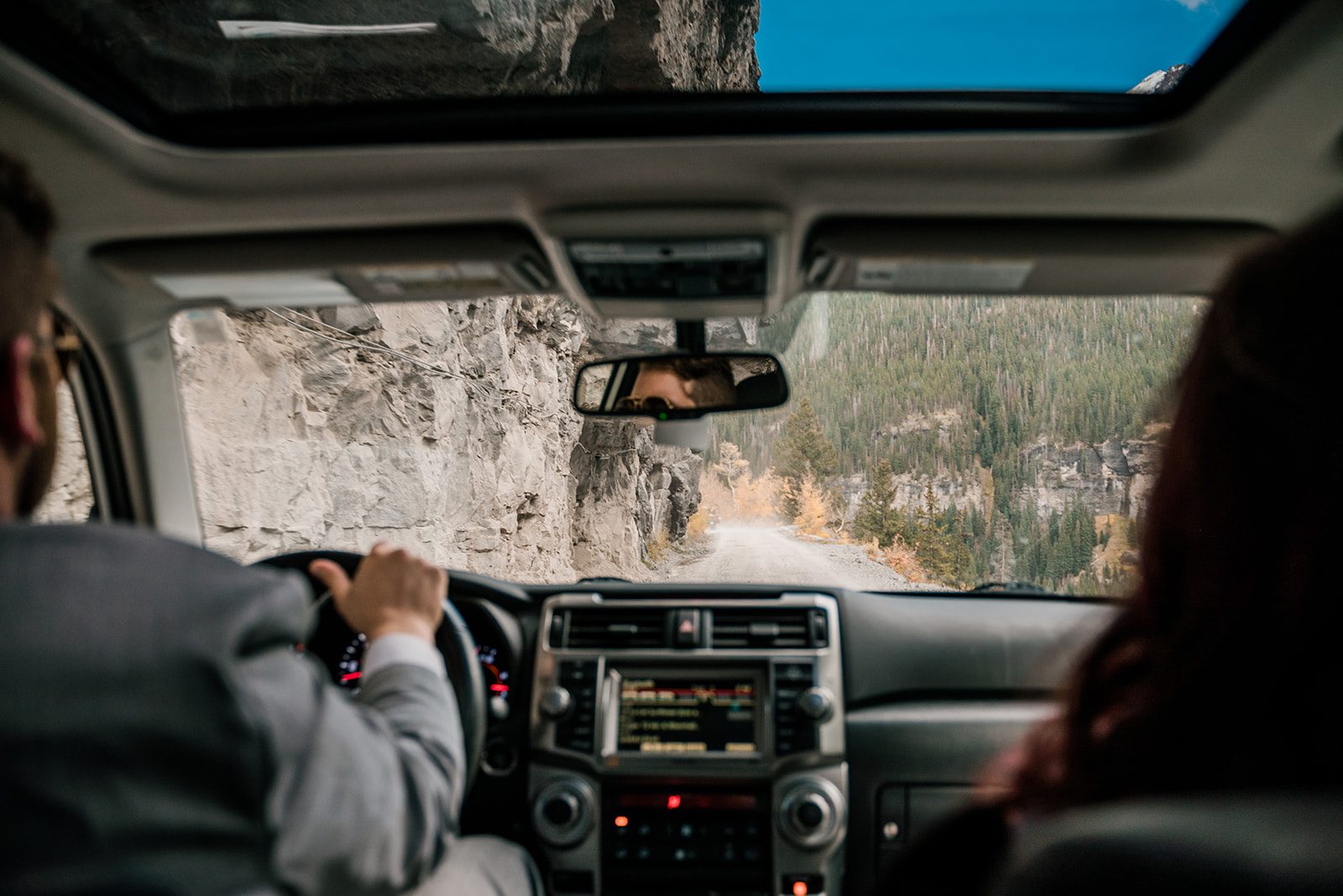 Sample Elopement Day Timelines
Just the Couple – 4 Hours
3:00 – Getting ready together at the VRBO
3:30 – Drive to ceremony location in the mountains
4:00 – Vow and ring exchange
4:10 – Sign the papers
4:15 – Pop some champagne and enjoy the view
4:30 – Take some photos with the views
5:00 – Head to nearby waterfall for snacks and photos
5:45 – Leave for alpine lake for sunset
6:00 – Share some cupcakes, take some lakeside photos, enjoy the sunset
7:00 – End coverage, couple heads to dinner reservations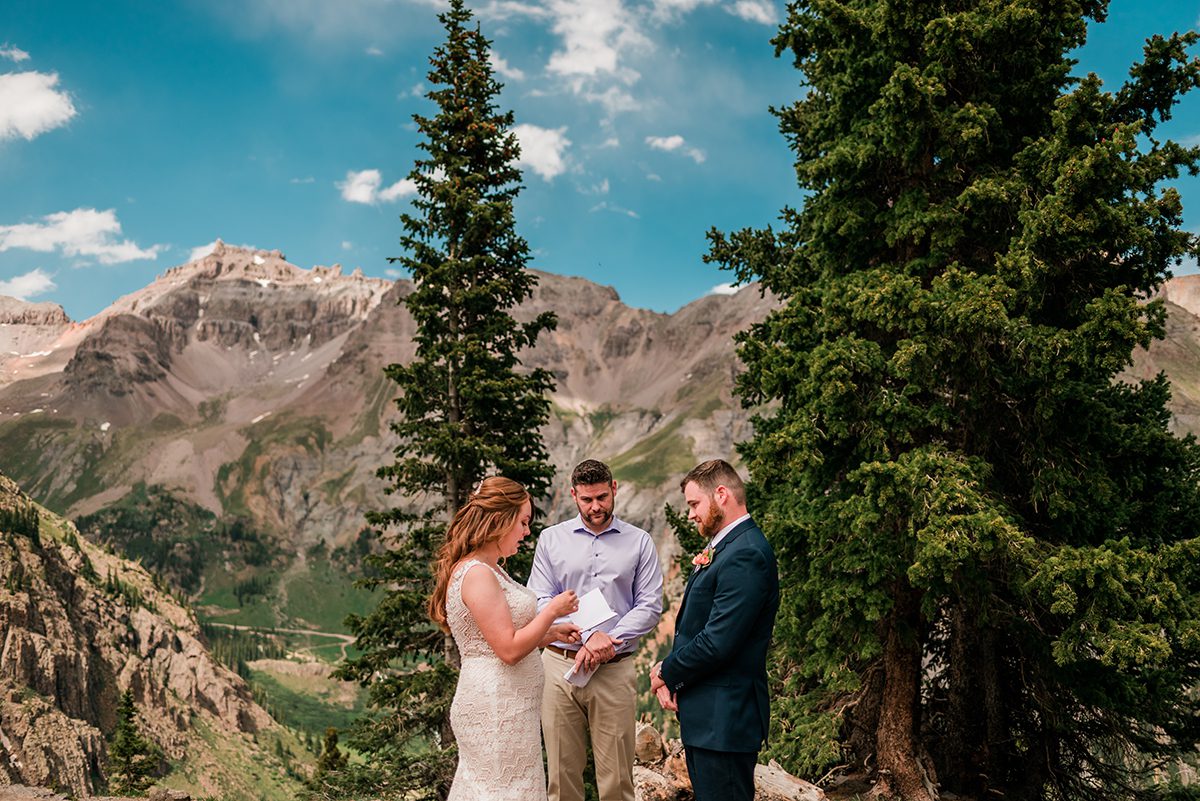 Just the Couple – 8 Hours (Sunrise + Sunset)
6:00am – Meet at trailhead for sunrise over the canyon
6:15am – Exchange vows as the sun rises
6:30am – Get epic photos with the views
7:30am – Sign the papers and enjoy some coffee
8:00am – Head back to rental for a nap and breakfast
BREAK
4:00pm – Leave for food truck park for dinner
5:00pm – After dinner head to state park for sunset photos
5:45pm – Find a private spot to sit and read letters from loved ones
6:15pm – Hike around the rim trail for photos as the sun sets
7:30pm – Blue hour photos with the last light of the day
8:00pm – Rest time to warm up
8:45pm – Set up for star photos as the milky way rises
9:30pm – Watch the stars, enjoy hot cocoa
10:00pm – End coverage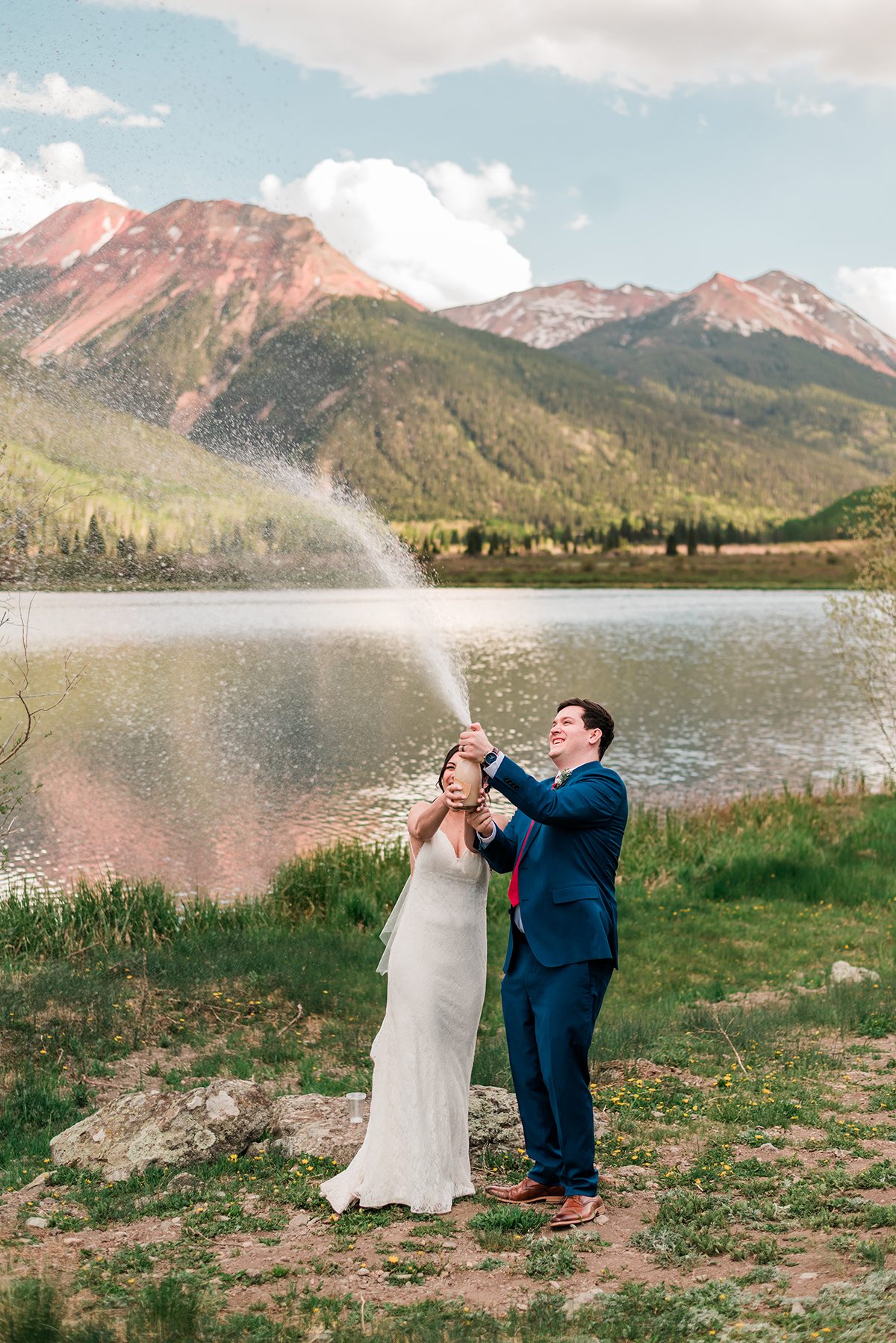 With Guests – 4 Hours
2:00pm – Getting ready at VRBO
2:30pm – Leave for first look at aspen grove
2:45pm – First look
3:00pm – Couple's Photos around the woods
4:00pm – Ceremony
4:20pm – Toast
4:40pm – Group Photos
5:00pm – Guests head to restaurant for apps
5:00pm – Couple heads to second location for photos/activities
6:00pm – End coverage – Head to dinner reservations
With Guests – 8 Hours
1:00pm – Getting ready at rental cabin
2:00pm – Leave for alpine lake first look
2:40pm – First look at alpine lake
2:50pm – Private vows and paper signing at lake
3:10pm – Couple's photos around the lake
4:00pm – Head back to Woods venue for public ceremony
4:45pm – Ceremony in the woods
5:00pm – Group Photos
5:30pm – Back to cabin for private chef catered dinner
6:30pm – Toasts
6:45pm – Cut the cake
7:00pm – First dances
7:30pm – Couple leaves for sunset photos on the mountain
8:15pm – Back to cabin for dancing, games, bonfire
9:00pm – End coverage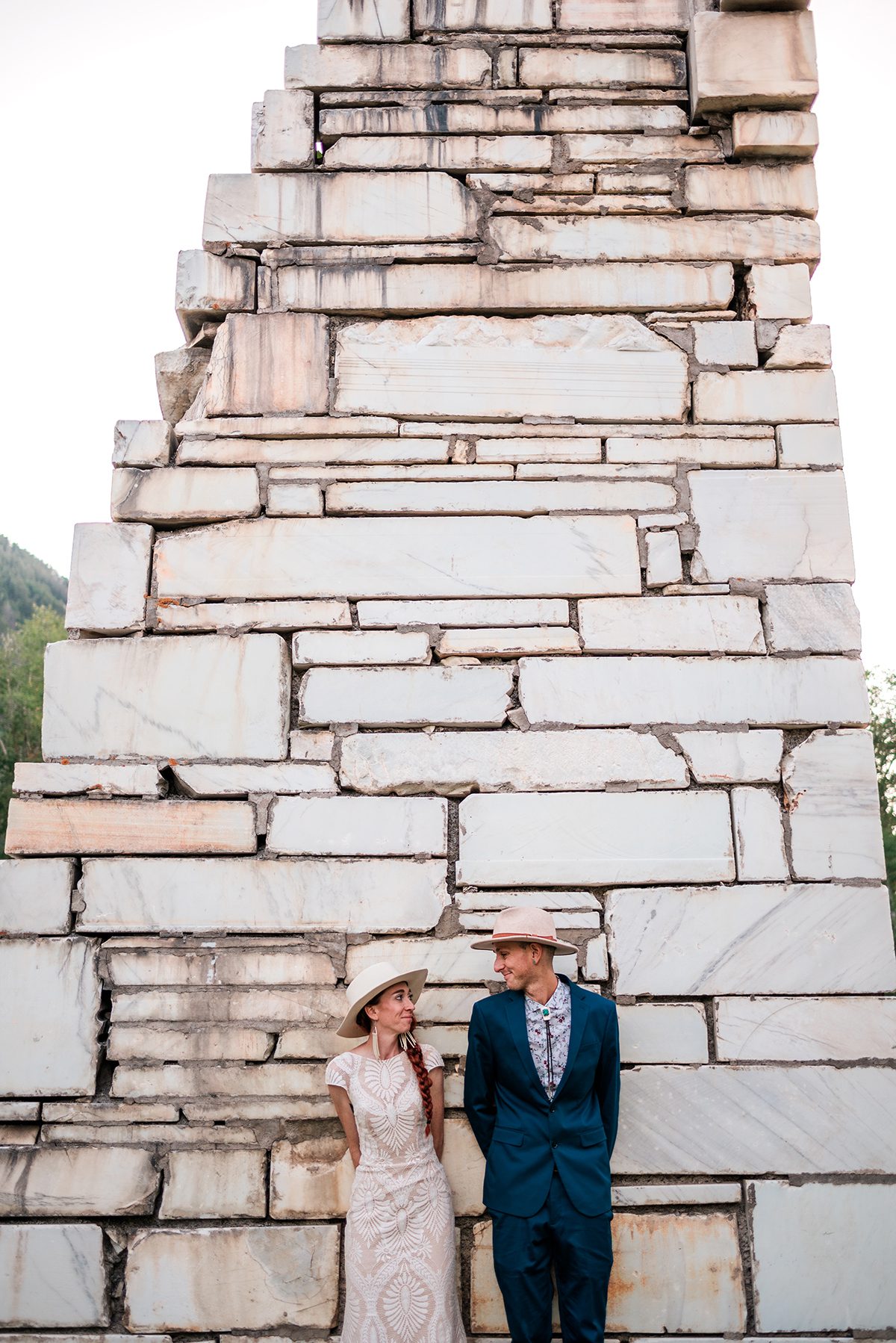 Elopement Timeline Tips
Be Flexible
The benefit of eloping is flexibility and less stress. If you show up to the lakeside you've envisioned and there's some people there hiking through, we can take a break and let them pass before setting up the ceremony. If you get cold and want a break at the coffeeshop to warm up, we can do that! If there was a wildfire near the planned location, we'll have backups that are just as amazing.
Have Extra Time
A big way you can be so flexible in your plans is by having extra time in your day. You may be tempted to cram as much as you can into 2 or 4 hours of coverage, but you will probably be pretty miserable and regret it. You'll feel rushed, the day will fly by even faster than it normally would, and you'll end the day wondering where the time went.
As a photographer, I also love having extra time for creativity. Creativity comes from having no pressure to move on to the next timeline point right away — and spontaneity. Some of my favorite moments captured happened because we had the flexibility and time to relax, think, dream, and explore. Allowing ourselves that extra time to embrace where the winds take us can create the most amazing experiences and images from the day!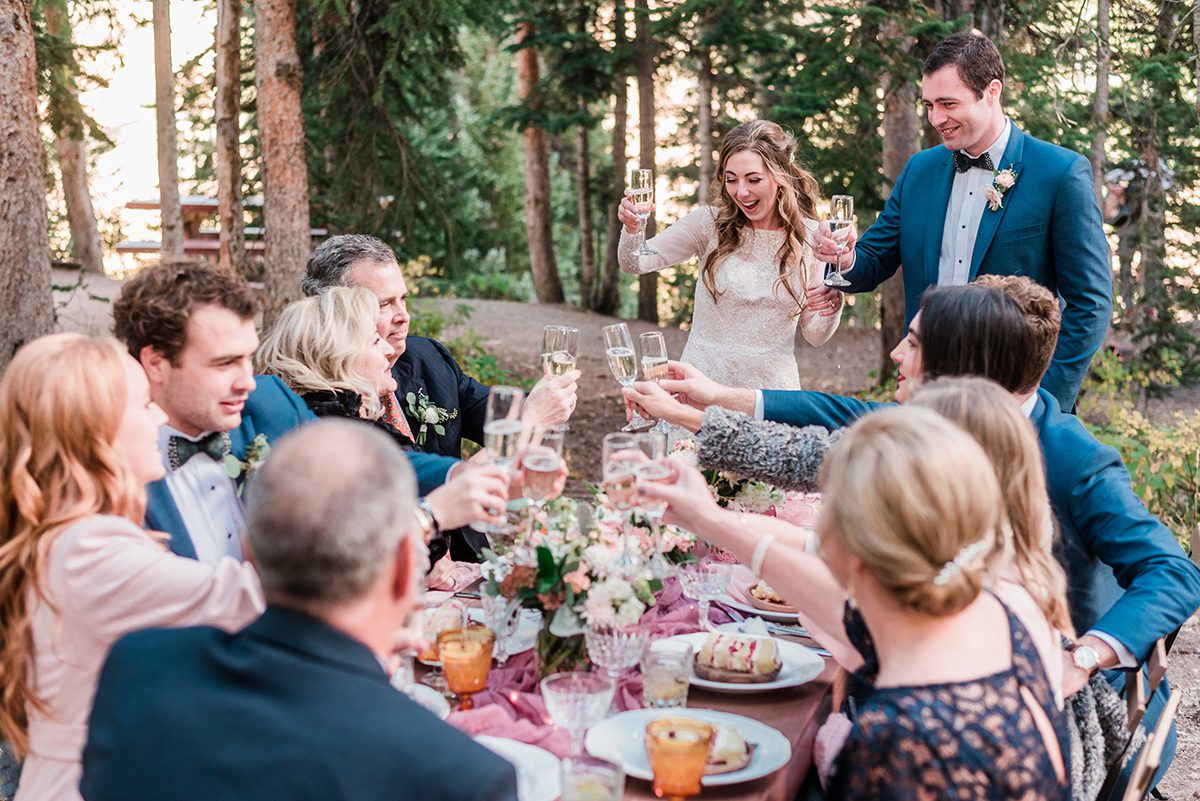 Hire an Experienced Elopement Photographer
Hiring someone with experience in elopements specifically is a huge help in crafting your elopement timeline. They can help you pick locations, recommend professionals to hire, help you brainstorm ideas for things to do, and know how much extra time to build into the day to make it relaxed and enjoyable. Hiring not only someone whose work you love, but who you enjoy having around, is so important on such an intimate day!
Need a photographer? I've been at this for over ten years now, and eloped myself, so I know a thing or two about how to help you have the best day ever! Click here to see some featured galleries to get a feel for my work – or click here to get more info about my elopement packages.