These days it is really important today for us to discuss managing wedding expectations in a Pinterest world. I'm sure most of you reading this have or had a board on Pinterest devoted to your some day wedding. All the dreams, desires, pretty/shiny/nerdy things you want to have, all in one place. If you're like most, it's probably getting bigger and bigger every day and maybe you're not even engaged yet! I want to help you scale that board back, take away any feelings of being overwhelmed by Pinterest, and encourage you to look internally.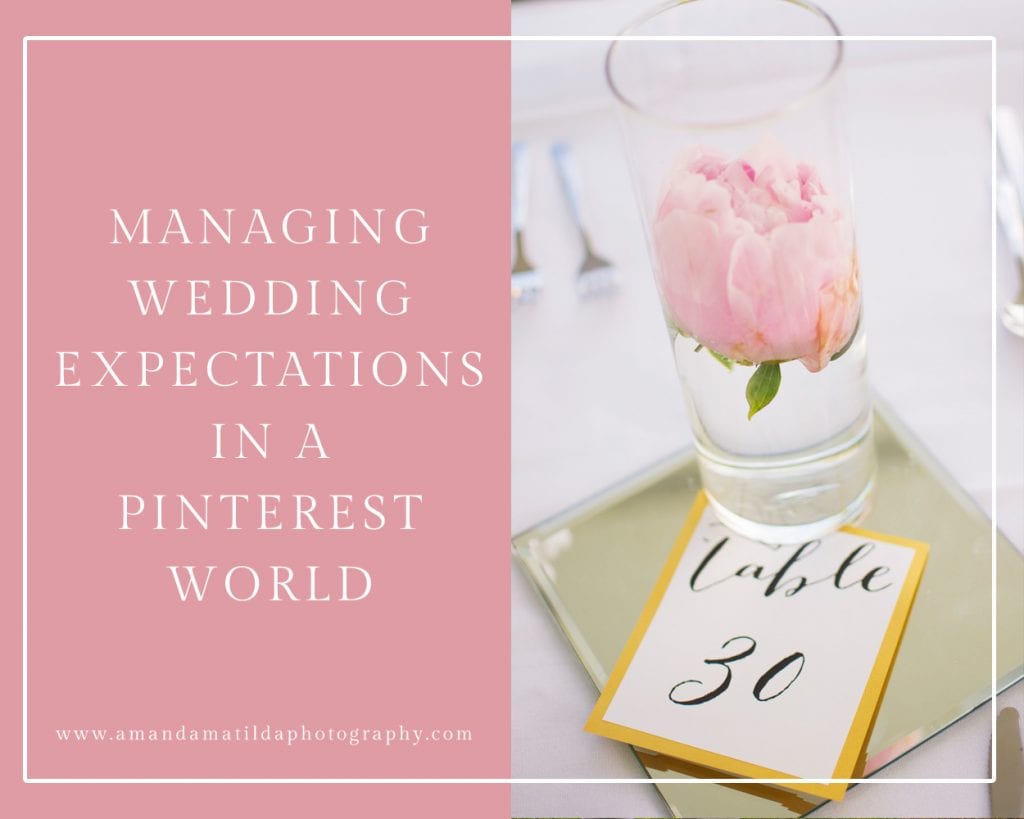 Managing Wedding Expectations in a Pinterest World
All About You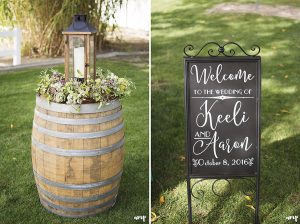 Your wedding is your day. As a couple, you should be planning a celebration that captures who you are, what you love to do together, and your favorite mutual interests. Maybe you first met in line at a Harry Potter midnight premiere, or you both really love hiking in the mountains. Perhaps you bonded over breakfast foods and beautiful scenery like Eric and me – yup we had breakfast-for-dinner and a donut tower!
Sit down with your partner and make a list of all the things you both mutually love. Think about ways you can incorporate those things into your wedding celebration, from venue choice, table decorations, to your reception food! People will remember these things far more than how your hair was done.
Inspiration, Not Replication
Pinterest is so great for getting inspiration. But be sure you're working on finding things you can reinvent rather than directly copy. Create your wedding board as a mood board more than a To-Do List. Pin things that inspire you, have the feelings you love and want to create for your celebration. You can pin flowers you love but you want in another color scheme, or a reception layout that isn't necessarily the right theme for you, or a dress with the shape you love. Pin things that help you create a palette or overall aesthetic for your event. Find things that inspire your own ideas that help you create the vision you established with your partner!
Hire Help
Wedding planners and event designers are an amazing tool to help you bring your creative vision to life! This is, after all, what they do for a living. Planners and designers can help you work your inspirations into your event and give you the aesthetic you desire within the confines of your venue and budget. They have an eye for pulling ideas together and for providing clarity to your inspirations. This mood board will really help them understand the vibes your going for and create an amazing event of your dreams!
Don't Drown
Know what you're getting into before you plan DIY projects. Do you have extra hands on board to help? Do you have enough time to get these projects done? What if they don't end up working – do you have a backup? If you create a plan and a timeline to get your wedding DIY done on time, you won't feel the crunch some couples feel when they take on too much. Be sure to also consider the cost. Sometimes DIY saves you a lot of money that helps out your budget. Sometimes, though, DIY projects end up being more expensive than buying or hiring out the project. Do a little research on what you'll need and how much money it will take to make them come to life!
If you want some inspiration, be sure to check out my own Pinterest page to start your mood board and start managing wedding expectations in a Pinterest world!
xo,