One of the Western Slope's most versatile wedding venues is Palisade River Ranch. This space is truly unique and perfect for events! Not only are the views to die for, there is so much customization available with this venue. This space is a blank canvas to create the wedding of your dreams, with almost any vibes you'd like. That blank slate, however, may leave you with lots of questions about getting married at Palisade River Ranch. That's where this post comes in! Keep reading for more information on planning your Palisade wedding at this beautiful venue.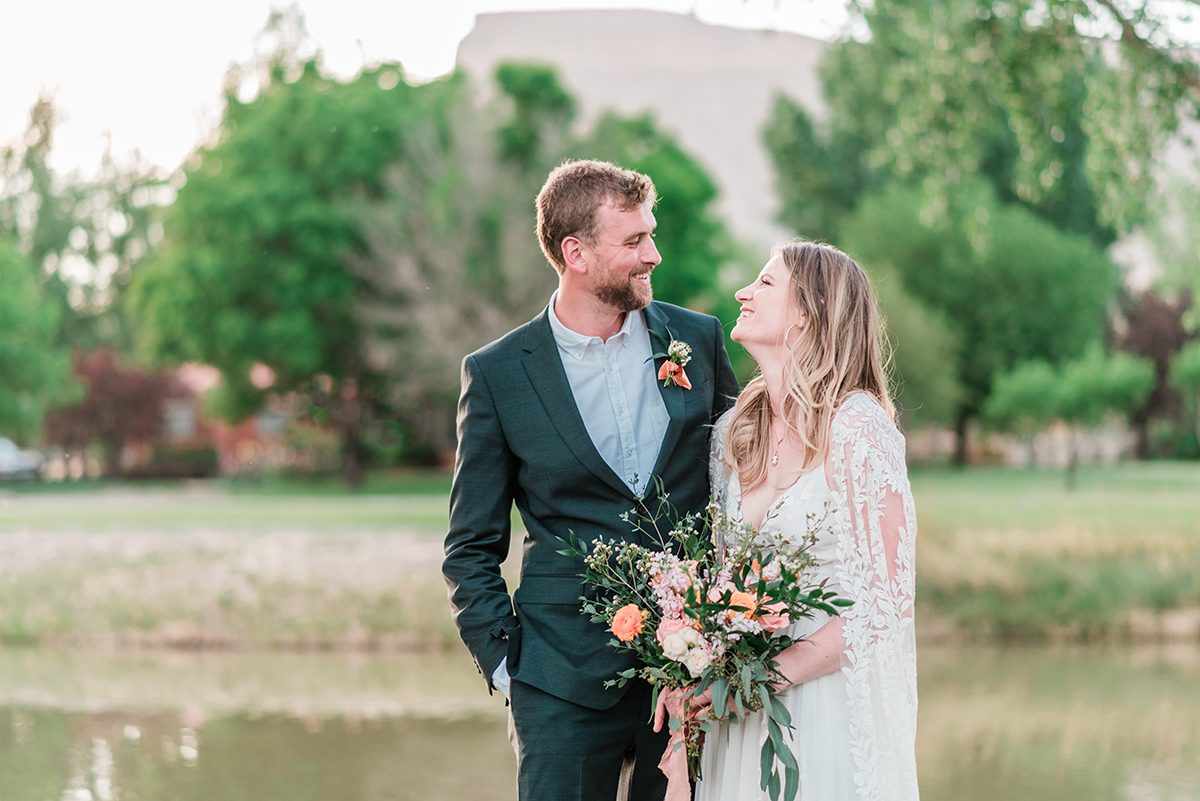 About Palisade River Ranch
Featuring dozens of acres and almost a mile of Colorado Riverfront there is plenty of space for your wedding here. Palisade River Ranch can host up to 200 people, making it one of the larger venues in the area! With exquisite views of Mt. Garfield, the Mesa and the Bookcliffs the Palisade River Ranch is a photographer's dream. Looking for those great vista photos? You've got it here! From the shade trees to the pond, to the newly installed orchard trees, there really is so much to work with.
Not only are there beautiful backdrops, there are lots of different options for the location of your ceremony and reception. With sprawling lawn space, beautiful gazebo, shady sites by the river, tall grasses, and more – there are endless amazing possibilities for customizing this space to exactly fit your vision!
Couples booking with the Palisade River Ranch are able to bring in their own liquor and catering. There is some lodging on site, including two Getting Ready Suites for earlier in the day!
Contact the Palisade River Ranch today for more information and to set up a tour.
Palisade River Ranch Quick Facts:
Location: Palisade, Colorado
Capacity: Up to 200
Couples Can Expect to Spend: $5,500+
Is In-House Catering Offered: No
Is In-House Catering Required: No
Can Couples Choose Their Own Vendors: Yes
Alcohol Policies: Guest to supply, must have dedicated server and bartender
Is there Lodging on Site: Yes, limited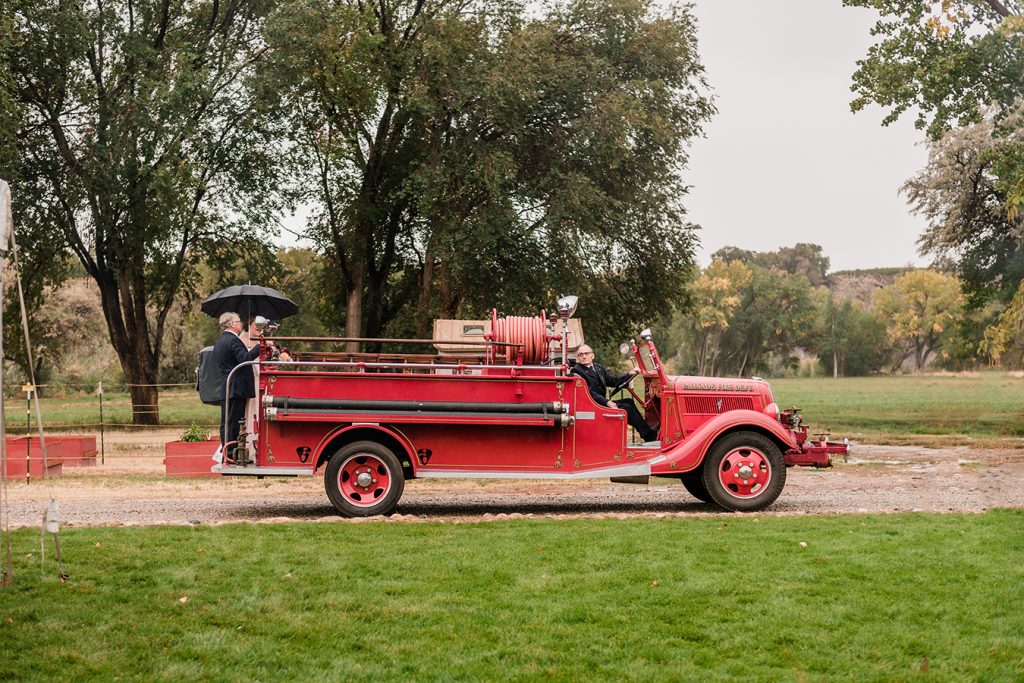 Getting to Palisade River Ranch
Palisade River Ranch is located on the outskirts of Palisade along the Colorado River. If you will be flying from out of state, you can fly into Denver and drive over the pass on I-70 to Palisade, or you can catch a connecting flight right to Grand Junction.
When driving to the venue from Grand Junction, you can take the interstate to Palisade, or take US Hwy 6 which is the "back way" and is an unofficial part of the Fruit & Wine Byway. Taking that road connects you to farm stands, orchards and wineries to visit along the way.
The last consideration for getting to the venue is guest transportation and parking. There is very limited on-site parking at this venue, and the town has requested that the venue does not impact nearby public parking. As such, you will need to provide transportation for your guests at this venue. Most couples rent a bus, vans, or limo service to shuttle guests from their nearby lodging – or arrange a pickup from the school parking lot up the road. This is one of the many reasons it's a great idea to hire a wedding planner/coordinator at this venue.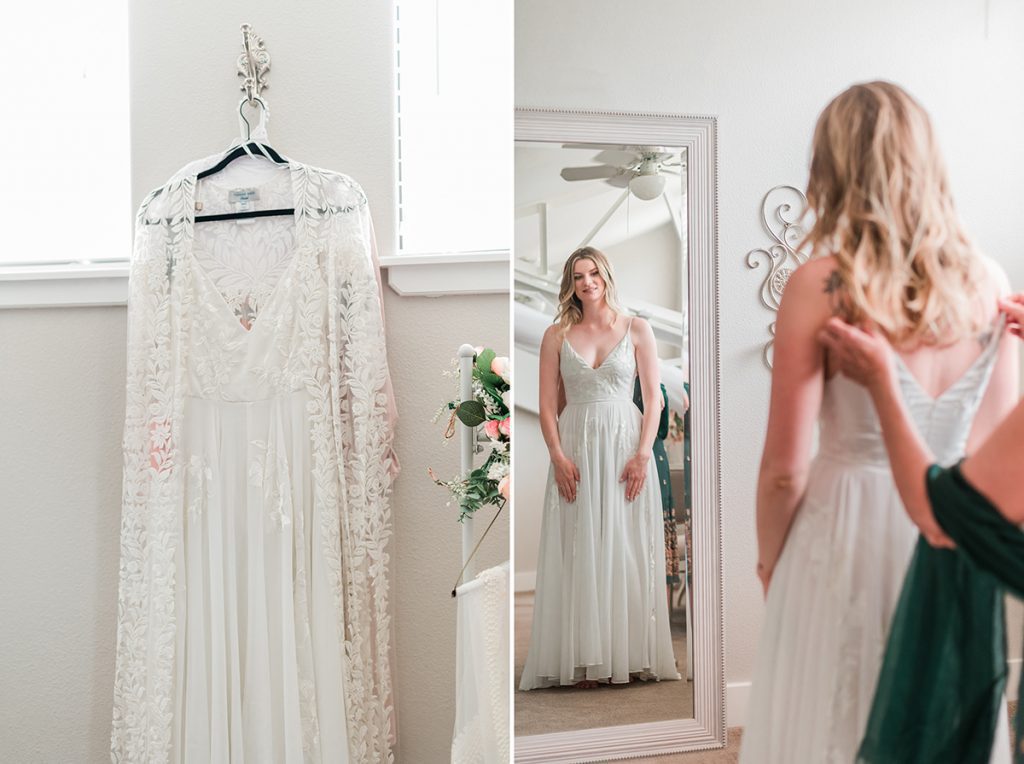 Getting Ready at Palisade River Ranch
There are two getting ready suites at Palisade River Ranch for the couple to get dressed and do hair/makeup in! Both rooms can host a handful of people, but can get quite cramped with more than 5-10 people. Both rooms double as VRBOs and make up the limited lodging on site. In cases where a wedding is booked while the rooms are rented by vacation-goers, couples will need to find alternative spaces for getting ready. Most couples opt for the Wine Country Inn, Spoke & Vine Motel, or one of the area's vacation rental homes nearby.
Wedding Ceremony Sites at Palisade River Ranch
As mentioned, one of the best things about this wedding venue is the ability to customize your plans. There are a number of options for spaces to situate your wedding ceremony at Palisade River Ranch. There is a shady grove down by the river, there's the river itself as backdrop, or you could utilize the pond on site for a mix of water and Mt. Garfield views. The tall grasses near the orchards act as a beautiful ceremony backdrop as well. In case of rain, you can marry beneath a high peak tent and still get views of Mt. Garfield in the background! Work with a wedding planner/designer to help you come up with a unique arbor and backdrop, and you'll have a perfectly-you wedding ceremony like no one else.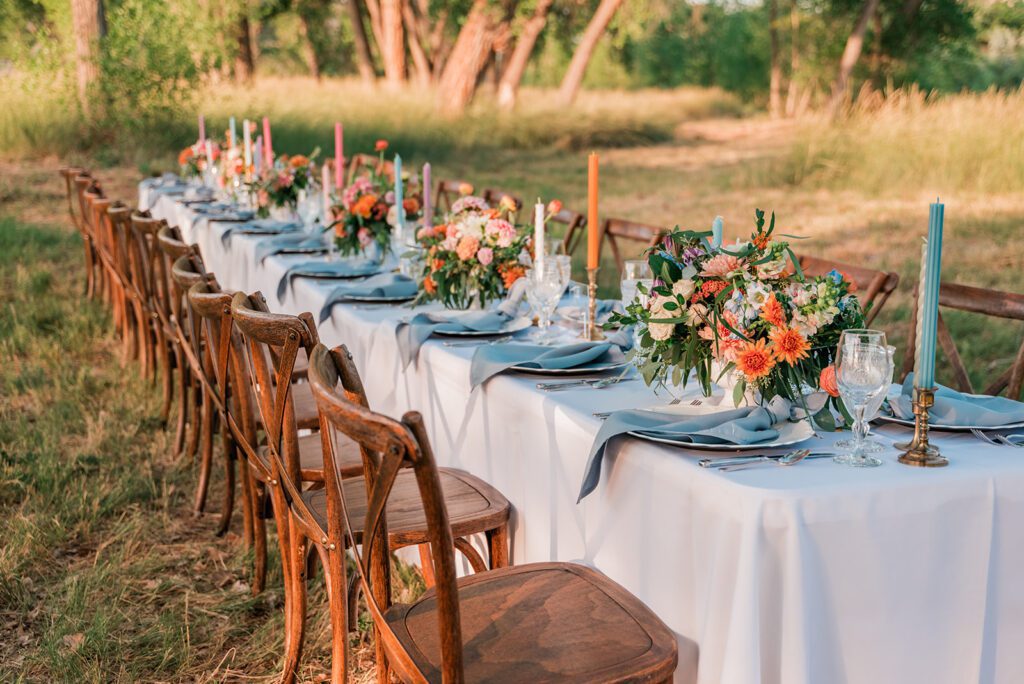 Wedding Receptions at Palisade River Ranch
We're hitting you again with the customization of this wedding venue! For your wedding reception at Palisade River Ranch, there are a few common options for where to set up and how. Most couples will, as you can imagine, opt for a tent to provide shade and a backup in case of rain, or even as a warming shelter in the fall months. These tents can set up in a field down by the river, or in the lawn up by the house and getting ready suites. Many rental companies in town offer a variety of tent types, from sailcloth tents to string light tents to standard event tents, that can help stylize your reception. Bear in mind that the river site can be buggier than up on the lawn, but either way it's a nice touch to provide bug spray for your guests.
Another consideration on these locations is transportation. If you'll be setting up your ceremony on one side of the property and your reception at the other (say, a riverside ceremony and lawn-by-the-house reception, for instance) it's a nice idea to provide a shuttle of some sort. The property itself is quite large and the walk between one end and the other is long and windy on dirt and rock paths.

Lodging Near Palisade River Ranch
The nearest hotels for guests to book are located in Palisade and are the Colorado Wine Country Inn, with 80 guest rooms, or the Spoke & Vine Motel, with a handful of guest rooms. Palisade also has its fair share of vacation rentals and a Bed & Breakfast or two.
Beyond Palisade, Grand Junction and Clifton offer more mainstream hotels that you could book a hotel block for guests to get a good deal. Near the interstate there's a Best Western, Doubletree, La Quinta, Holiday Inn, Comfort Inn, Courtyard, and more.
Recommended Wedding Vendors for Palisade River Ranch
Because of its blank canvas, there are some wedding vendors that are highly recommended for making your wedding at Palisade River Ranch run smoothly. This guide is not meant to market to any certain company, but to illustrate why you may consider hiring someone to fill these roles.
Wedding Planner/Coordinator
A wedding planner and/or coordinator is an absolute must at this venue (as of 2023 they may even require one or have one in-house. Contact the venue for more!) This vendor can help coordinate transportation for guests, set up the moving parts of your multiple party locations, direct other vendors and answer their questions on site, give insight and inspiration to creating your vision in this open space, and so so much more.
Transportation
As previously mentioned, you need to have a shuttle service for guests at this venue to accommodate the limited parking on-site. There are a few companies in the area that can help with this, and some have probably coordinated this service at this venue before. Hiring a pro that knows this situation is a great stress relief!
Restrooms
As with any outdoors, open concept wedding venue, there is an often forgotten vendor that is essential to everyone having a good time, and that is portable restrooms. You can, of course, just get some port-o-potties – however there are companies in the area that rent out luxury portable restrooms that seem almost like a real, indoors restroom and is much more comfortable and accommodating for guests in nice clothing. This is one more thing that a wedding planner can help you get set up with!
Chairs, Tents, & Rentals
To create the wedding of your dreams on this blank canvas, you'll need rentals. Tents, chairs, tables, ceremony chairs, linens, an arbor, styled seating sets, and more are all options couples may end up booking for bringing their dreams to life.
Catering at Palisade River Ranch
Because there is no indoors wedding venue at Palisade River Ranch, and therefore no catering kitchen, catering at the venue can be a little more tricky. Some caterers in town are set up to be more mobile and can serve your wedding without a whole lot of set-up space. Some couples opt to go totally mobile and hire a food truck or two, which is a fun idea too! Be sure to include these constraints in your meetings as you're looking for caterers.
Mobile Bars
A lot of couples getting married at Palisade River Ranch will opt to hire one of the local mobile bars to set up and serve their wedding. Tipsy Trailer, for instance, offers multiple mobile bars that can set up a welcome drink station at your ceremony site, as well as a truck to service your reception. It's one less thing to stress about and rent equipment for, as well!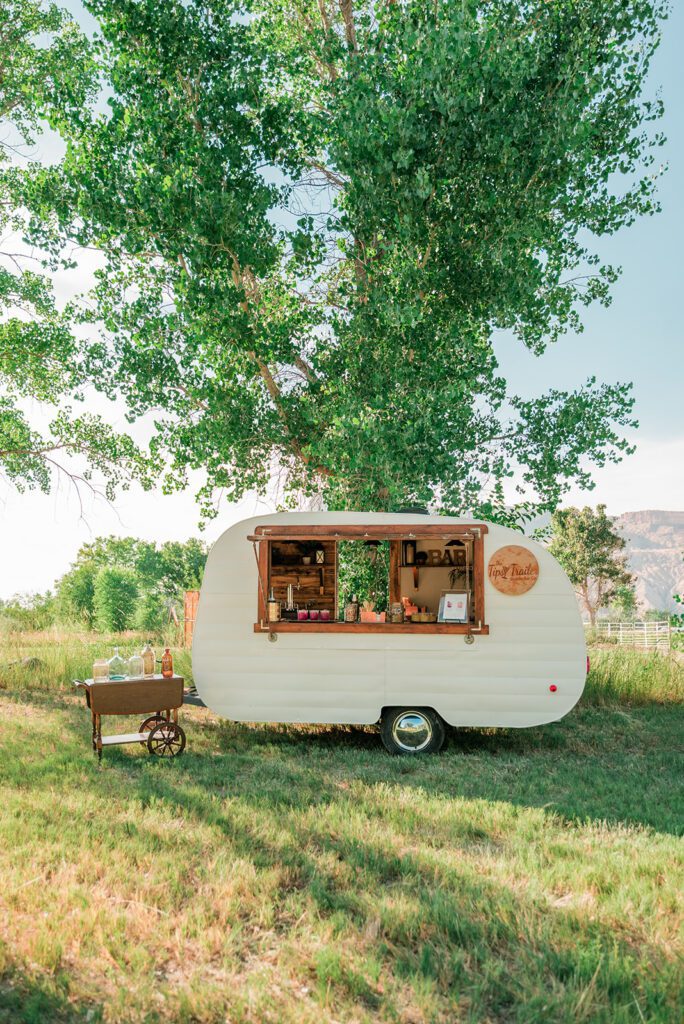 Palisade River Ranch Wedding Gallery:
Thinking about Getting Married at Palisade River Ranch? Pin this For Later: