Ahhh cocktail hour. An essential, yet sometimes controversial, part of the wedding day timeline. If you've never been to a wedding before, you'll come to learn that the cocktail hour is not only for mingling between the vows and the party. This part of the day is often when the photographer takes the wedding party and the couple's family for portrait time. If done without much planning, guests can find this time of the wedding day a little boring. You don't want your guests focused on how long they have to wait until dinner! Let's dive into planning a cocktail hour that isn't boring.
Keep it Seasonal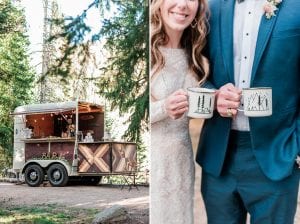 Work on planning fun cocktails for your guests during this time, and plan around the season! If it's a chilly November wedding, consider mulled wine or wassail with cozy blankets and bonfires. Here in the Palisade area you could play on peach season with special peach drinks and wine cocktails from local vineyards. Maybe you want a shotski with Telluride Distillery's Chairlift Warmer! Make it as unique, fun, and local as you want. The western slope has a lot to offer and inspire you!
Check the Trends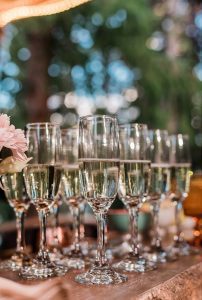 There are some awesome trends right now that wedding pros in the area are bringing to weddings here on the western slope! Horsefeather Mobile Bar is bringing the booze to you with their renovated horse trailer – now a bar on wheels to make serving your wild wedding in the mountains easy. Go West Event Rentals offers guests a fun twist on a mobile bar with their prosecco truck, Vino Alpino Piaggio Bar Car. These are fun ways to bring bars to venues or backyards that don't have a built-in bar space and bring a unique twist to your cocktail hour.
Game Time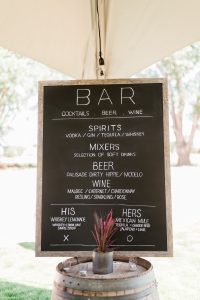 Have something for your guests to do during the cocktail hour! Modern and fun drinks and bar options are an awesome start, but ultimately guests want something to do in addition. Cornhole is always a classic option, but you'll see it at almost every outdoor wedding. If you're looking for something more unique, consider bocce, croquet, or even giant jenga. You could also plan seating arrangements so your guests have comfortable couches or cabanas to hang out in while they pass the time!
Do a First Look
Lastly, as a photographer, I feel obligated to bring up the biggest thing that will make your cocktail hour less boring – a first look. Planning a time to see your partner before the ceremony not only gets out your nerves and allows you an intimate, private moment together for that reveal, you are also able to most of your portraits before the wedding ceremony! This keeps the length of the cocktail hour down significantly, and leaves your guests to fend for themselves for much less time.
Hopefully these tips help! Ultimately, hiring a pro for your bar/reception means you'll have great help on your side in planning a cocktail hour that's not boring!