I see posts in wedding groups online all the time from couples looking for an officiant. It can be tough these days to know who to hire for the job, or even where to look! Beyond just finding an officiant, how do you find one that's the best fit for your needs? Let's dive into how to find the right officiant for your wedding or elopement celebration.
1. Do You Need an Officiant?
The first consideration is to determine if you even need to look for an officiant. A lot of couples don't know that in Colorado you don't necessarily have to have one! Click here for my full blog post about who can officate your wedding in Colorado! Decide before your hunt if an officiant is right for you. If it's easier or makes your celebration more "you" there's always the option of having a family friend or important loved one marry you instead. Whether they get official online or just act in the role as you two officially self-solemnize, there is a lot of flexibility in customizing this part of your wedding here in CO!
2. Culture & Religion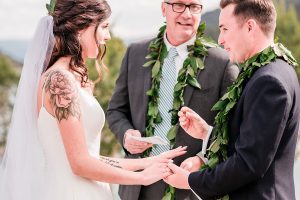 If you've determined you want a bit of tradition in your ceremony and need to find an officiant, you also want to find someone who fits your celebration. Consider you and your partner's culture and beliefs. If you're not that religious or want to include multiple cultural backgrounds in your ceremony, interview your potential officiant to see if that's something they can accommodate. I highly recommend Kathi with Wine Country Ceremonies as she has officiated a number of traditional and non-traditional weddings that I've had the opportunity to document, and she's always such a pleasure to work with!
If you two are religious and want aspect brought into your ceremony, you'll likewise want to have that conversation with your officiant. I also recommend Blaine Scott for a more belief-based ceremony and for incorporating spirituality. He has done a good job when I work with him of maintaining a good balance of tradition and personalization to each couple! If you're wanting a fully religious officiant though, you might want to consider looking at local churches. Some denominations are willing to officiate weddings for non-members as well, and can give you that religious aspect you're looking for in your wedding.
3. Guidance
Another question to ask is what services besides the day-of do they offer? Some can help you plan your ceremony, give you guidance on how to write your vows, and some are licensed to do couples counseling. If any of these are services you want, it doesn't hurt to ask if your officiant offers them or they may know some resources to point you toward!
4. Travel
The last big factor for finding the right officiant for your wedding or elopement is travel. Will the professional travel outside their area? If they're based here in Grand Junction, are they willing to go to Gateway, Ouray, or beyond? What are the fees? How quickly they book up can be a huge consideration for elopements, too. If they book months in advance or you're eloping on a weekend, professionals might be booked for your date. These are all good questions to ask when you're looking around!