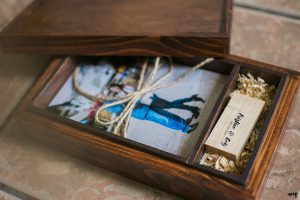 As part of my mini series highlighting different products included in my wedding collections, today will be dedicated to the handcrafted wood prints boxes! These boxes are included in the Black Label Collection and are a huge hit with my couples. They hold 100 4×6 prints of your favorite moments from the big day, along with the USB of your full collection of images from the wedding.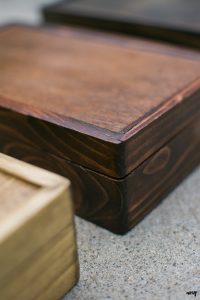 These boxes make a great keepsake to display and hold on to forever! Some of my couples choose to add on extras of these as gifts for their parents to keep from the big day as well, which I think is the sweetest idea. Crafted completely by hand, these boxes are high quality and offer a choice between five different stains.
As someone who loves organization (or at times, I love the *idea* of organization… haha!) what I love about these handcrafted wood prints boxes is how they keep everything in one place. Your USB won't end up in a desk drawer, lost a few years from now. It's the ultimate combination of tech + tangible. Prints and digitals. Exactly what I'm all about with my philosophy! It is so crucial to print what you want to protect, and these irreplaceable moments should be enlarged all over your house.
If you're interested in seeing some of these handcrafted wood prints boxes up close and in person, I always bring all my samples to every wedding consultation! You can click here to schedule yours today, or click here to learn more about what your wedding experience looks like when you book with me.