I love my AMP Bride Tribe! Wedding planning is crazy and stressful, and even though I work with my brides to create timelines for the big day that help us both get the most out of our time (helloooo gorgeous ring shots and breath-taking sunset vibes!) it is so hard to keep everything straight when your head is spinning. If you've got a binder/notebook and are creating lists of "Things to Remember" or "Getting Ready Needs" etc. — this post is for you!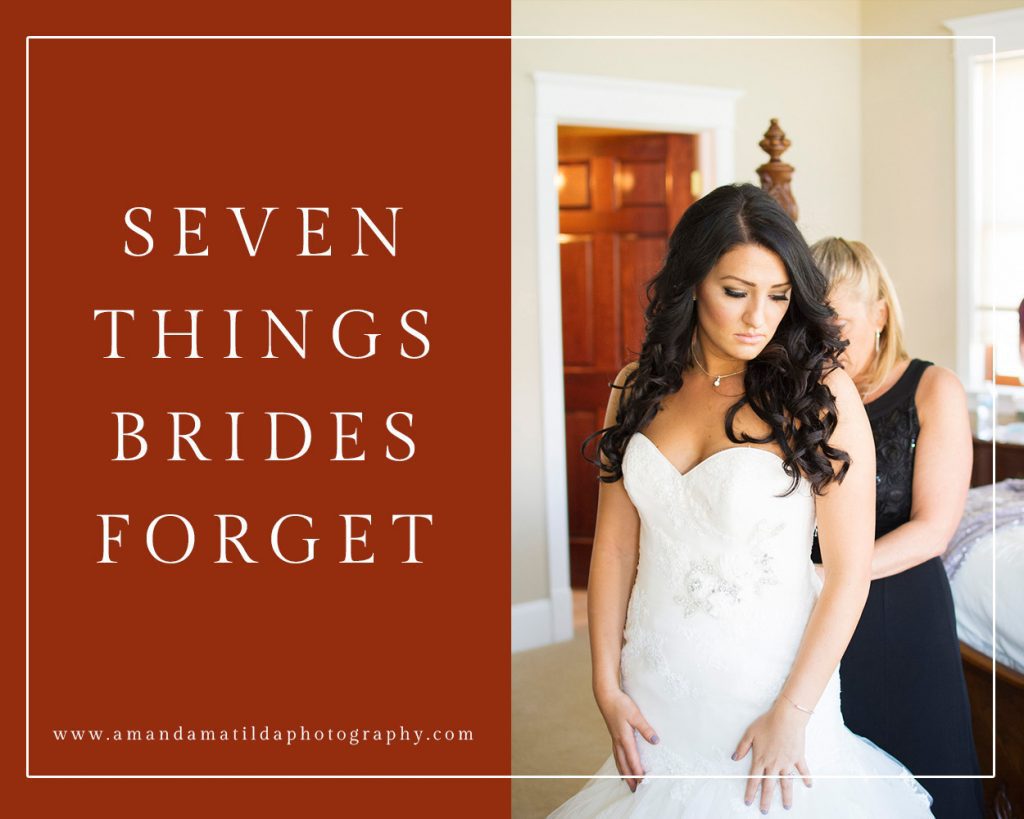 Top Seven Things Brides Forget
The Bouquet
While many florists these days are already on top of this, I always try to remind my brides that your bouquet should be delivered to you. Having your bouquet arrive at the ceremony location while you're miles away at the hotel will make it hard for us to not only get those detail shots, but someone will need to go get it for you before we start photos! Even if you're not sharing a first look, I typically try to knock out some of the photos of just the guys or just the girls beforehand, and you're bound to want the flowers with you.
The rings
There are two typical traditions that are often misleading. Couples will either hand the rings over to the best man the morning of the wedding, or the bride will have her ring and the groom will have his when I show up for getting ready shots. Since I do most of my ring details the morning of, it is so important to make sure all the rings are in one place — and it's my personal preference that they be with the girls! I LOVE shooting ring shots with the flowers, the other jewelry, on your shoes, or even your veil. Make sure to hold on to all the rings for when I show up. You can always hand them off to the best man when we meet up for group shots!
Dance in your Dress
When you're trying on dresses, don't be stiff! You're not going to spend the reception like a statue on the dance floor. Raise those arms up, shake those hips, hell do a little twerk if that's your jam! If you're not comfortable in your dress it's harder to have fun (and look happy!) in your reception photos.
Adventure
A lot of my couples are adventure couples. We hike along trails, walk down by the lake or at the very least meander through the grass. Be mindful of your heels! Consider getting those heel attachment things (that's the technical term haha) — you can find the link here. Also keep in mind a plan for your girls! If you'll be getting married in a grassy area or somewhere the ground is soft make sure they know and plan accordingly.
Makeup
Don't wear a lot of makeup on the regular? Not used to professional makeup? First, make sure you do a trial run with your makeup artist so you know what to expect and you can communicate with her your concerns/desires! Second, take a deep breath. You're probably not going to look like you normally do in the mirror. Makeup artists are skilled at helping you look your best in front of the camera, and part of that is enhancing your best features. Because the truth is, the camera doesn't necessarily pick things up the same way our eyes do. So what looks like too much makeup to you (unless it truly does look like clown makeup!) is probably going to look amazing on camera.
Shoes
If you're wearing heels for your wedding, another important thing to consider is the reception. Are you keeping the heels or do you need a second pair that are better for dancing? What's the backup plan if one of the heels breaks? Do you want all your girls to have matching flip flops for the reception? There are a lot of ways to make sure everyone is comfortable – well into the night!
Your Spouse
It is so easy to get to the end of your wedding day and realize you've barely seen your new spouse! The hellos, the thank-you-for-comings, the schedule constantly running in your head, the okay-what's-next… it gets overwhelming. I try to encourage my couples to take a break in the evening, right when the light is golden and the mountains are glowing pink/purple. We step outside the chaos and commotion to just be together with the two of you. Not only is this a great escape for you both to be together and revel in your newlywed bliss, but it makes for some pretty intimate and magical photos too!
I hope this list has been helpful!
If you're just starting out your wedding planning check out What to do When You Get Engaged

If you're interested in becoming part of the AMP Bride Tribe, let's chat!
Until next time,