Today's western slope wedding venue highlight is one I've admired from afar for a couple years now. Every time we pass on our way to Palisade Brewery or Distillery (we're huge fans) I would sigh, wistfully wishing for the day I would be able to actually stop by Varaison Vineyards. Well that day came recently and it was everything I imagined and more!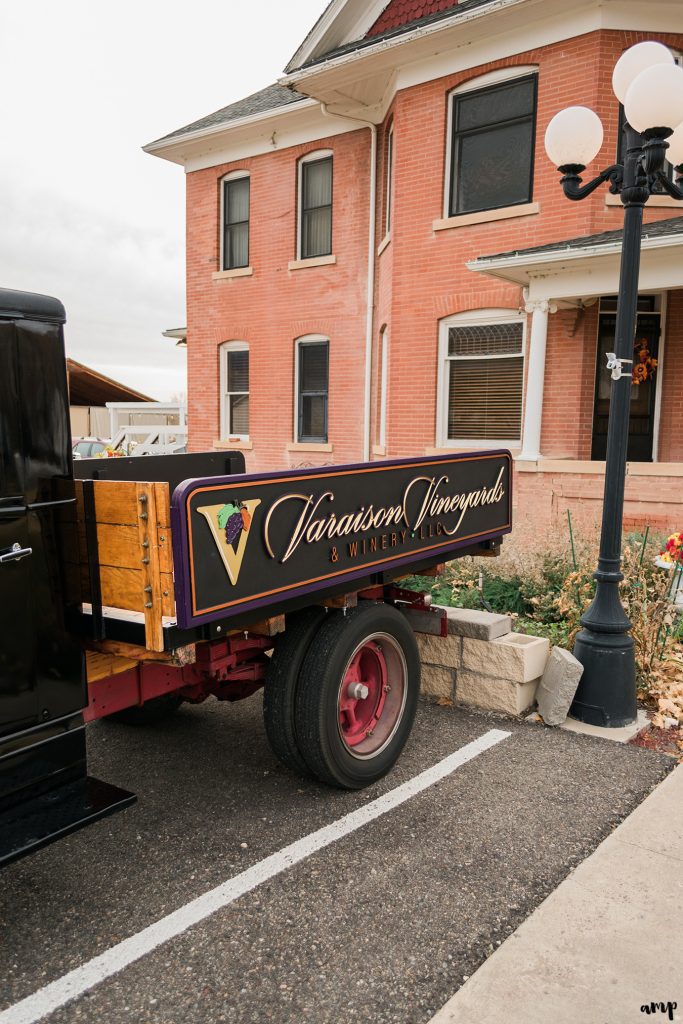 Varaison Vineyards
The main building on the property is the antique home that features the winery's tasting room. I got a full tour of the main level and got to hear all about the history of the home, from its building in 1904 to how Kristin, Ron and the family worked to return it to the layout of its origin. There were stories about uncanny relationships with 100-year-old wood craftsmen in Denver, the purchase of an original Tiffany cash register used to this day (you've gotta see it!), and the discovery her son made of two Tiffany light fixtures now featured in the hall.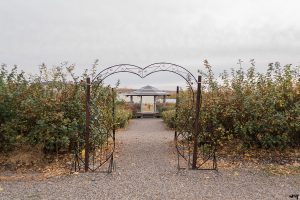 The house is just one of the spaces of the Varaison Vineyards wedding venue, though! The highlight of my tour was the rose garden, a favorite among their couples, featuring a miniaturized version of a rose garden in Surrey, England. Clad with English roses, the garden is an explosion of beautiful colors from Memorial Day to this time in November even! The Victorian-style gazebo in the middle often holds the couple and wedding party as guests have an amazing view of the roses against the bookcliffs. What. A. Backdrop! They even offer their 1929 International pickup for you to ride up to the garden in, or use for photos.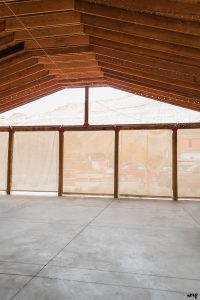 The third and final space at Varaison Vineyards is their pavilion, built with weddings and events in mind. With open floor design and mesh panel walls, there is a ton of natural light with the wind-reducing quality of the panels. These panels also allow the party to see out, but offer some privacy from outside eyes. The pavilion features three bathrooms for guests' comfort, and a kitchen where caterers can serve out of and wash their dishes (also provided if desired!) on site. Just outside the pavilion is the vineyard's firepit, a wonderful open area for guests to warm up and chat by the fire.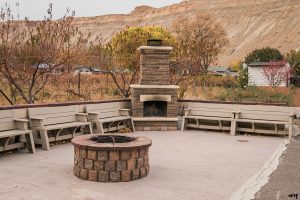 The three spaces at Varaison Vineyards are open for booking – whether you want all three, a couple or just one space. While alcohol and food are additional costs to the venue booking, tables and chairs are included. The vineyard is able to host up to 250 guests, making it one of the larger wedding venues in the valley! PLUS they offer (and insist on) valet parking for your guests. No hassle of worrying about the parking situation, and no fear of friends and family driving home after a few too many glasses of wine.
I was blown away by my time with Kristin at Varaison Vineyards, and cannot wait to capture a wedding there some day. Consider it added to my bucket list discount! Contact me for more details 🙂
Quick Facts About Varaison Vineyards:
Location: Varaison Vineyards and Winery, 405 West First St., Palisade, CO
Capacity: Up to 250 guests
Pricing: On average $2500-$5000 depending on number of guests at the event and choices of venue parts they use (not including food or alcohol)
Is In-House Catering Offered: Yes – gourmet wood-fired pizza buffet
Is In-House Catering Required: No – but caterers must be licensed and insured in Mesa County
Can Couples Choose Own Vendors: Yes – but they are happy to make recommendations based on long past experience
Alcohol Policies: Only wine and beer are allowed — no hard spirits.
Is there Lodging on Site: No, but there are numerous fabulous B&B's as well as the beautiful Wine Country Inn, all within walking distance!
Both Ceremony & Reception Space?: Separate spaces are available for the ceremony (Rose garden or pavilion), Reception (pavilion) and bridal pre-ceremony preparations (Victorian home tasting room space).