If you saw my overview blog post about Wedding Venues in Grand Junction – these western slope wedding venue posts are similar, only they are a deep dive into the individual wedding venues around the area! If you're interested in getting married at the Wine Country Inn in Palisade, this post will take you through each part of the process to help you decide if you want to schedule a tour here. Bear in mind that while I try to keep these posts updated, some information and details may have changed from the most recent update.
Wine Country Inn – Wedding Venue in Palisade
Today I'll be highlighting one of the quintessential wedding venues in Palisade: the Wine Country Inn! Located right off of exit 42 on Interstate 70 in the heart of Western Colorado's Premier Wine Country, this venue is surrounded by the beauty of the bookcliffs and vineyards all around, creating a Tuscan destination wedding feel right in your own backyard!
The Wine Country Inn truly is a one stop shop for your wedding celebration. Beginning at $5,000 for weddings, couples receive an Event Planner to walk them through every step of the way, a room at their beautiful Inn, set up and breakdown taken care of and complimentary Hors D'Oeuvres with social hour! Talk about VALUE. Rooms at the inn can booked for your guests on a room-by-room basis or by floor blocks as well, making lodging super convenient for your whole guest list. Being within walking distance of several wineries and just blocks away from downtown Palisade, there is plenty to entertain your guests for the whole weekend!
Catering at the Wine Country Inn is all taken care of in-house, with the exception of allowing your wedding cake/desserts to be brought in from a licensed and insured purveyor. Similarly the Inn provides a list of preferred vendors, but couples are allowed and encouraged to book any vendors the couple is comfortable with. With different options for locations of your ceremony, and a big ballroom that can hold your reception, this venue holds up to 150 guests! Plus with options like that, you really have the chance to customize your celebration to your desires.
Photography-wise, this venue is a gem. Every inch of the grounds has such beautiful potential for photos and it really does feel like you're in Napa Valley! Great natural light, abundance of beautiful backdrops, and more make this a highly sought-after western slope wedding venue for sure.
Quick Facts about Wine Country Inn:
Location: 777 Grand River Drive, Palisade Colorado
Capacity: Ballroom capacity is 180 guests. Outdoor courtyard area capacity is 150 guests.
Starting Price: Base price for a wedding at Wine Country Inn starts at $5,000.00
Is In-House Catering Offered: Yes; there are several different menu options and they are happy to work with couples on a customized menu as requested.
Is In-House Catering Required: At this time they do not allow outside catering on property with the exception of a wedding cake/cupcakes/dessert bar/candy buffet from a licensed and insured purveyor
Can Brides Choose Own Vendors: Absolutely! "We provide a list of preferred vendors when you book with us, but couples are under no obligation to book those specific vendors. The vendors we include on our list are people we have worked with in the past who we feel are professional and provide quality service. Couples are encouraged to book the vendors they are comfortable with!"
Alcohol Policies: The Wine Country Inn has an in house liquor license that requires couples to purchase their alcohol through them. "We have a full service bar and keep a full list of beer, wine, and spirits on hand for any occasion, special requests can be purchased through us at an additional charge."
Is there Lodging on Site: The Wine Country Inn is a full service Boutique Wine Themed hotel with 80 rooms. They even offer complimentary glass of house wine in the evening for all hotel guests of age, as well as a complimentary full hot buffet style breakfast every morning!
Ceremony & Reception Space or Reception Space Only: They provide both a ceremony site and reception space with several different options for both!
More Views of Wine Country Inn Spaces: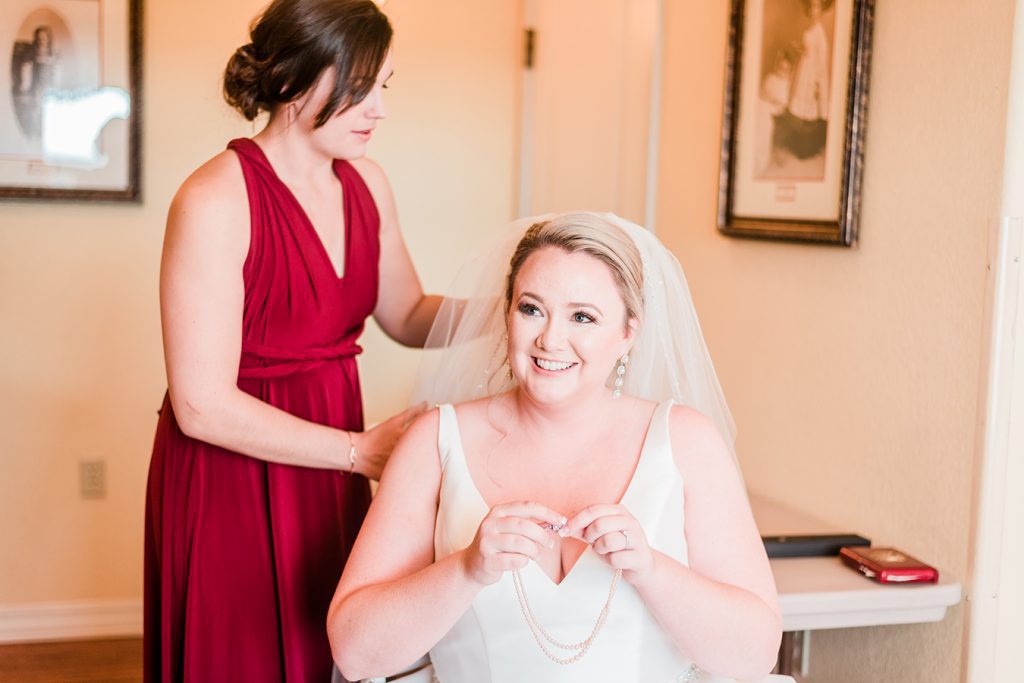 Getting Ready at Wine Country Inn
Being a full scale hotel in addition to the wedding venue means there is no shortage of room to get ready at Wine Country Inn! They do have a dedicated getting ready suite, as well as a couple of hotel suites across the hall that make for spacious and lovely spaces for getting ready with larger groups. Some couples will choose to have one of their sides get ready in a hotel room in the main building, which is another great option if you're maxed out on space. Almost every couple getting married at this venue gets ready on site in one of these spaces, and it's easy to see why. The rooms are cute and the convenience of being on site from beginning to end is undeniable.
Wedding Ceremony Locations
The most common wedding ceremony location at Wine Country Inn is the gazebo, with the vineyards and bookcliffs decorating the background behind. The other location is basically 180 degrees of the gazebo, with an arbor and the pool becoming the backdrop. It's easy to see why the gazebo is the most popular option, with its Napa Valley vibes and timeless elegance! You can customize its look with sheer curtains, greenery, flowers, an additional arbor, or even get married beneath the gazebo if your celebration is smaller and it's raining. In case of a larger wedding and a rainy day, some couples opt to give their guests umbrellas, while others simply move the ceremony into the ballroom.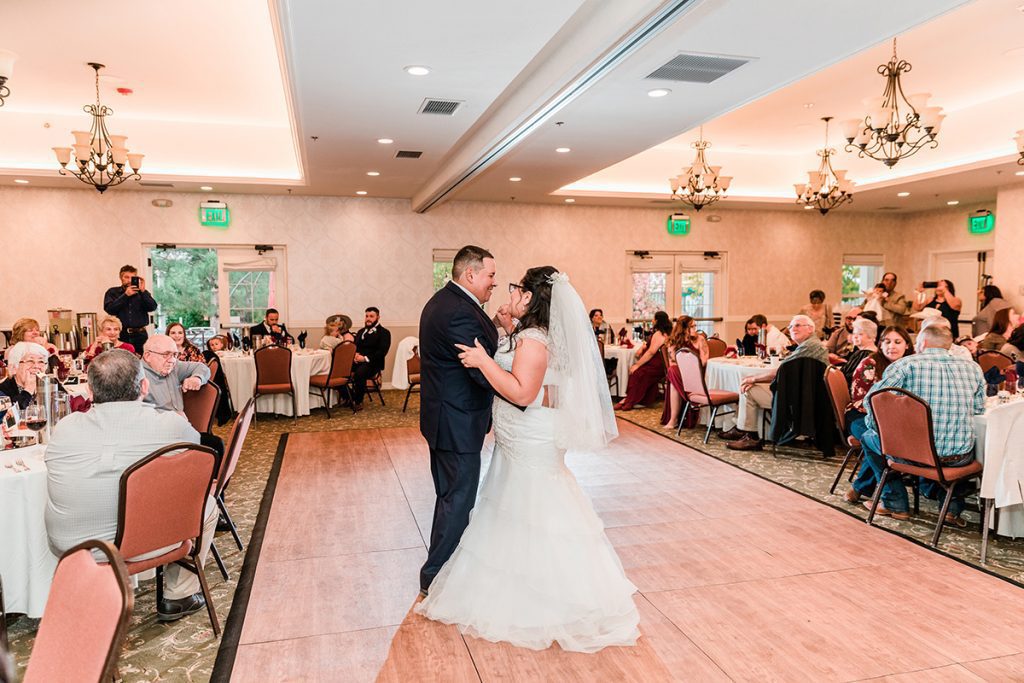 Wedding Receptions at Wine Country Inn
Most couples host their wedding reception inside the hotel in the large ballroom, often following a cocktail hour on the patio or in the courtyard. There's plenty of room for buffet line, dance floor, and tables for guests (up to 180, but 150 or fewer is a more comfortable fit). Some couples with smaller celebrations will host their wedding reception in the courtyard and gazebo space instead, with just the cocktail hour inside the ballroom while the venue team flips the outdoor space.
Lodging for Wine Country Inn Weddings
There are 80 guest rooms on site at the Wine Country Inn, which is often plenty of lodging for your wedding guests. If you need more lodging options off-site there is also the Spoke & Vine Motel in Palisade, along with some B&Bs and vacation rentals. Alternatively, guests could stay one exit up the interstate in Clifton, where more traditional chain hotels are available.
Inspiration Photos from Wine Country Inn Weddings
Looking for a Wedding Photographer for Wine Country Inn?
I am a wedding and elopement photographer in Grand Junction, and have photographed a number of wedding at Wine Country Inn now! As a wedding photographer in Grand Junction, I serve off-beat couples who are looking for vibrant photos that help them relive their best day ever.
Too many couples worry about pleasing everyone around them with their wedding day, that they forget to plan a day they'll enjoy.
I help ordinary couples just like you craft their dream wedding day that is easy, genuine, and stress-free and document your day with timeless, vibrant photos.
If you're looking for a photographer with over ten years of experience who prioritizes your experience above all else, you're in the right place!
"Incredibly talented, down-to-earth, flexible, easygoing, timeline guru… she's incredible! Amanda sent so many helpful emails before our wedding to help with the planning process and truly put us at ease for the day of our wedding. We felt at ease the whole day taking photos because she took them with such efficiency so we could spend time staying in the moment. It is so much fun to look back at all of the candid shots she took throughout the night, she was truly able to capture what it felt like to be there." -K&K
Ready to learn more? Click here to visit my Wedding Info page!