Getting married in Telluride can mean a number of different things, from a rustic wedding at Gorrono Ranch to breathtaking mountain views at San Sophia Overlook. Even elopements are becoming popular in the area, with unique back roads and off-the-beaten-path locations that have incredible vistas. As a wedding photographer in Telluride, I want to discuss all the reasons I recommend getting married in Telluride.
Telluride Wedding Venues – Getting Married in Telluride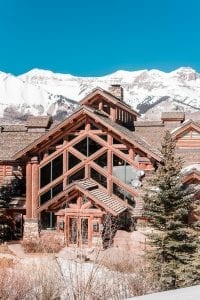 There are so many amazing wedding venues in Telluride. The ski resort has a large number of amazing options, all fairly centrally located around Mountain Village. This means you and your guests can stay at one of the many hotels or vacation rentals right nearby, and be just a free gondola ride away from your venue or down into Telluride proper. You could even keep everything in one venue with The Peaks hotel! Let's go over some of the most popular venues.
Mountain Lodge Telluride
This gorgeous lodge is the perfect wedding venue for a smaller celebration. Whether you want a full wedding day with up to 100 guests, or you just need reception and getting ready space for your off-the-grid adventure wedding or elopement, the Mountain Lodge Telluride is a stellar option! They have a gorgeous dining space, with floor-to-ceiling windows overlooking the most incredible mountain views. The pool deck offers a unique ceremony space or cocktail hour hangout with the same amazing views! Your guests can stay right on site in one of their hotel rooms, condos, or full cabins — which also make a great getting ready space. You're also a short jaunt away from the free gondola ride into town for those quintessential main street photos!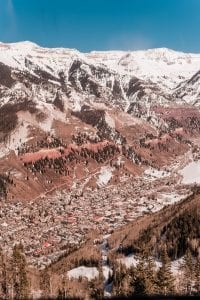 San Sophia Overlook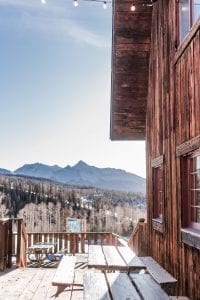 This is probably Telluride's most well-known wedding venue, especially to those couples looking on pinterest! With 360 degree mountain backdrops, and a stunning overlook into the town of Telluride, the views at San Sophia just can't be beat. The overlook is accessible by free gondola in the spring-fall, and by snow coach in the winter. San Sophia Overlook can accommodate up to 250 guests, and features a grassy open area and wooden deck for you and your wedding party to stand on. There are infinite possibilities for decorating the space, but with views like these you wouldn't even have to!
Gorrono Ranch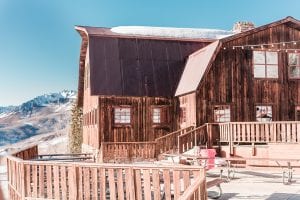 Ranked one of the most beautiful barn venues in the country by The Venue Report, Gorrono Ranch boasts incredible views, lush meadows and multiple outdoor decks to customize your celebration space. The venue is halfway up the mountain in Mountain Village, so your guests can reach the venue by access road in the warmer months or a snowcat in the winter. Within the main lodge you can seat up to 200 guests with room for dining and dancing. There are also two smaller historic cabins that can be used for getting ready or a hangout space for you and your wedding party before the ceremony!
Allred's
Located at the middle stop on the free gondola, Allred's is easily accessible for your guests. It's also a popular option for reception after a San Sophia ceremony since it's within walking distance! This venue boasts exquisite views and a cozy ambiance, with floor-to-ceiling windows allowing your guests to dine surrounded by the incredible San Juan mountain ranges. Allred's can accommodate up to 130 guests, and offers a private dining room with its own fireplace for groups of up to 30 for smaller celebrations.
Alpino Vino
Alpino Vino is the highest elevation restaurant in North America, so if you're looking for something unique – look no further! This European-style chalet is only available during the winter months and can be reached by skiing in, or taking a snowcat after hours. This venue is best for small groups as its maximum capacity is 28 guests.
The Peaks Resort & Spa
The Peaks gives you everything you need for getting married in Telluride all under one roof! With 160 guest rooms, 30 luxury cabins and condos and an expansive spa all on-site, you'll be able to get ready, host guests, get married and celebrate into the night without leaving the property if you don't want to. The multiple decks overlook Mt. Wilson and surrounding mountain views, and can in fact see all the way to the La Sals outside Moab! Altezza Restaurant is a cozy space for your reception. The Crystal Room has SO MUCH beautiful light and also offers those stunning views! The Peaks is an easy choice if you're looking for both luxury and ease.
New Sheridan Hotel
Located in the heart of downtown Telluride, this historic hotel offers a unique setting for your wedding celebration. If you're getting married in Telluride, this venue is often overlooked, but its charm is undeniable! For smaller weddings, New Sheridan is a great space to get that historic mining town vibe.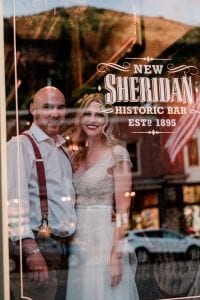 The Madeline Hotel
The Madeline is another popular reception option for couples getting married at San Sophia Overlook. Their Idarado Ballroom offers an upscale yet cozy space for dining and dancing after the ceremony – and your guests can stay on-site in the hub of Mountain Village. Just a short walk from the free gondola up to San Sophia Overlook, you can see why it's a popular option!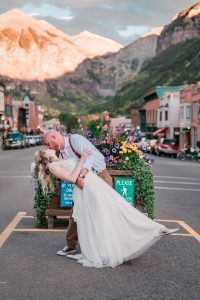 The venue is, of course, just the start. Telluride offers lots of shopping, outdoor activities and more for your guests while they're here for the weekend. Hike to Bridal Veil Falls, off-road into the surrounding mountains, discover a ghost town, explore on a mountain bike, ski or snowboard in the winter, and more! If you're interested in seeing more about getting married in Telluride, click here for recommended vendors and a gallery of wedding photos!