Lately I've been seeing an influx of posts in the wedding community online of couples looking for officiants for their small, intimate weddings or elopements. Having moved to Colorado from Iowa, and getting married here after the move, I had a perception of the marriage process that many of the state's transplants do. That a wedding is required to have an officiant, two witnesses, and the marrying couple. But here in Colorado that's not the case!
Did you know in Colorado you can marry yourselves? Yep! Whether you're eloping in Colorado or just getting married, you don't have to have an officiant for your ceremony, or even any witnesses! I've captured elopements in Grand Junction and the western slope where it's just me and the couple hiking up to an amazing mountainside field full of wildflowers, where they express their undying devotion to one another. Is there anything more amazing than that?! I've captured couples signing the paper on each others' backs after we explored the area for portraits to document their big day. Weddings in Colorado truly take all forms!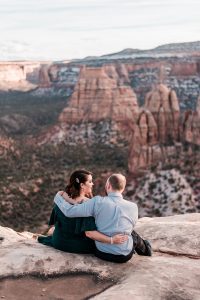 Because of Colorado's flexible marriage laws, there are so many unique ways to customize your wedding day exactly how you'd like it. Have a good friend play music and lead a small ceremony as your closest friends and family watch you exchange your vows beside a lake in the mountains (like Dylan & Bailey did!) You could officially sign the papers at the courthouse and have a weekend campout on the Mesa with your friends and family like Eric & I did. Drive in from states away without telling your family and truly elope on the Colorado National Monument just the two of you (like Brandon & Chelsea or Jessica & Craig!) There is no wrong way to sculpt your celebration and connection to fit your relationship and personalities. Planning on eloping in Colorado? Check out my guide here!
These are my favorite types of events to be a part of. If you're considering eloping in Colorado or having an intimate wedding with amazing vistas, check out my elopement pricing here and let's save your date!
xo,