One of the biggest things I help my couples with is their timeline. Unless this isn't your first foray into the world of weddings, you probably have no idea how much time you need on the big day. Some photographers start at 4 hours, some do 6, some offer full day coverage… but how much coverage do you really need? Today I'll be delving into the timeline of your wedding day to help you figure out how much coverage you really need!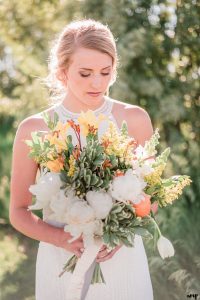 The first and most important consideration for how much coverage you'll need is what you want captured on the wedding day. Do you want getting ready photos? Within that, do you want the photographer to be there documenting while your bridesmaids get their makeup done, or is the last hour of getting ready – when you finish the last details and get into your dress – enough for you? From there you should also consider how much of the reception you want covered. Will you be having a grand exit at midnight that you want documented? Would you be willing to do a fake exit for photos earlier in the night? (Yes that's a thing!) How late into the party you want your photographer there will greatly affect how many hours you'll need in your coverage!
My coverage starts at 8 hours as I've found that's the lowest amount of coverage I prefer to offer. I used to start at 6 hours, but because all of my collections include a wedding album documenting your day, it didn't feel right to leave part of the day out of the book! I've found that 8 hours is the sweet spot for limited coverage; it allows me to cover the last hour or so of getting ready, through a good part of the night including the dances, cake cutting and any other fun events you're having! Here's a sample timeline of an average 8 hour wedding I capture:
12:00 – Details
12:30 – Guys Getting Ready
1:00 – Girls Getting Ready
2:00 – First Look
2:30 – Wedding Party Photos
3:30 – Family Photos
4:30 – Ceremony
5:00 – Reception Details
5:30 – Announcement & Dinner
6:30 – Toasts & Cake Cutting
7:00 – First Dances
7:30 – Sunset Photos
8:00 – End of Coverage
You can see that while everything essential is covered, it really is the least amount of coverage you'd need. That's why my 10 hour collection is easily the most popular! You can have more reception dancing time covered and not feel rushed during the reception; or you can have more of the getting ready process documented! The 10 hour collection is especially popular if you're not seeing each other beforehand, as the formal photos take up more time that way.
I work with all my couples on perfecting their day-of timeline to guarantee that we can fit everything they want into their coverage. It's so important to consult the photographer, even if you're working with a planner, on the timeline to ensure that the day can be documented in the suggested timeline!
If you're interested in seeing more sample timelines, check out my posts here and here! To learn more about my wedding photography, you can click here.
xo,