I met with Afton, of Annelise Bridal Boutique, to talk about all things wedding dress shopping. The process, what to expect when you're shopping, and how to prepare before your gown appointment.
Timeline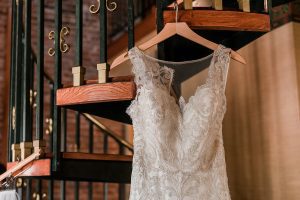 The first thing you should know before you begin looking for your wedding dress is time frame. Most couples are surprised to find that especially when shopping from a local boutique, it's important to allow plenty of time for ordering and to get your alterations done. Afton recommended starting your wedding dress shopping at least 6-8 months before the big day! This way you'll have time to find you dream gown and have plenty of time to get your dress in and any final alterations finished – without stressing about if your dress will be here in time for your wedding.
Who to Bring
Now that you know when to start shopping for your wedding dress, you'll want to consider who to bring to your appointments. And yes, you probably need to book appointments! Maybe you've watched every episode of Say Yes to the Dress, but in reality you don't need to bring 30 people to watch you try on dresses. Imagine that many people talking over each other about every dress you come out in… exhausting. And let's face it, smaller boutiques can't even fit that many people! I'd recommend keeping it to 3-5 people at your appointments. Bring your best friend, your mom, your sister — whoever you trust to really tell you the truth and help you actually narrow down your decision.
Dresses Have Silhouettes
Before you go into your wedding dress shopping it's a good idea to know about dress shapes and silhouettes. From mermaid shapes to full ball gown, there are flattering silhouettes for everyone! Your shop owner or assistant will probably help you pick out a number of shapes to start with – you never know until you try. But if you're just not loving a particular style – go ahead and skip it. There's the perfect style out there for you.
Accessories
The best advice I heard that I had never considered was about the accessories. Don't worry about finding your veil or headpiece before your dress shopping. You might leave with a totally different style than you had imagined, and that could really change what you want to do with your hair, and that affects your veil or no-veil decision… and so on! Afton pointed out that once your dress order comes in, you'll be back for a fitting anyway. Save the accessory decision for that point when things are a little clearer about what you really need!