Fall is the second most popular season to elope in Colorado, after the summer. With varying elevations across the state, fall colors can last at least 4-8 weeks. If you're thinking about eloping in fall in Colorado, there are some key things to know before you begin planning.
Everything You Need to Know About Eloping in Fall in CO: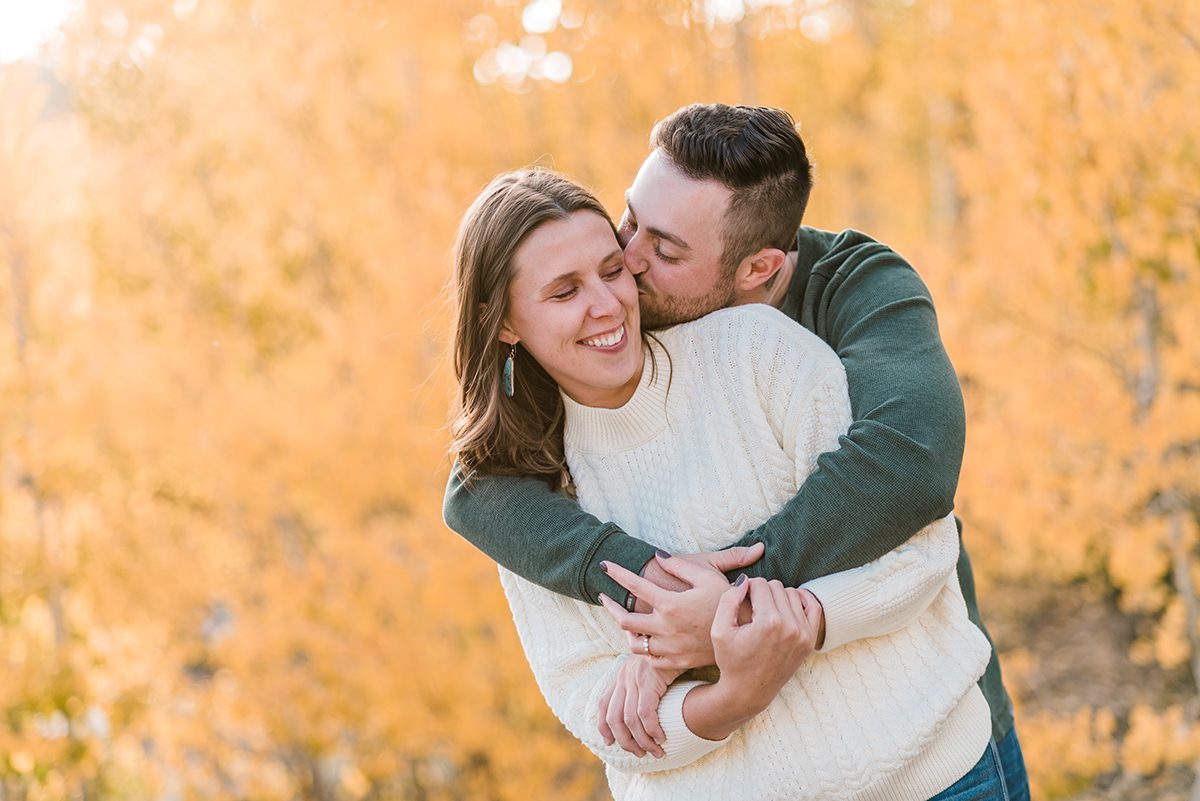 September is Busy
Here's a secret: September is the second busiest month for weddings in Colorado, closely following July (which barely holds number one.) It may have even moved up to the busiest depending on the area you ask! The aspen leaves start to change to golden yellow that fall is known for during September. These fall colors are highly sought after, and you can see why. The golden aspens are a draw to tourists looking to "leaf peep" the color change. What does this mean for eloping in fall? Vendors will be booking up fast for September. Plan ahead, book early, and consider weekdays if you're not already! Speaking of the leaf change…

When do the Leaves Change in Colorado?
The leaves change at different times at different elevations, and can vary each year. Generally speaking, though, the aspens will begin to turn yellow and orange around the second week of September, with the "Color Weekend" (peak color) traditionally the last weekend in September. In ideal years and seasons, the colors stick around for 2-4 weeks. The higher elevations change earlier, so lower elevations can start later and last longer. Areas like Grand Junction or Denver are lower elevation for the state and have more diversity of non-Aspen trees that turn in October rather than September.

Snow in Colorado & Travel Impacts
The one downside to eloping in fall is the potential snow factor. It's honestly snowed every month in this state before, but the fall is typically the start of the snow accumulation in Colorado. Back roads in the mountains may begin to close at the end of September or early October, making travel to certain locations harder or impossible. Later in October, travel around the state even by highway can become difficult if a snowstorm is happening. One positive note, though, is if you're looking for relatively nice weather with snow-capped mountains, eloping in fall could be the perfect combination for you! Highs can still be up in the 50s or even 60s, which on a sunny day feels quite warm.

Holiday Weekends
If September is one of the two busiest months of the year to get married in Colorado, Labor Day Weekend is one of the three busiest holidays to get married. I would really suggest booking at least 12-18 months in advance if you're hoping to elope over Labor Day Weekend, as your preferred venues and vendors will book incredibly early and get filled up even on Sunday and Monday of that weekend.

Fall Weather in Colorado
What to expect for weather if you're eloping in fall can be a tricky question to answer. It could be beautiful in the 60s or 70s, depending on your elevation, or it could be freezing with snow accumulating. One thing is almost guaranteed, though: the evenings and nights will be cold. If you're planning a sunrise or sunset elopement, be prepared with more layers than you think you may need, and warm outer layers for when the sun goes down.
Now that you have everything you need to know about eloping in fall in Colorado, hopefully you're feeling better prepared to begin planning and booking your dream wedding day! Wondering how to elope in CO? Wanna know how much it costs to elope in CO? Click through some of these posts for more info.